Swept: Love with a Chance of Drowning
Read Essential Travel's Author Interview with Torre DeRoche here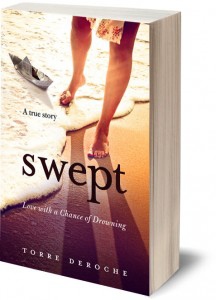 Introducing Torre and Ivan
Torre DeRoche - author, narrator and protagonist - invites you into her world from the first page of Swept, and there you remain firmly ensconced for the duration of her and Ivan's two-year journey across the Pacific. From the outset, they feel like friends you could actually spend that much time with and never get bored.
Ivan is a modern day romantic hero with a few extra quirks: he's adventurous, passionate in a way only a Latin American can be, kind, a little clumsy and completely enamored with the ocean. He meets his other great love - Torre - randomly at a bar, when the two have a one night stand that sets their adventure together in motion. They are perfect for one another, however, there is one aspect in which they differ completely: Ivan has a big dream - to leave his corporate job and sail across the Pacific, while Torre has a big fear - the ocean and anything even remotely related to sailing.
A Perfect Mix of Genres
Swept is one of those rare books that effortlessly encompasses a range of genres - a true one of a kind. It is clear from the outset that it's a romantic adventure, but it quickly ticks the boxes for a range of other genres including memoir, travel book and even captain's logbook. Not only one for hopeless romantics, the story has enough substance and sailing jargon for adventure-hungry seadogs, and enough introspection and character development for the autobiography-obsessed.
Characters and Themes
Without sounding too simplistic, the book is beautifully written. DeRoche is charming, frank, philosophical and utterly hilarious in equal measure. Her characters are vividly illustrated: in a few words she is able to paint an often-amusing portrait of the colourful characters they meet at anchorages along the way.
She always gives each character the attention due to them without straying too far from the book's theme of overcoming her fear of the ocean. The romance between her and Ivan is another constant which readers will find themselves championing in the hope that it will last through close quarters and beyond the final chapter, much like they will champion their two-year voyage through the South Pacific and its paradise-worthy islands.
The Search for Freedom
While facing her own demons, DeRoche deals tenderly with Ivan's search for freedom, which he believes he'll find on the water. Ivan confesses that his greatest inspiration is Bernard Moitessier who called the ocean "a nation...where life is lived in the present". As the story unfolds, you are drawn into and bewitched by the day-to-day existence of sailing, where rough weather and the fear of hitting coral reefs is offset by the charm of sailing alongside dolphins and breaching whales, and the pleasure of eating the freshest fish caught in turquoise waters.
In Conclusion
With her writing, she does what countless new authors fail to do - make it appear effortless. She uses colorful metaphors to her advantage, giving an edge to her humour, and catches the reader by surprise by describing the latest bizarre mishap whenever they are lulled into a sense of security by the book's rhythm.
Swept can be compared to the art of sailing: pleasurable without being frivolous. There are also a few lessons to learn along the way, while in Ivan and Torre's good company, but this is for the reader to discover. There is no need to nitpick when you pick up Swept: simply open and dive straight into the warm South Pacific.
ET Rating: 9/10
About the Author

Rife with phobias, but unwilling to be stopped by fear, Torre writes honestly about her travels and misadventures on her blog, Fearful Adventurer, where she hopes to inspire others to face fears, follow dreams, and proudly let their fear flags fly. She lives in Melbourne, Australia, with a mini fox terrier cursed by small-dog syndrome. Swept is her first book. Stalk her on her Facebook page, or connect via @FearfulGirl.
Watch the Book Trailer
Last Updated: October 2011