Product Review: Mophie Juice Pack Powerstation PRO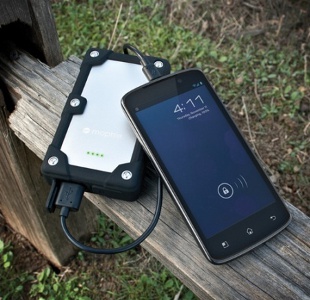 These days, travellers are not often without a digital camera, iPod or tablet. And if you're out in the wilderness or in a foreign country, getting access to a power source or the right adaptor can be a real challenge. With the Mophie Juice Pack by your side you're able to go days without a power supply, and still have fully charged gadgets.
What Is The Mophie Juice Pack?
The Mophie Juice Pack is an external battery that allows you to charge a number of devices on the go. With an impact and splash resistant outer layer, it's ideal for the outdoors or to be placed in a rucksack on long travels, and you won't have to worry about it getting damaged. Although it is worth noting that while the outer rubber layer does protect it from the odd spill, the device is not completely water resistant. There are also two charging ports on the bottom that can be closed when not in use, keeping them completely dust free.
How Does It Work?
The battery inside the Mophie is re-engineered and is able to charge devices at super speed. The battery charges at 2.1 Amps, which is four times faster than a traditional USB battery. It also has a built-in short circuit, overcharge and temperature protection.
The Mophie comes standard with a USB and micro USB cable, which you can also use with other gadgets. When testing it out, I plugged the Mophie into the USB port on my computer, however, the other option is to use your Apple iPhone cable and charger, which allows you to charge the Mophie straight from the wall socket. When you plug it in, an LED light flashes, but turns off after a few seconds (a pleasure if it's plugged in overnight) while it continues to charge. To check if the Mophie is charged, just push the button on the bottom corner - the number of LED lights that show up will reveal if it's fully powered or if the battery is running low.
Pros And Cons
The Mophie is designed with Apple products in mind, so if you're a fan of Apple then you'll have no problem just bringing along your phone or iPad charging cables and plugging them straight into the USB port. The standard cable allows you to flip it round and use either the traditional USB or the micro USB depending on what you're charging. If you don't have one of these cables, you may need to purchase additional cables with one end being a USB connection so that your Blackberry or Android device can be used with the Mophie.
The effectiveness of the Mophie depends on what you want to charge - some products, like an iPad, won't be fully charged by the Mophie (unless you recharge the Mophie) as it uses up more battery juice than a mobile phone or camera battery.
Looking After Your Device
To keep your device clean, just use a damp cloth to wipe it. Soap or other harsh chemicals must be avoided.
If your Mophie is just sitting in the cupboard awaiting your next adventure, it's advisable to charge it once every 3 months. Also note that you'll need to charge it for a full hour before using it for the first time.
What We Think
According to the packaging, the device lasts about 500 charging cycles. This refers to full cycles, so using only 10% or 20% means that you'll still be able to charge your gadgets a few more times for it to count as a full cycle. There's no debate that it is a useful accessory to have on your travels.
The Mophie Juice Pack is available from Mobilefun (www.mobilefun.co.uk) and retails for £75.95.
Last Updated: September 2013