Product Review: The Finn Travel Wallet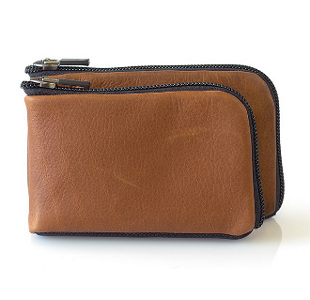 The Finn wallet, manufactured by Waterfield, is produced in San Francisco, USA. It's a beautifully structured full grain leather travel wallet that is soft and supple to the touch. Perfectly sized to fit a phone, passport, notes, coins and cards it's a trusty companion to your many travel adventures.
To stand a chance of winning a beautiful Finn wallet, simply enter our 'caption the photo' competition on our Facebook page.
Why the Travel Wallet Works
The Finn wallet comes in four sizes depending on your needs.
A size 25, 27,69 and 42
Size 25 can hold a number of credit cards/business cards and notes
Size 27 and size 69 allows you to hold cards, cash and a phone
The size 42 allows you to stash your cash, credit cards, coins, passport and a phone ideal for travelling
This review is based on a size 42.
Upon receiving the wallet I used my passport, iPhone, a wad of cash, coins and a few cards to put the Finn to the test and I have to say it all fits quite snugly into the wallet. In the past, I always travelled with a travel wallet that had a number of compartments so that my boarding card, foreign currency and other documents could all be in one place. Sounds organised, right? Truthfully, it not only seems to take up most of my handbag space, and it made the checking-in process quite long as I spent most of my time looking for my travel wallet. With more and more companies using email confirmations, apps like Passbook or Passwallet become a virtual travel wallet. Not to mention map apps, which allow you to download maps straight to your phone. So in essence all you really need is a wallet that can hold your passport, money and phone, and is small enough to keep with you for the entire trip.
Even though the Finn wallet is designed with a male in mind, it's elegant enough for it to be popular with women. For men you no longer need to carry around a wallet, coins and a phone separately just add them all together.
The Ins And Outs of the Finn
The Finn Wallet uses a locking slider, a small pin prevents the zip from moving until the tab is pulled. Rest assured your important documents and money will be safe whether you keep your wallet in the front or back pocket.
The wallet has a L shaped zip, which opens halfway, making it easy to locate exactly what you need. There is a coin section on the one side, which is made in suede (only the 42 has a coin compartment). The other side has two card sections where you can place cards longways, again easily accessible.
Once you've packed the wallet full it still lies flat giving off a sleek, elegant look.
They come in a range of gorgeous colours: tan, red, green, black, camel and grey, all in dyed leather. If you'd prefer a different material these wallets are available in black nylon flash material and a waxed canvas.
The Verdict
Although I love these wallets, the only thing I would say is that if you're using it as an everyday wallet, adding your phone to the mix may not work as you'll struggle to hear the phone or the vibrations. However if you're taking your phone abroad to use as a virtual wallet and for a number of travel apps; and making calls is not your priority then I'd say this wallet gets a 10 out of 10.
The Finn Wallets can be bought directly from the manufacturers, Waterfield Designs Sfbags.com, and international delivery is free. With the exchange being in favour of the pound, these bags are a bargain considering they are made from real leather and will last many adventures.
Size 25 and 27 both $39 - £25*
Size 69 $45 - £28*
Size 42 $49 - £31*
*Amount in pounds may change due to exchange rates
Waterfield specialises in a range of bags, laptop cases, wallets, keyboard cases, gear pouches, gaming cases, tablets, iPhones and iPod cases and a range of bags, backpacks, sling bags, hardcases and buckle bags.
he sunny shores of South Africa for London. Always excited to experience new places, meet interesting people and indulge in different cultures, she definitely loves to travel and write about it.