Book Review - Brian On The Brahmaputra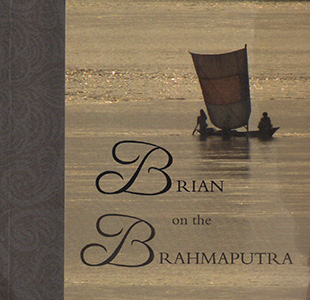 Brian on the Brahmaputra is a light hearted and comfortable journey through Assam in India by means of boat down the Brahmaputra. The journey continues to the Sunderbans - the mangrove covered islands in the mouth of the Ganges, South of Kolkata.
The author, David Fletcher, delivers a day by day account of Brian and his wife Sandra, who are on a journey in search of the best wildlife India has to offer. Brian arrives in India more than a little overwhelmed by the cultural differences and the fast pace of his new surroundings. The couple have planned two week-long boat trips and anxiously set off from Assam with fellow nature seekers. They're also accompanied by Sujan, their diligent tour guide, and other boat drivers who prepare daily excursions for them. Along the way they indulge in interesting stories, observe several new species of birds and mammals, and soak up the Indian countryside. The trip evolves into a journey of discovery through nature, society and culinary delights. It becomes so much more than just a holiday for Brian and Sandra as they come to appreciate and find new meanings in their own lives.
Essential Travel Rating: 7/10
The Adventure
The tale begins by divulging Brian's insecurities, explaining how frightened he is of being in India and going on holiday with a group of unknown nature enthusiasts. Brian has prepared ice-breakers, which he plans to use to make new friends on the boat.
Sujan, their travel guide, organises daily activities and excursions. The Brahmaputra is a very desolate area of India and has only recently been opened for travellers to experience the thriving wildlife both in the water and along the river banks.
The excursion reaches a crossroads when they reach the end of the Brahmaputra, and part of the group returns to England. The rest are then joined by another half dozen nature seekers who choose to continue down into the mouth of the Ganges to the mangrove-covered islands. By the end of the journey Brian has made new friends, seen some of the best wildlife imaginable and survived everything that India threw at him.
The Lesson
When the journey reaches the South of Kolkata, India is put in a new light. Brian and the rest of the group are greatly affected by the poverty and desperation that they witness there. Everyone becomes extremely aware of their privileged backgrounds and while they're happy to return home, they feel that they will carry India in their hearts long after they leave.
Last Updated: August 2013