Product Review: Bobski Sledge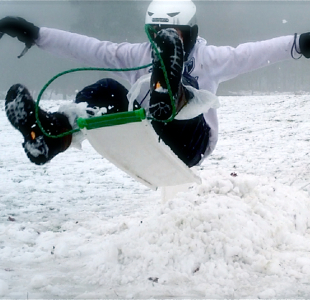 The Bobski is a high quality plastic sledge that's ideal for some winter fun! It gets the whole family outside, breathing in the fresh air and it's a good mix of fun and exercise. The Bobski family have also joined the Use Your Head Campaign, which promotes helmet use on the slopes.
What is Bobski?
Bobskis have reinvented sledging - not only is the Bobski incredibly fast but it's made from a lightweight durable Polarpol which makes it really tough and ideal for the volatile winter weather.
Bobksis are designed and handmade in the UK and we're proud to be working with a UK company that only uses high spec components in their product.
Although it snows in many parts of the UK, the best bit about the Bobski is that it doesn't need a lot of snow to work well. All you need is gentle slopes; great for school holidays, weekends and getaways in the car. Although the Bobski is super lightweight, it cannot fold up and may prove too bulky to take on a plane journey.
It is advisable that you wear a helmet with a Bobski as they can be really fast. Elly Reeve, co-founder of Bobski comments that "Sledging has never been so much fun! We want it to stay that way. We recommend that you always wear a helmet when using bobskis"
How does it work?
If you visit the Bobski website you'll find a huge range of information on how the Bobski works, steering techniques and how to make the Bobski go faster.
To use the Bobski: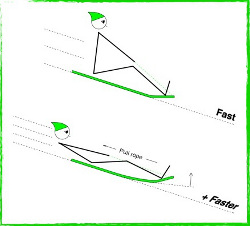 Engage your feet with the front of the sledge, heels inward and toes pointing outwards, pull on the rope tightly
Lean back with the rope tightly pulled, touch the snow on the left side to steer to the left and touch the right side to steer to the right
Shifting your weight slightly to the left and right also helps steer, just keep practicing till you master it!
The tighter you pull on the rope and lean back the faster the sledge will go
Where to find Bobskis
Visit the Bobski website to purchase their sledge, they'll deliver to the UK and Europe.
UK stockists include The Outdoor Pursuits Cooperative, World of Camping Limited, Duke Marketing Limited, DevilWear and UrbanSurfer.
Pick between a small and large size. The smaller size is ideal for children and adults and the larger sledge is for bigger adults and can be used for sharing.
Last Updated: February 2014