Product Review: JVC Headphones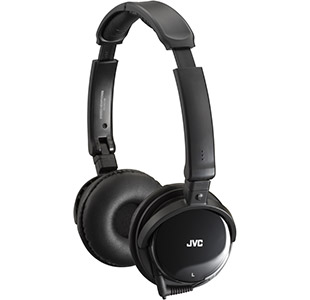 You don't have to be a backpacker to know that train rides, plane journeys and waiting around to get from one place to another can be lengthy and frustrating. Most avid travellers can agree that a good pairs of headphones is a necessity in helping you keep entertained during long stretches with nothing to do. So this month we review the JVC HA-NC250 Noise Cancelling Headphones. Read on to find out what makes them worth the £100 price tag and why they're so unique.
Why Are They Perfect For Travellers?
The JVC Noise Cancelling Headphones are designed with the traveller in mind. The noise cancelling feature means the background sounds of the aeroplane or train will be minimised, ensuring that you can hear all the words and beats of your favourite tunes without having to turn up the volume.
The headphones are compatible with iPhone, iPad, iPod and other MP3 devices, and you'll also get a dual plug adapter, which can be used for the in-flight entertainment system on planes. This ensures that you'll be free of faulty or uncomfortable plane headphones, and will have clearer audio and be able to cancel out the surrounding sounds (and the person snoring next to you), which makes watching films or listening to music that much more enjoyable.
What Makes Them Unique?
The noise cancelling technology is really what makes these headphones worth purchasing. You have the option of enabling this technology by switching on a button located on the right earphone. It's powered by an AAA Alkaline battery, which is easy enough to change (and simple enough to buy anywhere in the world) and lasts between 30 and 50 hours. This technology works by picking up on additional noise - the feedback circuit then produces the correct amount of anti-phase sound that results in clearer audio (although it does not eliminate 100% of noise).
However, even with this feature switched off, the headphones cancel out a great deal of noise. The design of each earpiece is built using a double housing structure with extra sound insulation. The earpieces are made from a soft memory foam cushion, helping to isolate and remove background noise whilst also fitting snugly over the ear and increasing comfort.
Having tested them out, once you enable the noise cancelling feature, you won't want to go back to the ordinary function. It's that good - the base increases, the audio really is clearer and it means that you don't have to have them on full blast, because sometimes you don't want everyone to hear your taste in music. Changing the battery is relatively simple, you'll need to pull the ear cover off the right earpiece and place the battery inside, then line up the clasps so you can reclip the ear cover back on.
Another plus is how comfortable these headphones are, which is vital for travellers. The cups are made from a soft material, and fit snugly over your ears. The top of the headband, which is adjustable, is made from the same soft material. You are barely aware that you are even wearing headphones.
The flat, foldable design means that these can easily be placed in the carrier bag it comes with, however they cannot be folded away completely like a number of other headphones on the market, and the downside is that carrying them in their hard case can become quite bulky when travelling.
Noise Reduction: 18dB at 150Hz (85% )
Driver Unit: 40.0mm
Magnet type: Neodymium
Frequency Response: 8 - 24,000Hz (when ON)
Input Impedance: 40ohms (when ON), 96ohms (when OFF)
Sensitivity: 102dB/1mW (when ON), 100dB/1mW (when OFF)
Power Supply: AAA battery (DC 1.5V) x1
Battery Life (approx.): 50 hours (using Alkaline battery)
Cord Length: 1.2m (detachable)
Weight (without cord): 150g (with AAA battery)
Plug: iPhone compatible, Gold-plated
Accessory: Slim carrying case, AAA battery x1, Dual plug adapter (for in-flight use), 6.3mm plug adapter
Our Rating
These headphones can be purchased for £150 on the JVC website (https://www.jvc.co.uk), but you can find them elsewhere online for around £100. They definitely do the job in terms of cancelling out the background noise, although perhaps they are not the easiest to fold away. We'd still say they tick the box for being a traveller's trusty companion.
Last Updated: August 2013