What Are My Rights If My Flight Is Cancelled Or Delayed?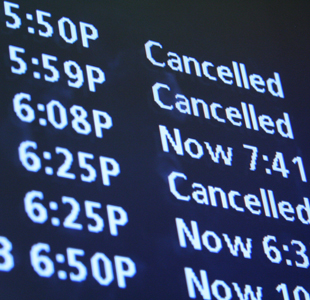 Dear EssentialTravel.co.uk
Out of interest, what are my rights if my flight is cancelled or delayed? This is something you hear happening more and more and if I'm unlucky enough to be in that situation, what can I do about it? I keep thinking back to the people who got stuck in airports during the volcanic ash cloud and don't want to lose out like them!
Patrick Moore, Hammersmith
Our Answer
Hi Patrick
You do have rights and entitlements as a consumer, but they are dependent on why a flight is cancelled or delayed. The best advice we can give you is to be aware of what is going on with your airline. In the case of that volcanic ash cloud in 2010, the airlines couldn't help those people who lost out on holiday reservations. All passengers were refunded and compensated where applicable, but their holiday packages and hotel bookings had nothing to do with the airline.
If bad weather, an unscheduled workers' strike, a natural disaster, war or anything out of the ordinary looms in the build-up to your holiday, call the airline and ask for information. That's about all you can do. Find out if the threat of delays and cancellations is serious and what your options will be if your flight is affected. If you've paid for your flight, you won't lose out - the airline is obliged to fulfil that arrangement or offer a refund.
If it looks like your flight is going to be delayed or cancelled you can start the process of rerouting, changing your day of departure or getting a refund.
Flight Cancellations Versus Delays
According to the UK European Consumer Centre, if your flight is cancelled while flying from or to an airport within the UK or EU), you are entitled to a refund or rerouted flight by law. One of the big misconceptions that people have about flights being cancelled is that travel insurance providers are responsible for a cancelled flight - it is entirely up to the airline to get you to or from your destination where possible. We have more information about this here.
In the event of your flight being rerouted or delayed, free meals, drinks and two free phone calls are provided if there is a considerable wait between flights. If your wait is longer than twelve hours, you are entitled to a stay at a hotel, meals and transport to and from the hotel. This is what is referred to as "compensation" in the consumer laws - I know it's a standard word, but I'm just being extra-clear. Take a look at the compensation structure below for full details:
| Length Of Journey | Delay To Departure | Compensation |
| --- | --- | --- |
| Up to 1,500 km | Up to 2 hours | €125 |
| Up to 1,500 km | More than 2 hours | €250 |
| 1,500 - 3,500 km | Up to 3 hours | €200 |
| 1,500 - 3,500 km | More than 3 hours | €200 |
| More than 3,500 km | Up to 4 hours | €300 |
| More than 3,500 km | More than 4 hours | €600 |
Fine Print: If the airline can prove that a flight was cancelled due to "extraordinary circumstances", they are not required to issue compensation. This means that the airline is not responsible for compensating you (food, hotels, etc.) in circumstances they could not help - you won't be entitled to any of the delay benefits listed above, but your flight is guaranteed.
More Fine Print: There are non-refundable tickets that won't be refunded in the event of a cancelled flight. Check the fine print on your ticket for details.
I hope this answers your question. The best way to avoid losing out is to stay in touch with the airline at the first sign of adverse weather conditions.
Last Updated: December 2012