Five Minutes With Kirsty Jones

When I'm in the sea kitesurfing I see and feel everything so clearly, purely and am totally focused and connected to the ocean, elements and nature. It puts everything into perspective...

Meet The Face Of Essential Travel's Sea Sense Summer Campaign

Kirsty Jones is a professional athlete with passion and drive fuelling her successful career. The Welsh professional kitesurfer, surfer and 'water woman' has three world titles to her name, as well as a string of endurance accomplishments. Essential Travel chatted to her to find out more.
ET: So Kirsty, when did you get into kiteboarding and what are the things you love about it?
Kirsty Jones: I actually started kitesurfing quite late on at the age of 22 when I was out in Hawaii training for a windsurf world cup. I was so dedicated and passionate about windsurfing and surfing that it took me awhile to succumb to the curiosity of kitesurfing and try it. It was so much fun learning, getting dragged and dipped through the water by the power of the wind in a kite, and being humbled by it also! Just a couple of hours trying it was enough to get me hooked and I realised all the great possibilities and adventures I could have kitesurfing! Now eight years on since my first session on the water with a kite I've come a long way. I love the incredible feeling of freedom I get from being in the big open ocean with my kite. When I'm in the sea kitesurfing I see and feel everything so clearly, purely and am totally focused and connected to the ocean, elements and nature. It puts everything into perspective and I always feel refreshed and relaxed after a session in the sea! Read on below...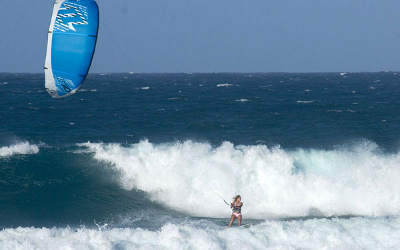 ET: Was there a part of it that intimidated you at first?
Kirsty Jones: Yes for sure because I knew and respected the power of the wind and what happens if you harness that power into a big powerful kite that you attach yourself to! I think when you are playing with the elements and nature it's essential to have some fear and respect.
ET: Winning world titles, long distance charity journeys (kiting from the Morocco to the Sahara for charity), SUPing, surfing - you have such an incredible and active career. How do you keep yourself mentally and physically fit?
Kirsty Jones: Yoga, running and surfing have always sorted me out physically and mentally and this is something I have done almost everyday since I was 16. Since I've been injured I had to adapt and change some things as I could not run or do some yoga positions for at least 8 months. I discovered other incredible things when I was injured and now I keep my mind and body healthy through these things. I still do yoga everyday and have developed my own routine that is excellent for strengthening my knee, body and mind. I love stand up paddle boarding and surfing which, like Yoga, is also excellent for core strength, balance and keeping you fit while you are able to enjoy being on the water! I also discovered free diving and started to spend more time under the water with all the amazing marine life which has been highly beneficial for my body and mind because of the graceful movement and low impact on the knees, and I'm really calmed and relaxed afterwards. It's like meditation for me.
Sea sense is about having respect for the ocean, elements, other water users and your own limitations.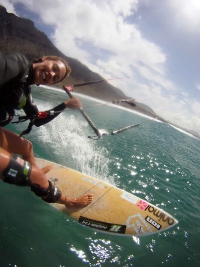 ET: You injured yourself pretty badly in Mauritius a while back. How serious was that and has it affected your confidence getting back?
Kirsty Jones: I think one of my greatest fears was injury or sickness but when I actually sustained my first serious injury, after the initial shock and disappointment, it just made me more appreciative for all the things I actually could do now and not what I couldn't do. I could finally focus on other things I never had time for and give my competitive side a much needed rest! We can choose to be negative or positive about a situation and for sure if we are positive it can create positive results and we can discover and learn great things. I think injury has made me feel much more in tune with my body and mind and now I am even more sure that everything in life happens for a reason. For sure, I lost a lot of confidence after the operation reconstructing the ligaments in my knee, and even just walking normally was a challenge for a long time. The thought of actually kitesurfing again, riding waves and doing freestyle tricks seemed impossible but I reminded myself that everything that is worth it requires patience. Luckily I found the support of a knee brace company called Ortema who provided me with one of the best braces you can get to protect the knee and other joints. This brace, combined with my own specially designed yoga routine and training has helped me to get back on the water much more quickly, but with a greater awareness and an enormous appreciation of just being in the sea.
ET: What does sea sense mean to you - at home or on holiday?
Kirsty Jones: Whether you are a beginner or an experienced water sports enthusiast, sea sense is about having respect for the ocean, elements, other water users and your own limitations. This means pausing to observe, think and acknowledge when the conditions seem too dangerous for you. Sometimes courage is about having the strength and sense to hold back, respecting the ocean instead of trying to fight with it. I'm a great believer in pushing your limits and doing things that scare you but you must have the knowledge - think of what the worst case scenarios could be - and then have an action plan to deal with what happens without endangering others who might try and help you out. I take responsibility for my own actions and always have a rough plan to get myself out of a situation without relying on others.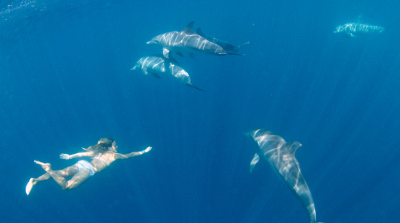 ET: Where is your favourite place to travel to for:
Kite boarding - Dakhla, Western Sahara Holiday - Madagascar Party - Necker Island, BVI Sight Seeing - Peru Relaxation - Portugal, Alentejo, Aljezur, trekking with donkeys in the countryside
To keep in touch with Kirsty and her adventures, log on to www.kirstyjones.com. To find out more about the Sea Sense campaign click here.
Kirsty's Sponsors - North, Animal, ION, Fanatic, Ortema
Last Updated: July 2011