Q&A: What's The Best Travel Guide for Me?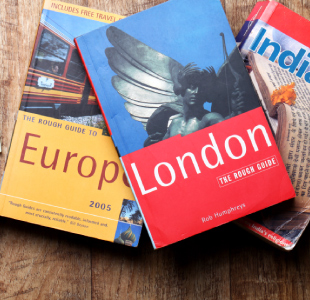 Dear Essential Travel

In a few months I'll be flying to Morocco for a holiday. To make the most out of the experience, I'd like to get a travel guide that will take me through all the best parts of the country. There are so many good travel guides out there and I have no idea which one to choose. Could you suggest a few that are easy to read, have great pictures and can give me some information on the history and culture of Morocco?Nicole Parker, Leeds
Our Answer
Hi Nicole
Thanks for the question, I'm sure there are many people who often face the same predicament. Travel guides are the best way to discover both the popular and hidden gems that your destination has to offer. Landing at the airport, grabbing your luggage and then having no idea what to do next isn't the best way to start your trip.
You can be the ultimate tourist and find a travel guide as thick as an encyclopedia, or you can get a pocket-sized travel guide perfect for when you're wandering around the city with nothing to do. Before you buy a guide, you have to know where you're going, and have a general idea of what you want to do there. Here are a few popular travel guides and tips, to help you figure out the best one for you.
DK - Eyewitness Travel
Eyewitness Travel is ideal for travellers who want to envision the destination before you even get there. With over a 100 guides for places all over the world, you are bound to find one that's the perfect fit for your adventure, like the Eyewitness Guide to Morocco.
DK has introduced travel apps for digitally-minded travellers. The apps offer offline maps, photo galleries, extensive listings of the best sights and museums as well as interactive city walks. You can even pin and share your favourites simply by logging into your email account.
Lonely Planet
Lonely Planet's extensive range of over 500 books covering 195 destinations is what sets them apart from your average travel guide. With a section on A Year of Festivals and even giving you the Best Travel Tips, a Lonely Planet travel book is the ultimate tour guide for any traveller. And you're guaranteed accurate information because the authors have travelled to the destinations and are able to give first-hand advice.
Lonely Planet has a travel guide to Morocco that includes the country's history, tips on how to interact with locals, a list of the places in Morocco that you should visit, and provides you with easy-to-use maps. It may be a good idea to get a guide that focuses on a specific area like the Marrakesh Encounter Guide. The detailed and specific information will ensure that you get a better idea of what your experience will be like and which places you'll enjoy the most.
Let's Go
Let's Go is the perfect student guide to travelling. These travel guides feature everything you need to know about backpacking, nightlife and how to have an adventure on a budget. And its all packaged into a convenient pocket-sized fold out. The guides were created by students for students and are growing in popularity.
Keeping in line with the student lifestyle, each guide is now available for your device - eBooks, PDFs and apps - so you won't have to carry around a heavy book. Simply search for the destination you've been wanting to visit, download the guide and let the adventure begin.
Let's Go offers Spain & Portugal with Morocco Guide filled with information for the perfect student adventure.
Rough Guides
Travelling for the first time can be an exciting, but daunting experience. Rough Guides provides comfort with their First Time Traveller guides. The ideal way to put your mind at ease with expert information and photography.
A heavy book filled with photographs, maps and information may provide you with a wealth of information for your holiday plans, but carrying it around while travelling can be a hassle. The Pocket Guide Series brings the ideal travel companion to life. The book covers key sights, things you don't want to miss out on and a pull out map; all of which can be found in a paperback small enough to fit into your pocket. There's a Pocket Rough Guide Marrakesh that might be perfect for your Moroccan adventure.
Footprint
If you are looking for a travel handbook that not only offers accurate information, but also focuses on the culture and history of different countries, then Footprint is ideal. It's apparent that their writers present each place with a certain amount of respect, while maintaining a deep appreciation of the local culture. Since their writers extensively explore the very places they write about, you're also able to get first-hand knowledge. Their annually updated guide to South America is the longest established travel guide - it's 89th edition has already come out.
Footprint have a few travel guides on Morocco and its fascinating capital, Rabat. The Handbook Morocco will give you information about trekking routes, adventure sports, where to buy food and souvenirs, and what the most popular activities are.
First Hand Travel Information
Striking up a conversation about Morocco could lead you to someone who has been there before, which is the best way to get travel advice. You have the opportunity to ask all the questions a travel guide didn't manage to cover. People are generally excited to share their experiences and photographs and even make useful recommendations. Advice from people who have been there offers a real and honest opinion about the place you're about to visit.
Another idea is to find blogs online that share travel experiences with the world. Try OE Travel Blogs, they give first hand travel information from people who have been to the various destinations. You can find reviews, advice and tips from 50 countries around the world. Marrakesh in Morocco is one of the cities they cover.
I hope that helps you choose the best travel guide for you. Enjoy the adventure -safe travels!
By Sarah Arrenberg
Last Updated: May 2013