Does Travel Insurance Cover Flight Cancellations?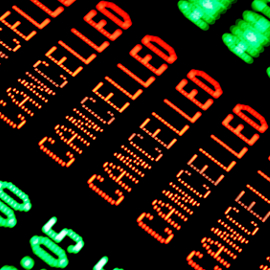 Confusing as it may seem, but cancellation in travel insurance terms doesn't relate to cancelled flights. It actually refers to situations that cause YOU to cancel your trip, of which a flight being cancelled isn't one.
Let me explain, what cancellation cover is on an insurance policy and what cover is included should you be unfortunate enough to have your flights cancelled. Here goes!
What Does Cancellation in Travel Insurance Mean?
Cancellation cover exists as protection, should you be forced to cancel your trip on your own accord. There are five reasons that you may be covered under cancellation:
Unforeseen bodily injury, illness, disease, complications arising from a direct result of pregnancy or death (of you, travelling companion, person arranged to reside with, close relative, close business associate)
Compulsory quarantine, jury service or being called as a witness in a court of law
Redundancy
You or any person you're travelling with is/are a member of the armed forces, police, fire, nursing, or ambulance services or employee of a government department and you or they have their authorise leave cancelled
Police requesting you to remain / return home (due to damage to your home by fire, explosion, flood, theft etc)
What Rights Do I have If My Flight Is Cancelled?
If the flight that you are booked on is cancelled or heavily delayed you will be entitled to a number of things under EU Regulation (EC) No 261/2004, provided that it's a direct flight from the UK or on any flight to it that's run by a European airline. It is the airline's responsibility to provide you with alternative transportation or refund and they must also offer you meals, refreshments and hotel accommodation should you require it.
If your airline does not provide assistance, keep your spending to a minimum, make sure you get receipts and claim reimbursement from your airline when you get home.
What Does Travel Insurance Cover If a Flight is Cancelled?
Travel insurance will help with any other associated costs that you could lose due to your flight being cancelled - such as your pre-booked accommodation, car hire etc to the maximum limit as set out in your policy (for Essential Travel customers that's £1000 per person). However, as previously mentioned it's not covered under the Cancellation section of your policy, but actually the Delayed Departure or Holiday Abandonment sections.
Delayed Departure: If departure of the public transport on which you are booked to travel is delayed at the final departure point from or to the UK for at least 12 hours from the scheduled time of departure due to:
Strike
Industrial action
Adverse weather conditions
Mechanical breakdown of or a technical fault occurring in the transport on which you're - booked to travel
Closure of airspace directly attributable to volcanic ash (although not all insurers cover this!)
Holiday Abandonment: If your flight has been delayed or cancelled for over 12 hours, then you do have the option to abandon your holiday and claim the costs back from your travel insurance. Not all policies include holiday abandonment cover as standard so you need to make sure you have the correct policy when taking out travel insurance!
Special Conditions Relating to Flight Cancellation Claims
You must check-in according to the itinerary supplied to you
The good news here is that nowadays you have the choice to check-in online thus saving yourself a wasted journey to the airport. That said, by not going to the airport because you know your flight is cancelled, you will miss out on the opportunity take any other seats that may become available to you.
You must obtain written confirmation from the carriers
In order for your claim to be processed you will need to provide written confirmation from your carrier detailing the exact number of hours the flight was delayed and reason for delay.
more hub posts