How To Travel With Oversized Luggage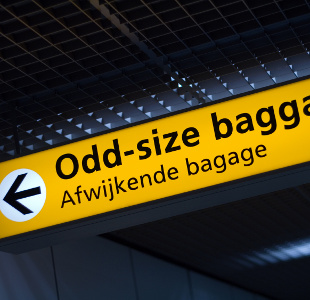 You may have been in a situation where your luggage was over the weight limit or you had an item that was too large to take into the cabin. Travelling with oversized luggage can be a nightmare, especially when you've just packed the essentials. This month we give you advice on how to travel with oversized luggage, whether it's your beloved guitar, your golf clubs or all your camera equipment.
How Oversized Is Oversized
Luggage is usually measured by weight, size and length and oversized luggage is classified by most airlines as anything over 20 to 32 kilograms (depending on the class of your ticket) and 62 inches. It's always good to check the luggage specifications of the airline you are using before you pack as they are subject to change without notice and can vary according to your route and class of seat.
Check It In
If you are travelling with sports equipment or musical instruments you are allowed to take one item with you as part of your checked luggage, for example your guitar or surfboard. This is all dependant on whether they fit the free baggage allowance regulations - so make sure to check the length and size allowed. Some airlines allow you to take an instrument onboard with you, but it has to be strapped in on another seat, which you are also required to pay for. Basically there isn't a world-wide standard and you need to check with all the airlines you are using on your trip - you may be allowed to travel with an instrument as part of your free checked luggage or hand luggage on one leg of the journey, and then come into problems on a later flight, so make sure you don't get caught out.
Pay For It
Most airlines will let you travel with oversized luggage at an extra charge. This means that you have to pay for the excess weight of the luggage you want to take with you. All you need to do is get it weighed and for every kilogram over the accepted weight limit there is a fee. This can be pricey though. If you know you will be travelling with oversized luggage, airlines advise customers to buy extra weight allowance online before they check in as it is cheaper than paying at the airport and you won't have to go through the process on the day of your flight.
Get It Shipped
Having your luggage shipped requires more planning before you travel, but at least your luggage is delivered directly to your door, allowing you to avoid the pricey airline baggage costs and saving you the hassle of dealing with the luggage at the airport. Pack everything you need, courier it before you leave and it should be waiting for you by the time you get to your destination. You should also read up on the courier service regulations to find out about charges and weight allowances and whether they charge according to weight or volume. To ensure that you don't pay to courier your bicycle only for it to get lost in transit and never make it to you, ask about tracking and insurance options.
Essential Travel Quick Tips
Always check airline specifications to ensure that you are within the weight limits and if you are travelling with oversized luggage let the airline know beforehand.
Don't assume that all airlines are the same, because you can be caught out if one airline allows you to carry equipment without extra charges whilst another might require you to pay.
Make sure that you have comprehensive travel insurance for any equipment you are travelling with as some airlines will not take responsibility for loss or damage.
Last Updated: September 2013