How To Travel With Hand Luggage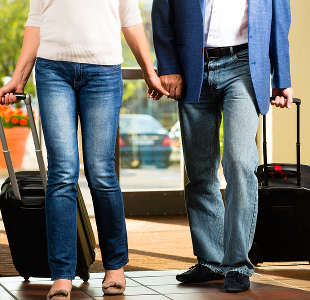 We gawked when airline ticket prices skyrocketed, but we had to pay it so we grudgingly handed over our credit cards and cringed when the statement arrived. So imagine our shock when we discovered that our bags also have to pay a price, and at about £35 just to get your luggage to meet up with you at the same place, most frequent fliers had enough of being charged ridiculous prices. Instead of having to deal with bulky suitcases, most people prefer to just take hand luggage now. But is it possible to get everything you need for your trip into one bag? Of course it is, you just have to pack wisely.
The Preparation
Before you even start packing, you have to check the baggage dimensions that the airline you're travelling on allows. It can differ from airline to airline so it's always best to make sure. The most common dimensions are 56cm by 45cm by 25cm. Now that you know the dimensions, you need to buy a bag that fits that size to get the most out of the allowance that the airline offers. In this case, it's better to buy a soft bag as opposed to a mini suitcase as it's lighter and you'll be able to squeeze more items inside. Seatguru is a handy site that allows you to check baggage dimensions allowed by airlines.
In Case Of Emergencies
Travel insurance is one of those things you think you can do without; until you lose your luggage or it gets stolen. Without travel insurance, and with just one suitcase, everything you need could be gone and you may just end up stranded on the other side of the world. The best option for you if you're travelling with hand luggage is the Hand Luggage Only Travel Insurance as you're able to save money on baggage costs and insurance. If you're only planning one trip, there's no need to spend extra because Single Trip Travel Insurance is a comprehensive policy that's perfectly suited to your needs.
Discard Non-Essentials
Besides your clothes, other essential items are toiletries and medication. If you're only planning on taking hand luggage then it's best to leave the toiletries at home and buy them at your destination. Alternatively, you can decant the necessary amounts into handy travel bottles. These are available from most travel accessory shops or camping stores.
As for medication, the most important medicines should be packed in your small handbag/carry-on bag (in case of an inflight emergency). If it's in large quantities, a letter from your doctor to let the airline know about your condition should suffice.
Travelling With Equipment
If you're going to indulge in extreme sports, like mountain climbing, or even not so extreme sports like golf, you can still travel with hand luggage only by hiring your kit once you arrive. If you have to take your own gear, then pay to store it in the hold on the outward journey. Take only the most important items, and try to avoid the "in case" syndrome where you end up packing another suitcase "in case" you need it.
The Packing
Once you have the logistics sorted out, it's time to start the real hard work. Deciding what you need to take with you and what to leave behind. You generally only need one pair of shoes - sneakers are good for hot and cold days. If you take boots, you'll end up having to pack flip flops and trainers too, and if you do that you'll convince yourself that you also need a pair of heels. If you think that you really need two pairs of shoes, wear the biggest on the plane and stuff the one you're packing with any small items you need to bring.
Once you know what sneakers you're taking, it's time to pack your clothes. Trousers with detachable legs that can be zipped off and turned into shorts are ideal, as well as three quarter trousers, which can work in warm and colder weather. Taking a warm jacket is always important, even if you're going to a place with a hot climate. Generally it's advised to take half of the clothes that you think you'll "need".
Look Into Multi-Purpose Items
Try to wear as many clothes on the plane as possible, especially any big coats and jeans. Also, if you're going to a sunny destination, look into buying a multi-purpose sarong, which can be used as a skirt, warm shawl and a beach mat. Another useful multi-purpose item is Nomad Travel Store's Trek and Travel poncho. It's a poncho that will cover you and your rucksack and it can be used as a groundsheet and makeshift shelter.
When packing, make sure your clothes are rolled up and not folded as this wastes space. Leave the thicker items until last and pack them at the top (you may have to do a bit of squeezing for this one).
Last Updated: May 2013