How To Travel On A Budget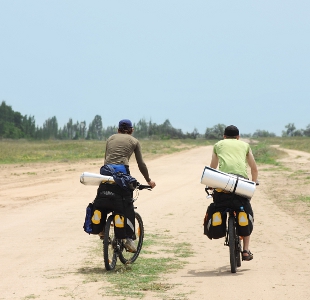 Gone are the times when travelling was just a novelty for the rich. These days, it's not about the fancy hotels, french wine and exotic cuisine. Travelling is about opening up your mind, having unusual experiences and making lasting memories. So why should you have to spend years saving for a three week trip? You don't. All you need to do is plan. And then budget, budget some more and stick to this budget. Money should never be the problem that holds you back from exploring the world, so we've jump-started your journey and put together this piece on How To Travel On A Budget.
Use Discount Cards
Before you leave, purchase an International Student Identity Card (ISIC) to qualify for discounts. To qualify for this card, you have to be a full-time student over the age of 12. The card gives you discounts on flights, transport, dining, admission to museums and even movies. Oh, and hotels and department stores of course.
But what if you're not a student? That's okay too. You can get a VIP Backpacker Card for the Americas, an International Backpacker Card for Asia and the Euro26 for Europe. There are a lot of backpacker discount cards floating around and there's no reason why you should be paying full price for everything. The International Backpacker Card even gives a discount on Travel Insurance.
Travel Light
"Let me just put in one more pair of shoes, it won't make much of a difference." No! Big mistake. Of course it's going to make a difference. These days, you pay almost as much for your luggage as you do for your own plane ticket. Reducing your baggage weight by carrying just a few essential items is your best option. In fact, if you can travel with just hand luggage, then you're on your way to becoming a bona fide backpacker ready to make some mega savings.
Choose Accommodation Wisely
If you want to enjoy your trip without constantly worrying about money, then please don't stay in a hotel. Seriously, it's not worth it. Unless you're just going for the experience - in which case, book into the Ritz-Carlton for just one night, try on the Terry Cloth Robes, jump on the bed, order room service, and don't say I told you to do it.
When it comes to accommodation, hostels and dormitories are your best friend. You're travelling, not trading in your bed at home for another one across the world. Couch Surfing is also another fantastic option. Why? Well, it's free. And you get to meet a lot of people. You spend your nights sleeping on different couches (or the same couch if you become friendly with your host) and your days exploring. Another alternative is a home exchange or house sitting. You jet off to another country and live in someone's house, while they fly to your country and stay in your home. It's free, fair and very convenient.
Consider Your Transport Options
Transport catches out a lot of people. You don't expect it to be as expensive as accommodation, but before you know it, you're begging cab drivers to give you a discount. On that note, why are you in a taxi at all? It's far too expensive and unnecessary, especially when you have good ol' faithful legs or a bicycle. Walking and cycling not only saves money, it also gives you the opportunity to explore the city in a completely different way. How much can be learned from the backseat of a taxi -aside from your driver's life story? For long distance trips, trains and buses are always a lot cheaper. For non-european citizens, you can purchase a Eurail Pass and you'll be able to travel Europe by train. For European citizens, you can make use of Interail. You can also get discounts using your backpacker discount cards.
Be Adventurous With Food
I know it's tempting, but avoid eating out as much as possible. One meal at a restaurant can be the equivalent of five bought-and-cooked meals. A weekend in France doesn't mean that you have to blow through half your life savings. But you have to be willing to wander off the beaten track. As you move away from all the tourists in the city, you'll even begin to find affordable local restaurants that make better food. If all else fails and you're left with just a few pounds in your pocket, buy a packet of noodles. It never fails.
Plan Your Excursions
Visiting national treasures and popular tourist places can upset your budget quite a bit. A trip wouldn't be the same without visiting these places, but you don't have to do it all in one go. Make a note of the most important places that you would really like to see. Do your research to find out if there are times when they give discounts and once again, make use of your backpacker cards. Whatever you do, don't go during the peak period. You'll spend half your time just waiting to get in.
Do Things That Don't Cost A Lot Of Money
There are so many things you can do that don't require you to pay an arm and a leg, and you'll get to revel in the atmosphere of the city. Going to the beach should be top of the list, there's nothing like jumping into new waters. Picnics are also great. You can visit national parks - a lot of them are free - and spend the day exploring nature, reading a book or meeting locals. Hiking is another fun option and it is usually free - you know all those aerial pictures you've seen of your favourite city? Now you can take some yourself!
Ask About Prices
Some places don't have a price list. If I were you in this case, I'd run a mile because that usually means it's prices I can't afford to pay. Nevertheless, this shouldn't stop you from enjoying a good meal. If you're brave enough, you can ask before ordering. Never assume that you know what the price could be as you may end up paying a lot more than you bargained for. Also, check your bill carefully. In some places, waiters recognise tourists and between language confusion and currency differences, they can add a few extra pounds to the bill without you even noticing.
Research Tipping Etiquette
Tipping is important, especially if you like a place and you're planning on going there more than once. Also, some places expect higher tips than others. In the U.S, a 15% tip is usually expected, but in other countries a 10% tip is considered extremely generous. Taxi drivers don't expect to be tipped, but rounding up to the next even amount is welcomed. While giving a fair tip is important, make sure that you aren't overtipping as this can amount to quite a bit of cash.
Pay Cash
This is important. I don't mean that you should carry all your cash on you. However, when going out, withdraw a certain amount and leave your card in your room. You'll end up spending so much money if you keep swiping and you'll quickly lose track of how much you've spent, especially on a night out.
Negotiate At Local Markets
When going to a local market, whether it's for food, clothes or souvenirs, don't purchase anything without trying to bargain. If that doesn't work, keep negotiating, and then walk away and try the same thing with the next stall. Most of the time the prices are inflated, but if you hold your ground and don't budge, you can get a decent discount. That being said, if you're travelling to a country with a weaker currency, make sure that you're paying a fair price for the wares.
Last Updated: August 2013