How To Take Photos In The Snow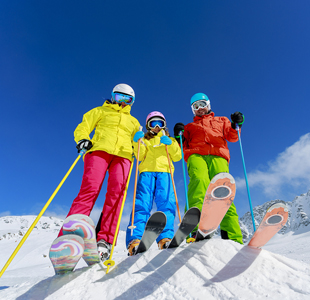 How do you get the best photos on the slopes? Expert photographer Zachary Flynn shares some helpful tips for getting the most out of your camera: "You don't need the latest equipment, in fact many people may just use phone cameras, but if like me you prefer something a bit more substantial, then a compact camera or SLR will do the job nicely". And here's what else he has to say...
Hints And Tips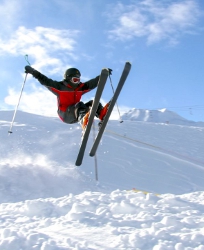 If you're using a digital SLR or a new style of compact camera, it's best to take the camera off 'full auto' and stick it to either a preset snow setting, or AV (aperture value) / TV (time value) mode. Once it's on these, to get the brightest and most vibrant photos, look through the white balance settings and change it from 'auto white balance' to 'flash' or 'custom'. With the camera on 'auto white balance' it can make the shots come out grey or sometimes too blue. With the setting on flash or custom it brings out the white in the pictures and gives them a slightly warmer look. If you're looking to snap a skier in motion, adjust your camera's shutter speed to 250 (1/250 seconds) and above. This will keep the skier sharp in focus in the shot if they're travelling at speed.
Keep It Clean
We're not talking about the pictures you take, but the lens! It's always a good idea to keep a spare cloth in your ski jacket or bag so that you can give the lens a quick wipe. Most ski jackets have a goggle wipe hanging on the inside of the jacket, which is perfect to use. If the lens gets all clogged up with greasy finger marks and dirt, your pictures will come out hazy.
Keep It charged
There is nothing worse than getting your camera out at a perfect photo opportunity to find the flashing sign on your LCD screen saying 'out of battery'. Always have a spare battery on you. Batteries get used up a lot quicker in lower temperatures, so you might think that you know how long your battery should last at home, but in the cold, the battery life will be a lot shorter.
Get Creative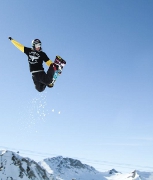 Being creative can make some of the best shots. For example, if you're in a group and you manage to come across a snow park, there's bound to be someone who says "I can do that! Looks easy", and "Get the camera ready for this one". This is your opportunity to take the best photo of your mate's trip, or the one where it all went wrong! In this situation the best place to stand for the money shot would be on the knuckle of the jump. It's always good to get down low so that when you snap away it makes the rider look a lot higher than they actually were.
Goggle Shot
Many new styles of goggles have a reflective coating, making them look like a colourful mirror. Taking a close-up photo of the goggle lens whilst it's on a friend's head and they're looking at the group behind, you can get a great shot. Or maybe you're sitting having lunch and your goggles are on the table, this is also a great chance to get a reflective photo. It's all about being creative.

Take In The Views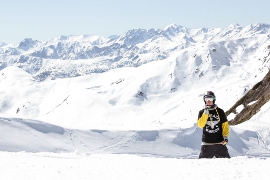 With the vast mountainous range around you, it's hard to stop taking photos of your surroundings. One of the most fascinating shots is the panoramic. It can show in a single image a 180 to a 360 degree view. If you don't have this panoramic setting, then just a nice landscape photo of your scenery will do. One great tip when taking a photo of scenery is to make sure the horizon is not dead centre in the picture. It always looks a lot nicer with the horizon either above or below the middle of the picture. Personally when I take photos of the mountain, I prefer to get more mountain in than sky. It gives more to look at in the picture and makes the viewer realise the impressive size of them.
Go Ahead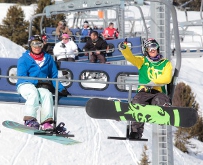 It's always nice to get a photo of the family on a chair lift. But when you're sitting so close together it's really hard to get everyone in the picture whilst trying to include the scenery. A good trick is for you, the photographer, to go on the chair lift in front. Then all you have to do is turn around and you can get a front view of the rest of your party. You'll also be able to get a great background of the surroundings, with the vast area to zoom out from.
Make It Fun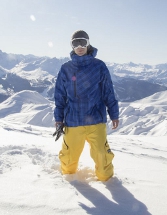 At some point during your day you will need to take a break. Your legs will be killing and you'll just need a rest. There are normally a few picnic benches at the top of the mountain and these are ideal for getting the next photo.
You'll have to put your camera on 10 second self-timer for this one. Just set up your camera on the table and get yourself into position: hoping you have caught the time right, try and jump into the air when the photo is being taken. If it all goes well - and this may take a few goes - you should have a photo with the whole group in the air with a great mountainous background behind.
Don't Lose Your Gear In The Snow
You often hear of people dropping all the contents of their pockets off a chair lift. To avoid this happening to you, it's best to attach your camera to yourself - that way it can't go very far. If you don't have a way of tying the camera to your jacket, it's always a great idea to check that your pockets are zipped up before heading down the slope or about to get onto a chair lift.
Don't Pretend You're Action Man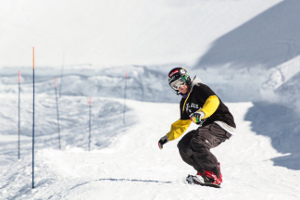 We all think we can do it - ski backwards to take that perfect photo. So many injuries from people crashing because they weren't looking where they were going happen while they were taking a photo of family and friends. It's a whole lot safer to plan the shot ahead, tell them where you're going to stand on the piste, and let them come to you. And because they're all coming to you, you can catch every one of them, saving yourself chasing your 10 year old son who's skiing at the speed of sound!
If you'd like to see more of Zach Flynn's photography, or get hold of him personally, check out his Facebook page, www.facebook.com/zachflynnphoto.
To make sure that you and your ski equipment are fully covered on the slopes, protect yourself with the Best Ski Travel Insurance, or check out Why Do I Need Special Winter Sports Cover? for more info.
Last Updated: January 2013