How To Make The Most Of The UK Summer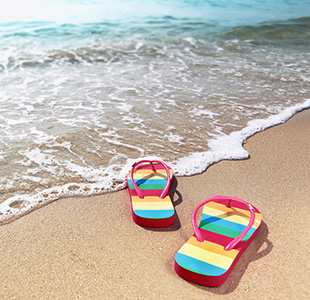 Summer is almost here, and I'm one of those people who couldn't be happier. For the past few months I've been curled up in bed under the covers only dragging myself out if it's an emergency, like work or a kitchen fire. Now that the sun wakes up before I do, I can jump out of bed with a smile on my face. Sadly, summer seems to pass all too quickly and sometimes you're left feeling like you could have done so much more. So here's ideas for making the most of summer. If you share my sentiments or have a few suggestions of your own, comment in the box below and let fellow summer lovers see what they can get up to this season.
Host A Barbeque
Don't be one of those people who wait for someone else to make the party announcement just because you don't feel like cleaning up afterwards. Bring out the salads, paper plates and wood, and gather people around the fire to enjoy a day (or night) of good company and great food. While the meat is cooking, get a game of garden cricket going or grab a deck of cards - it can be interesting seeing your friends' competitive side come out. And if some of you decide to go for a midnight swim, you can consider your summer evening a roaring success.
Get To The Beach
We say this every summer, and when it eventually comes, we find ourselves so busy that we rarely actually make it to one of the greatest gifts that Mother Nature has given us; the sea. Packing your towels, sunscreen, umbrellas and snacks early in the morning and then heading to the beach for the whole day can't be compared to any other activity. Sure, by the end of the day you'll have to wash sand off every part of your body, but with a sun-kissed glow, some much needed vitamin D and the cool salt water, this shouldn't bother you one bit. The Top 10 Coastal Towns will you give you an idea of what beaches to visit.
Watch A Night Time Show... Outside
One of the best features of summer is that you can go outside at night without freezing your fingers off. With just the right temperature and light, you can enjoy a relaxing evening watching a show or listening to music. There is something for everyone and there's no better way than to enjoy the music you love by sitting down on a picnic blanket with delicious food and drinks. There are ample concerts for you to see, from London and Kenwood to Hampton Court and Audley End. And with names like Rod Stewart and Cliff Richardson performing in the various concerts, it will certainly be one to remember. The experience is just as special during the day, so why not purchase tickets for both times (different shows, of course) and really make the most of your summer days.
Go For A Walk
It may sound pretty rudimentary, but summer is simply not complete without an epic walk. If you're not very fit, then you can go on shorter walks that offer just as many scenic routes as the longer, more difficult ones. However, if a satisfying summer is what you're looking for, then why not do multiple walks over the few weeks? Start with the easier routes and don't push yourself, instead, take it step by step and mile by mile. Before the end of the season, you'll be doing a 14 mile walk like it's child's play. Our Top 10 Summer Walks is a great resource is you're looking for places to explore.
Spring Clean
It's not everybody's favourite way to pass the time, and it isn't even spring! But spend a day cleaning your house and doing all those things you just never get around to. It will take a load of stress off your shoulders and give you that feeling of a fresh start to the year. Few things beat waking up in the morning with a breeze on your cheeks and your place smelling like a million pounds. It just gives you the boost and motivation you need to make the most of your day.
Plan Your Budget
If you're taking some time off this summer, make sure to budget properly. Too often we run out of money mid-holiday and the rest of our days are spent cooped up inside. And then when it's time to get back to work and school, the whole family feels sluggish because nothing much has been done over the past few days. The best way to avoid this is to plan a very strict holiday budget. When you go out, pack your own lunch and if you're buying snacks, grab a packet of nuts and fruit, instead of takeaways. Carefully plan what you want to do and when, and then make sure that you have a little extra for each outing.
Alternate The Days You Sleep In
Many of us look forward to a summer holiday because we can sleep in. But before you know it, summer is over and the sum total of your experience is getting dressed around noon. Not exactly something for the books. At the same time, you should be able to enjoy the freedom and rest that comes with summer days. So give yourself a few days to sleep in, but wake up early for the other days and really make the most of them. More than eight hours of sleep only makes you even more tired, so avoid the "sleep-in" mentality.
Take A Cold Shower
In winter, taking a cold shower is just not an option. It's a different story in summer though. You may ask why exactly you would need a cold shower. Well, it will make you feel a lot better. Cold showers increase blood circulation, which prevents problems like hypertension, it also gives you better skin because it closes your pores after the warm water opens it, it makes your hair look healthier and invigorates your entire body so that you're left feeling energised. Definitely something to take advantage of in the summer months
Read A Book... Outdoors
You may immediately dismiss this tip because let's be honest, you've spent the entire winter reading in bed. Don't judge too quickly though. Choose books that are fun and lighthearted, but also make you think. Once you have your novel of choice, grab a blanket and lie on the grass (I like to have a bunch of grapes or other fruit with me to snack on). Reading outside enhances your spiritual, sensory and aesthetic awareness and increases your physical health.
Go Camping
A true camper will pitch a tent, light a fire and cope just perfectly without all the added amenities that have managed to become necessities in our everyday lives. Your tent doesn't have to be too big, as long as you and the family can sleep comfortably. Your days should be spent exploring nature - from the mountains to the sea. This makes picking a campsite very important. Nantcol Waterfalls in Llanbedr, Gwynedd just north of Barmouth has exotic mountain ranges coupled with lakes and rivers that make for a really fun camping experience. And if you're looking for the sea, then Henry's in The Lizard, Cornwall is the perfect spot. It's location at the top of Caerthillian Valley ensures spectacular sea views and instagram-loving sunsets, minus the filter. The nearest beach is just 15 minutes away along a footpath, and it will be hard to get out of the small tidal cove once your feet touch the water.
Plant A Tree
I'm not even kidding with this one. Gardening is a special kind of activity that has long been passed off as sport for older people when in fact, it's really a lot of fun at any age. Getting your hands dirty and seeing the fruits of your labour is almost like having a child without having to be on call 24 hours a day. Even if you don't have green fingers and your tomato plant doesn't immediately start sprouting, just being outside and doing something proactive is better than sitting on the couch. It's best to start in the early morning or late afternoon, when the sun isn't at it's highest. It's also advisable to wear sunscreen and a hat.
Last Updated: June 2013