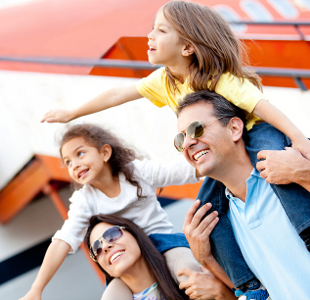 We know you're supposed to enjoy the journey and not just the destination when travelling, but with all the stress that can come with flying and airports we'd sometimes rather skip the journey altogether. Travelling can be unpredictable at best, but unexpected bumps are not something we like to deal with before we even get to our destination. We've all fretted about whether our flight will be on time, whether the luggage will reach its destination or who will be sitting next to us, and although you can't do much about these things, there are a few precautions you can take to make sure your flight is a pleasurable one. We've put together a few helpful tips to ensure a stress-free flight, this way you can enjoy the journey just as much as the destination.
Before You Fly
Booking your flight
When booking your flight, try to avoid seats that are at the front or back of the cabin, as these will have maximum traffic with people moving up and down to stretch their legs and go to the loo (not to mention the air that comes from the door opening and closing). This can be highly disruptive for you.
Secure travel
Always get travel insurance, this is where we invoke the age-old cliché of "better safe than sorry". However, it will put you at ease if anything unplanned happens and you'll enjoy your flight and trip better knowing that you are covered.
Plan your time
Make sure you aren't late and rushing to the airport as you are more likely to forget something important behind. Leave enough time to get to the airport and relax before having to board, this will ensure a good start to your flight.
Transport
Make sure you have reliable airport transport, you don't want to miss your flight because the car suddenly breaks down or the taxi you hired can't find your address. Also check for any roadblocks or diversions on the road before you leave so you know which route is best to take, that way you won't get caught in traffic.
Book a parking spot
Book airport parking in advance, you don't want to spend hours trying to organise parking. You'll also be safe with the knowledge that your car is as you left it when you return.
Be prepared
If you're travelling on a strict schedule, have a back-up plan with information about other flights, airlines and times in case your flight gets cancelled or delayed.
At The Airport
Important documents
Make sure these are packed into a secure side pocket of your carry-on so they are easily accessible (tickets,passport, visas, vaccine docs) this will save you rummaging in your bag for them at check-in.
Travel light
Where possible, travel with only hand luggage, this way you won't have to worry about your luggage being overweight - or even worse - lost en route; it can be highly stressful when you get to your destination without your clothes. Also, try packing your metallic items (rings, watches, earrings etc) in a transparent bag in your carry-on and put them on after you pass the security checks (this will eliminate the hassle of having to take them off and put them back on).
Relax before your flight
Get to the airport early and relax at an airport lounge, where you can enjoy refreshments and a newspaper or WiFi in a relaxed atmosphere.
Be comfortable
Dress comfortably and when it comes to footwear, choose something you'll be able to take off easily for those airport checks.
On The Plane
Settling in
For those especially long flights, get yourself noise-reducing ear plugs (and your own pillow if you plan to sleep) to shut out the cabin noise that can disturb you during your nap, movie or whilst reading your book.
Make sure you have a jacket incase it gets a bit nippy on the flight due to those unpredictable cabin temperatures.
Refreshments
Don't over indulge when it comes to alcohol - it might calm your nerves and help you get to sleep, but you'll wake up with a headache and serious dry-mouth. Rather hydrate with water to boost your immune system, which can be affected by the different cabin temperatures and the increased exposure to germs in such a confined space. It'll also help prevent the dreaded jet lag.
Keep it clean
To avoid catching any nasty bugs or getting ill, use hand sanitiser as well as disinfectant wipes for armrests, trays and any other surfaces you come into contact with and always remember to wash your hands.
Exercise
Get up and move around on the plane, it's good to stretch your legs and get the blood flowing - on a long flight this will combat blood clots, which can be caused by being immobile for long periods of time. Alternatively, you can do ankle and leg stretches comfortably in your seat.
Entertainment
While most international flights will have a decent selection of movies, series and music, if you're a nervous passenger or find it difficult to relax on flights, you can always bring your favourite book, music or even a crossword to keep you occupied.
And lastly, be polite to flight attendants, they can make your flight experience a lot smoother.
by Sipelele Ndungane
Last Updated: July 2013