How To Choose The Best Frequent Flyer Program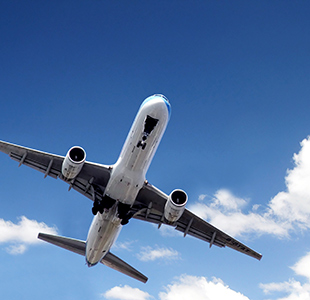 Whether you're a nomad exploring the world, or a business traveller flying domestically for meetings, your flights can be quite costly. One solution to this is joining a frequent flyer program, which often means complimentary upgrades or even free flights. But choosing the right program for you can be confusing, so we're taking it down to the basics to help you get the best deal out of your journeys.
Consider Where You're Going
If you fly between certain destinations more often than others, then choose a program from an airline that flies where you need to go. When you join a frequent flyer program, you also join an alliance. The three largest alliances are OneWorld, Star Alliance and SkyTeam. This allows you to credit all your miles from airlines in a specific alliance to one airline, allowing you to earn more points.
Think About The Kind Of Tickets You'll Be Booking
Once you've chosen an airline based on where you'll be flying to most often, you should consider what kind of tickets you'll be booking. You can choose between Economy, Premium Economy, Business Class and First Class (not all airlines or flights have all four options). This is important because quite a few airlines have instant upgrades for some tickets if you're part of the mileage program. For example, with British Airways' Executive Plan, you have the chance of being upgraded to First Class for the price of an Economy ticket - provided there is space available and you have elite status.
How Much Flying Will You Be Doing?
There are some air mile programs that work great for people flying often, but don't really benefit someone who only travels occasionally. Some programs provide fantastic perks if you're on a Platinum Program: domestic upgrades, international upgrades and First Class lounge access are just a few of the features. On the other hand, with this same program, if you're on a lower tier then you'll only be eligible for a limited number of upgrades, good for a certain amount of miles. If you don't fly that often, you can still find a program that will benefit you, you'll just have to shop around.
Does The Airline Offer Upgrades That You Would Find Useful?
If you don't pick an airline that has upgrades suitable to your needs, then you could end up with a program that offers fantastic international upgrades and awful domestic perks, even though most of your flying is domestic. If you're a frequent international flyer, it's best for you to pick an airline that offers the best top tier benefits, it's the only way you'll actually end up saving money.
Affinity Credit Cards
Most people travel with a credit card, and these days more frequent flyers are opting to use an Affinity Credit Card instead of their Visa or Master Card. Affinity Credit Cards offer all the privileges you get with your other credit cards as well as provide travel benefits such as bonus miles and the chance to earn points for every pound charged to the card. The downfall is that Affinity Credit Cards have quite high interest rates, so make sure that you're actually benefiting if you decide to use it.
The Basics
Now that you know where you'll be going, what kind of tickets you'll be booking and what you need to be doing to earn points that are most useful for your specific needs, how do you go about finding the program that has all of this? Your next step should be to visit the FlyerTalk Forums, where you can find out information from current frequent flyer members.
How To Earn Air Miles
When air miles were first introduced, the only way you could earn miles was by flying. But airlines quickly realised that there are many other aspects of travelling and introduced ways to earn miles from hotel stays and car rentals, and more recently from shopping and investing. Most hotels participate in airline programs and you can earn about 500 miles for each stay (hotels have different qualifying staying periods to earn these miles). Most car rental companies also offer air miles and you can earn about 50 miles for every day a car is rented. With Affinity Credit Cards, you can get the Classic, Gold and Platinum options and cardholders generally earn one airline mile for every pound spent. You can find out more by reviewing and comparing the award charts of the programs you're considering, paying careful attention to award cost differences and destination options.
Redeeming Miles
In the past, you could redeem your miles and get a free hotel room, discounted car rentals and free flights. These days, it's not that easy. In fact, a study has found that almost half of current frequent flyers never end up redeeming their miles because it seems too complicated. Some people report that terms and conditions appear too restrictive and they believe that you need to fly a lot before you can start earning miles. Since miles can now be earned by credit card purchases, not flying often shouldn't be your reason for not joining an air miles program.
Once you have signed up with a rewards program, you'll receive a confirmation email. You can visit the website of the rewards program and sign up for your profile. By logging in you will be able to see how many miles you have accumulated and what rewards you qualify for. To redeem miles, you need your membership number. Once this is done, you can apply for the reward that you want based on the number of miles you have.
These are the most popular air mile programs available in the UK:
British Airways Executive Club
A while ago British Airways changed its redemption plan to make longer flights more expensive to redeem miles, and shorter flights became a lot cheaper. If you often take trips under 2,500 miles, BA's Executive Club is where you should be looking.
American Airlines Advantage
American Airlines is quite straightforward: earning miles is easy and point redemption is pretty good. If you fly often - about 100,000 miles a year - then you're eligible for their top level Executive Platinum status.
Virgin Atlantic
Virgin Atlantic has Red, Silver and Gold status in their Air Miles Club. With Flying Club Gold you get access to clubhouses, upper class check-in and instant upgrades. Since Virgin has their roots in virtually every part of the world, earning miles and points has never been so easy.
Last Updated: September 2013