How To Choose A Travel Destination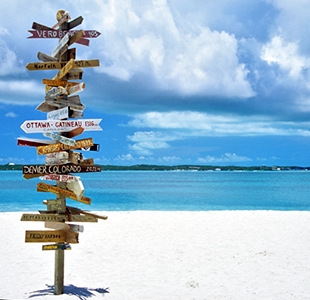 Travelling for pleasure is an explorer's dream. We spend months saving up, checking flights and mulling over travel sites. But what happens when you have the cash to travel and the time to spare, but no idea where to go? A surprising number of travellers have faced this question at least once in their lives. So here are a few things to consider if you're unsure about where to go on your next adventure.
Budget
There are certain things that we just can't do without money. But travel doesn't necessitate a large amount of cash. There are professional travellers who will tell you that all it takes is some thrifty planning and choosing the right destination. It's important to let your budget guide your decision because you won't be able to enjoy your trip if you're constantly counting pennies.
If you're travelling on a shoestring, head for the diversity of developing countries - they'll appreciate your hard-earned money. Backpacker-friendly destinations, like Southeast Asia, are ideal. While flights often aren't flexible (I can see those professional travellers smirking with their secret tips for discount flights), accommodation, on the other hand, can certainly be chosen to cater to your budget. Travel expenses will differ at various times of the year, so consider travelling in low season to extend your budget as far as possible. It will also mean being able to avoid crowds of tourists, and will allow you to go with the flow instead of booking all your accommodation and transport in advance just to secure a spot.
If budget isn't really a factor right now, count yourself lucky and keep on reading.
Exchange Rate
A country's exchange rate and general cost of living goes hand-in-hand with your budget. With the British Pound sitting comfortably at the top of the economic food chain, travelling on the Sterling puts you in good stead no matter where you go. If it's a toss up between a few different destinations, check out the current exchange rate and try to find out the price of local goods - like a loaf of bread, a meal at a restaurant and maybe a beer. It should give you a better idea about whether you're heading in the right direction.
Time
That old saying, time is of the essence needs to be given its fair credit. There are a few time factors that need to be considered when planning your trip. How much time do you have in total? How much of that do you want to spend en route, there and back? Are you looking at going to one location and staying there, or would you like to move around as much as possible? There are some cities - and even countries - that lend themselves to shorter trips. They're usually easy to navigate and they boast pretty good public transport systems. However, there are other places where you may need to spend a little more time. It's understandable that you want to see as much of the country as possible, but make sure you don't end up rushing from place to place in an attempt to 'tick all the boxes'. You could end up missing out on important experiences. Is it quality or quantity you're after? You may have to sacrifice one, depending on your budget and time.
Type Of Trip
If you've spent quite a bit of time saving for your travels, you've probably already imagined what type of trip you'd like to have. Is it lazy days on the beach, a rowdy snowboarding trip with mates, or a cultural experience in a developing country? Knowing what you're looking for will help narrow down your options of where to go. And while you've probably come across the most popular destinations countless times, a little research may expose a whole new world of alluring travel destinations.
Visas And Vaccinations
However unpleasant they may be, visas and vaccinations are a very real part of travelling. Make sure to check the requirements for both before you book your tickets. While neither of these should deter you from travelling anywhere, they may just play a role in helping you decide where you'd like to go, especially if your time is limited or you've decided to travel at the last minute.
Cultural Considerations
Travel demands a certain open-mindedness and desire to explore the unknown. I'm not saying that hanging out at British pubs on your travels is a waste of a trip, but if it's something you do back home often, then maybe it's time to broaden your experiences. Our pre-conceptions greatly affect the type of travelling that we do. They can mean the difference between a holiday abroad and an extraordinary travel experience - and yes, there is a difference. It just depends what you're going for. Either way, culture is something to bear in mind when planning. Foreign languages, exotic cuisine and diverse customs will play as big or small a role in your travels as you see fit. Do some research on the countries that you're looking at travelling to - especially considering the local mores and laws - and take it from there. Travelling can be more than just visiting a new place, it can be a life changing experience, but you have to be open to something a little different.
Weather
We can't control the weather. There's always the chance that your week in the Philippines will be accompanied by torrential floods, with any ideas of long days at the beach being washed away and replaced by even longer days in sheltered pubs. Don't despair, that's half of the excitement of travelling - we can plan as much as we like, but we never really know what we'll experience.
That being said, knowing which season best suits you will at least narrow down your options to one hemisphere. After that, consider what climate you're after and you should have a handful of destinations to choose from. Having a look at annual weather patterns will also help. With many weather sites being able to provide 14-day forecasts, you can get a general idea of what you're in for with enough time to change plans if need be.
Events And Activities
With all the serious things considered, you're left with just the fun stuff. Maybe there's a festival you've always wanted to go to, or some other event that would definitely be worth the trip. Or maybe you've heard about some tiny Pad Thai restaurant on a Thai Island that only seats six and encourages people to write on the walls, and you'd really like to experience it. Follow your heart.
While many of us will agree that travel is something of a luxury, don't let yourself get stressed about choosing a destination. Pros and Cons lists still work surprisingly well and if all else fails, throw a dart at a map and just go for it.
Last Updated: October 2013