How To Dine Affordably In London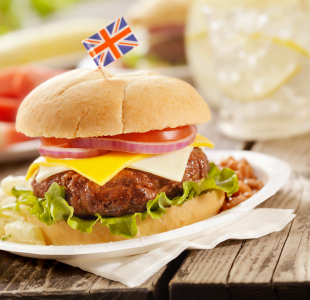 London's not the first place that comes to mind when you think of doing nice things on the cheap - especially not dining out, which is an expensive luxury no matter where you are these days. But like most big cities, success here is about trial, error and good recommendations. Because as expensive as London can be, not everyone who lives there is wealthy - they just know where to go. You have to keep your eyes peeled, ask around and be willing to try out new places to source the hidden gems. Bearing these things in mind, I hope this article makes your next meal in the capital a tastier, more affordable one.
Try Out Urban Markets
London is a gold mine for villages and markets. The spread of cultures and creeds that make up the local population is the secret ingredient to this city's buffet of options. In an urban setting like this, the markets and villages around the city have to be vibrant, offer top-quality goods and be situated in a user-friendly area - otherwise they wouldn't survive. To cut straight to the chase, the food vendors sell excellent produce that is largely sourced from local farms or suppliers, at prices that won't make you gag. And what you'll often find is either a wide selection of meal options (from veggies to meats) or a range of vendors that cater to a particular niche – spicy, seafood, etc.
Brixton Village is one of the places that everyone is talking about at the moment. Located in the old Granville Arcade (a dying location that was given an extreme makeover in 2008/09), the newly revamped Brixton Village has experienced an incredible growth spurt over the last few years. In true London fashion, there are a range of world food options from Caribbean to African, East Asian and South American. If you've not been before, it's best to take a gander around and play follow-the-leader with your nose until you end up at a vendor of its choice. Be careful not to try everything at once (it's very affordable, so you'll be tempted to stuff your face) - rather come back and savour it properly.
For meat lovers, Honest Burgers is a spiritual experience akin to doing Yoga with Jimi Hendrix on the Great Wall of China. You won't find a better burger anywhere - and not for such a reasonable price. Described as a "London burger inspired by Great British produce", their secret is a locally sourced ginger pig dry aged beef, served atop a sourdough bun and house chips seasoned by rosemary salt. All the veg used is sourced from the Brixton Market, which is a great place to walk off your meal.
Other great markets and villages to look around include Camden Lock Market, Portobello Road, Brick Lane, Borough Market - it's all there.
Supper Clubs
Supper Clubs are a hybridised concept that takes the best aspects of a dinner party, a home-cooked meal, a gig and a hole-in-the-wall restaurant, and blends them into an evening experience that is both familiar and unique at the same time. The concept started in much the same vein as a book club, where like-minded people got together to share a meal every once in a while. Over the last few years the idea has grown into something a bit more formalised, and now 'Supper Clubs' are hosted by all kinds: amateur chefs, pubs, restaurants, chefs who are tired of working in a stressful restaurant kitchen, friendship circles, businesses and groups. Some are informal, others are registered businesses. If you look online, you'll find a host of websites and lists with contact details for supper clubs around the city. Like the variety of markets and villages in London, you'll find supper clubs that cater to just about every taste, age group and preference imaginable.
Food/wine/travel blogger and host of the Japanese Supper Club, Luiz Hara, described Supper Clubs as "an unusual, but fun evening out with friends - or for those going out solo - hosted at the chefs' homes. It's a sociable experience with great food and is also a great way to meet like-minded people. Supper Club dining is a good value option - a tasting menu is normally offered, which could cost significantly more at any reputable restaurant. In addition, Supper Clubs are BYO, so guests can bring their own drinks, saving on the ludicrous alcohol mark-ups. The food served is usually resonant to the host's background and each one will attract a different demographic. So researching the right Supper Club for you is advisable, and I hope you will find one that suits the bill!" Hara, a former investment banker-turned-chef, runs the Japanese Supper Club from his home in Islington, in addition to Japanese cooking classes. For more information about Luiz and the Japanese Supper Club, as well as his reviews of other Supper Clubs in London (which are very entertaining), follow the link to his blog, London Foodie.
Traditional Pubs
Pub food is good for the soul. There's something thrilling about ordering a roast dinner or a plate of fish and chips, and knowing exactly how it's going to taste. Possibly the biggest factor that has kept pub food at the forefront of Britain's culinary culture is the affordability factor. It might be more expensive to live in London and the cosmopolitan lifestyle might give rise to a greater variety of options, but the pub meal tradition is alive and well here.
A fine example is the Crooked Well (https://thecrookedwell.com/) in Camberwell. It's a classy, but unpretentious pub. The décor is a throwback to the traditional setting, with oak floorboards, traditional wooden wainscoting and a Victorian tiled bar area, all illuminated by soft candlelight in the evenings, so you'll feel right at home. Using local seasonal ingredients, the menu features traditional pub meals (everything from Sunday roasts to seafood favourites) with a modern twist. "British food is the main focus for the menu, but ingredients and dishes are also borrowed from the continent", reported the Crooked Well's spokesperson.
Share-Meal Options
Share-meals are a great way of tasting a lot of different dishes at an affordable price, and it's a great way to socialise in a bigger group setting. Carom (www.caromsoho.com), based in the trendy Soho area, offers a Pan-Indian menu that is made for sharing - each dish is available in different portions, so you can order based on your head-count and appetite. The chef and brains behind this operation, Balaji Balachander, has put his passion for south Indian spices and down-to-earth cooking into the extensive menu that caters for all occasions - from express lunches to pre-theatre meals and hearty dinners.
If you're a fan of curries, Balachander hosts an annual Carom Curry Club on the first Wednesday night of every month - it's advisable to book this in advance. Guests can take a seat, interact with him and watch as he performs the culinary equivalent of magic tricks with spices and ingredients.
Sharing tapas at a speciality restaurant is another fantastic way to enjoy a selection of quality dishes with a crowd, a date or even alone (we wouldn't judge you for it) - and all for less than your petrol allowance for the next week. Boqueria, voted as Time Out's "Best Cheap Eats in 2012", boasts an inspired food and wine menu that justifies its popularity. Serving everything from Lamb medallions to chorizo with cider, goat's cheese with caramalised onions and red fruits, to grilled king prawns - all for under a tenner - there's a good reason why it's one of Brixton's finest sharing establishments.
Try Something Less Ordinary
London is the kind of place that always has something unique and interesting going on. You could go out every night of the week for months on end and still end up seeing new places. And because there is so much entertainment to choose from, entrepreneurs have to be pretty savvy to cut the mustard in this town. But occasionally you'll hear about a hidden gem that pops up and explodes onto the scene. A good example of this is the concept restaurant, 'Bubbledogs' - the unlikely union of champagne and hot dogs. That's it. It's not a fun name or a clever gimmick - they serve bubbly and gourmet hot dogs, and it has proved massively popular. Both are very tasty. Neither is too expensive. Food wise, a dog will set you back between £6 and £8, depending on the trimmings you choose - there are a range of great flavours, ranging from BLT's to New York style with sauerkraut and street car onions. A glass of the good stuff ranges from £6 to £11.50. To get there, walk towards Tottenham Street from the Goodge Street Station and look for a line of people spewing out the door. That's your mark. Bubbledogs doesn't take bookings for groups smaller than 6 people, so there's generally a good crowd waiting there.
Last Updated: April 2013