Top Of The Pops For New Year's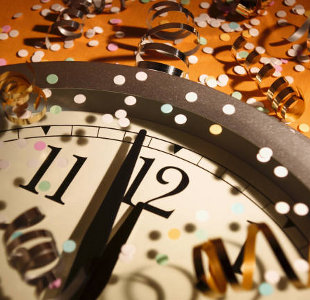 New Year's Eve is an unusual holiday that forces itself on everyone. Whether you're one of those people who loves to celebrate the occasion with parties and decorations, or someone who just endures it annually, there's one thing that connects us all – we can't ignore it. On the first day of January, the pages in every Western calendar around the world will turn and it'll be time to start 2014. This month we're going to be breaking the cultural phenomenon of New Year's Eve down into three segments: Destinations, Activities and Traditions, and hopefully these will give you some encouragement to get out there and embrace the moment.
Destinations
Getting away for New Year's Eve is not a simple trip if you're too specific about what you're looking for; it's easy to over-think the last night of the year and put unrealistic expectations on having a party or the experience of a lifetime. The best plan of attack is often to have a basic outline and allow things to happen organically; make room for side trips and misadventures, and they'll find you. This month we're looking at a selection of getaways that tick all the boxes & a big city getaway for those looking to get lost in a crowd, an isolated haven for small groups who couldn't care about seeing anyone but their own friends or family, and some alternative options for people looking for something in-between. We know you've all seen and heard about Sydney, New York and London, so we'll spare you the usual suspects.
Senate Square, Helsinki
Finland's capital is one of the most underrated getaways in Europe, especially during the winter months when it's quieter, cosy and less expensive to stay. There's a great mix of art, culture and night-life around the city centre, which is where the bulk of the population hangs out on New Year's Eve. Senate Square, the main historical centre, hosts the city's countdown and fireworks display and live music, which is comparable to any big party. The elephant in this discussion is the weather over December/January, we know Finland is freezing during winter, so you'll need to layer up properly to go outside, but it's more than worth it.
While New Year's Eve is definitely a highlight, Lux Helsinki starts on the first of January; it's a free, open festival of lights, organised by the city to keep residents cheerful during the dark months leading up to Spring. A team of local and international artists set up installations around the city, lighting up the buildings, streets and public spaces, transforming Helsinki into a surreal wonderland. If you're going for a New Year's Eve party, you'll have a great time, but make sure you don't miss what happens next.
Lake Kariba, Zimbabwe
I'm a firm believer in the house boat holiday, both for intimate family trips or for groups of friends wanting something different. It also works really well as a couple's trip, but renting an entire boat can be expensive for only two people. Zimbabwe and Zambia, sitting on either side of Lake Kariba, offer a diverse range of house boating options that can be scaled to suit your group, needs or budget, naturally the more people you have, the cheaper it will be, but this comes at the expense of personal space.
It's easy to start using dangerously lame cliches about the scenery and sounds you hear out on the great lake - the call of the fish eagles at sunset, the water lapping against the bow, total silence at night. You couldn't be further from every day life; there's no mobile phone signal and you're guarded by a bevy of crocs and hippos. As far as entertainment goes, if you're happy using a fishing rod and helping yourself to a cooler full of cold ones, you'll be fine. It's a different kind of 'wild New Year's Eve party', but one that really works for the right kind of people.
*As a side note, the shore camp sites, resorts and hotels around Lake Kariba get downright rowdy on New Year's Eve; if you've had enough solitude and feel like hitting dry land for a big night.
Dubai, UAE
Over the last few years, Dubai has established itself as one of the premier luxury and retail destinations of the twenty-first century. This is made abundantly clear on New Year's Eve, when the ritziest city in the Middle East plays host to some of the biggest and most extravagant parties around the world.
The Downtown Dubai New Year's Eve Celebration is the main attraction, accommodating a massive crowd during the dance and musical performances that lead up to the mother of all fireworks displays which light up the uber-modern skyline. Every rooftop bar, restaurant and establishment with a view gets booked up months in advance because of the incredible show that takes place at midnight. The Meydan Grandstand also hosts a massive New Year's Eve party, featuring the biggest names in pop music – last year's show was headlined by Snoop Lion (previously Snoop Dog).
Kiribati, Pacific Ocean
If you're dead set on ringing in the new year before anybody else, you'll need to visit Kiribati (pronounced 'Kiri-bass'), a sparsely populated Micronesian atoll that was nearly blown out of the water during World War Two. The remote location has prevented this chain from entering the modern world with both feet, but what Kiribati lacks in high-speed internet and shopping malls, it more than makes up for in other ways.
The islands are surrounded by striking blue water, unbelievable beaches and a glorious absence of any rush hour traffic. Accommodation options aren't lavish, but the friendly service is more than five star – the people of Kiribati are renowned for their friendliness and hospitality. While this doesn't make for crazy parties on December 31st, just being there will be a unique experience. Divers, the most common tourists there, can see the sunken remains of battleships in the lagoons, which now house Southern Pacific sea life. It's not Club Med or the French Riviera, Kiribati is still largely rural and undersupplied when it comes to fruit and vegetables, but it's friendly, safe and captivating in ways no hotel can match.
Newquay, England
Typically everyone's British seaside destination of choice, Newquay reboots all of its summer fun on December 31st and turns into one of the nation's finest party destinations. The bars and clubs in town are all rocking off their tent pegs and there's a magical fireworks display on the beach at the stroke of midnight. Never mind the chilly wind coming off the ocean, it'll only make the bonfire feel warmer. The fact that December is considered 'off-season' means you'll be able to find cheaper accommodation and more vacancies at places that are booked out in July.
Activities
Can you believe it's almost New Year's already? Working on this feature has gotten all of us in a bit of a panic. We haven't even planned Christmas, but are already thinking about New Year's. The truth is, at some point, it has to be done. Even if you're thinking about spending the day in your house watching telly, you may have to think about getting noise reducing earphones because, for some reason, a party seems even louder when you're not part of it. This one is for the people who want to ring in 2014 with an experience they'll never forget. Here are some of the best things to do on New Year's Eve - there are a few strange parties, but it's definitely worth it.
Rio De Janeiro, Brazil - Beach Party
Forget greeting the New Year while suffering through the cold. Why would we even put ourselves through that? Some of us may not have the money to travel, but saving up for a summer in Rio de Janeiro might be just what you need. In Rio, the party leaves the club and ventures outside to some of the best beaches and streets in the city.
Copacabana Beach is the heart of the party. Celebrations officially begin at 8:00 pm with a host of live music. Have you ever done the samba? If you have, you'll know what an energetic mood it can put you in, and if you haven't, then you best put your dancing shoes on because a party in Brazil isnt complete without a samba. Would you prefer bobbing your head and waving your hands? Then dig your toes into the sand and trek further down the beach where rock bands and indie folk will be strutting their musical talents. Many restaurants will be offering mouth watering New Year's Eve menus, with the dishes at the Copacabana Palace hotel offering up a mixture of Brazilian and Italian cuisine thanks to chef Nicola Finamore. He uses homemade recipes and combines them with popular Brazilian dishes - from ricotta gnocchi with herbs, fresh peas and black truffles to jao with potatoes al pesto, your meal will be sinfully delicious.
Florida, USA - Midnight Skydiving
The Annual Christmas Boogie may sound like a finger food, dim lights, senior citizen's kind of party - which, by the way, can be quite fun - but in Zephyrhills, Florida New Year's Eve is a far cry from your grandmother's bingo group get together. From December 22 to January 5 the party atmosphere kicks into high gear.
While the Sunset Bar, which has the biggest selection of beer in the area, and Hard Rock Cafe, which is said to serve up a delicious New Year's Eve menu will be strong attractions; the real party is said to be one of the best New Year's Eve celebrations on the planet. It all starts with some live music, a bonfire that burns all night and free tent camping - the party just won't be the same without actually camping. As the stroke of midnight draws nearer, party-goers gear up for a flight that will take them across the area and eventually see them jumping from the skies, all in the name of ringing in the New Year with a bang. If you've never skydived before, that's okay. Instructors will be on hand and you can hire equipment from Skydive City. Imagine seeing the city light up just as you're about to jump - it will be both scary and exhilarating but totally worth it.
Cape Town, South Africa - Table Mountain Cable Car
It's one of the mysteries of the world, and is now part of the Seven Wonders of Nature. Providing a backdrop to one of the most beautiful cities in the world, Table Mountain has been a mystery to both residents and tourists. You can see the last sunset of the year with a trip up Table Mountain, and then you can stay there during the countdown and watch as the city celebrates.
On New Year's Eve there are half price specials for both adults and children, and you get the option of going on the Sunset Special Ride 'n Dine. The last cable car will go up at 11 pm and come down at 1 am. Table Mountain Cafe will serve up a special meal catered to the amount of guests attending. From light salads and authentic South African cuisine, to paninis, pizzas and even a gourmet deli with a variety of sandwich selections, your New Year's Eve will be chauffeured in with tasteful delight. Once the party is over on Table Mountain and you're on your way back down, don't just go home to sleep. There are many celebrations that will take place throughout the city. The Waterfront will no doubt be packed, so you can make your way to the quieter spots in Cape Town - a night-time drive along the West Coast will ensure that you find a lively beach party to continue your New Years celebrations.
Amsterdam, The Netherlands - Cannon Throwing
This one is for the more adventurous and open minded. And you're probably asking yourself: What could be more adventurous than skydiving on New Year's Eve? Well, the Dutch know just how to mix a rather strange tradition with a massive celebration. It all started shortly after World War II. The Netherlands were left with an abundance of explosive materials and nothing to do with it. Now, once a year, farmers fill up their old milk buckets with carbide and water, heat them up and fire them off in celebration. I don't really see any connection to New Year or the War, but that doesn't mean this event isn't bucket loads of fun.
While the home-made metal cannons go off, the farmers watch in delight hoping that none of the cannons will explode in their faces. The celebrations don't stop there though, the next morning the traditional New Year's Dive sees thousands of extremely hung-over party goers stripping down to their birthday suits and sprinting into the freezing ocean. While some people opt to stay in their undies, the majority of the more than 10,000 divers wear flashy orange pompom hats and gloves. For their efforts, divers get a certificate and a steaming bowl of pea soup. Anyone is welcome to take part in the event, and it sure is a far cry from the usual champagne toasting, elegant dinner kind of celebration.
Sydney, Australia - One Of The Biggest Celebrations In The World
It's the world's second-biggest New Year's celebration, and time-wise, it's the first party to roll into the New Year. It also boasts the world's largest fireworks display, reportedly costing the city more than £2,5 million on pyrotechnics and firework displays. Six barges line up along a three mile expanse of water, which is lit up using 30,000 effects and continues for 12 minutes.
An event like this is sure to bring a large crowd, up to one million in fact. As midnight nears, the Sydney Harbour Bridge is lit up with lights that beam off the bay. Every hour a cannon is fired from Fort Denison, and spectators get to glimpse mini-light shows, smoking ceremonies and aerial flyovers that leave messages in the sky. Taking advantage of the large crowd, most restaurants and of course all the clubs in the area stay open until the wee hours of the morning, and then reopen for a New Year's Day bash.
Traditions
In a weird, Dr. Phil kind of way, New Year's Eve provides a personal opportunity to reassess our lives, priorities and choices. It's a night where we can cut the strings from everything that has happened over the course of the year and begin again. Looking at different traditions from around the world, something that really stands out is how different cultural practices are focused on and based around positive human traits and experiences. Whether it's bringing good fortune or having the will to overcome personal challenges, we're all wishing the best for ourselves and others.
Spain - The Twelve Grapes Of Luck
The Spanish New Year's Eve tradition called Las doce uvas de la suerte, The Twelve Grapes of Luck, dates back to the early 1900s, when farmers introduced it as a way of using up excess fruit that would otherwise go bad - can you imagine this line of thinking today? Everyone was given twelve white grapes, one for each month of the new year, and told to gather in Puerta del Sol Square, Madrid, where the clock of the Casa de Correos rings in the new year. Each one of the grapes had to be eaten during each chime, and getting all twelve down before the final gong meant you'd have good luck for the year ahead. The tradition has since been spread around the country and celebrated widely - unfortunately the grapes are no longer free - but the Puerta del Sold Square is still the epicentre of the ritual, much like Times Square. If you want to double your chances of having a fortuitous year, the other Spanish tradition involves wearing new, red underwear, which is supposed to be a lucky colour.
Ecuador - Burning Man
Ecuador has, hands down, the most radical New Year's Eve tradition: the ceremonial burning of año viejos or homemade dummies that represent the passing year. The symbolism is pretty straight forward, it's the literal, cathartic act of destroying your past. One of the really interesting aspects of the creation process is how much personality people give their 'dummies' representations of politicians, celebrities, cartoon characters and family members are made with almost-worrying attention to detail. These dummies are made from flammable material, like paper mache', and stuffed with saw dust, hay or kindling; the mystery ingredient is fireworks, which provide a bit of extra entertainment once the fire gets going. The city of Quito is a remarkable site on its own, but over New Year's Eve you'll see it lit up in a whole new way.
Greece - Vasilopita
The story of Vasilopita starts with an account of Saint Basil of Caesarea, the prominent bishop of Caesarea Mazaca who lived in the 300s. According to legend, an enemy threatened to overthrow Caesarea unless a ransom was paid, which the city couldn't afford. Saint Basil told everyone to pool their jewellery and gold together and make up the final amount to save themselves. The enemy was so moved by the act that he chose not to take the payment or attack. In the end, Saint Basil didn't know how to give all the jewellery back, so he had it baked into loaves of bread and sent back to homes at random.
It's always interesting how food, culture and tradition interlock through rituals. In the case of Vasilopita, there's a connection to a number of similar traditions around Western Europe, following a different narrative not associated with Saint Basil. A cake is baked for New Year's Eve, with a coin or a gem hidden inside. At midnight the cake is blessed and cut for each person according to age (oldest to youngest), with several slices being cut for symbolic reasons for the less fortunate, the sick, the afflicted and the deceased. When it comes time to eat, whoever gets the lucky piece wins a prize of sorts, prearranged by the hosts, and is said to have good luck for the year.
The Philippines - The Circles of Life
Local customs in the Philippines have been pulled in a number of directions, courtesy of its strong cultural ties to China, a long spell of Spanish colonialism and fifty years of American occupation, all within a few tumultuous centuries. Leaving all that behind, this magnificent chain of islands has gained serious ground in the tourism sector and now finds itself being one of the main getaway destinations for outdoor lovers and expats working in South East Asia.
The New Year's Eve traditions practised today are an interesting blend of its patchy cultural background, showing how the country's identity has evolved on its own since independence in 1946. On 31 December, people open up all their windows and doors, making entry paths for good luck to enter their freshly cleaned homes which is another tradition, as fortune favours tidy homes. Come nightfall, people dress in clothing with circles on it (polka dots being the most common), which are representative of coins or prosperity. On a more abstract level, the circles represent the cycle of life and acceptance of its ups and downs, with a strong hope for more of the former. The beaches and resorts of Boracay are packed on New Year's Eve, which culminates with the usual fireworks display. If you're lucky enough to be there on the last day of the year, it'd be hard to feel anything but fortunate.
Japan - Joyanokane
New Year's Eve is a big family holiday in Japan. While you'll definitely find parties and clubs open in Tokyo and other big cities, your average Japanese household won't be out drinking sake and dancing on tables till the wee hours. It's a big night for food and reflection, followed by a national holiday where everyone takes it easy. At midnight, Buddhist temples ring their bells 108 times, symbolic of the human sins we must all overcome in this life. Once the bells have finished ringing, a traditional meal of noodles is served for those still awake.