What better way to bid farewell to 2012 than by making the most of New Year celebrations. As we round off another year, we're exploring New Year Festivals around the world, from the must-do parties right here in the UK to the cultural and religious celebrations throughout 2013, here's everything you need, to experience New Year All Year.
New Year's Eve Parties 2012/13
The magical ingredients for a cracking New Year's Eve party are pretty simple: be around good people, go somewhere nice and do something fun. This can be a typical night down at the pub or a beach party with half a million strangers around you - it totally depends on what you're up for. This month we decided to look at a spread of options, covering the best New Year's Eve parties near and far, from street parties in Dublin to fireworks in Reno and an array of choices in between.
If you're doing something fun, interesting or worth talking about, drop us comment below or join the conversation on facebook.
Two Days In Dublin
Dublin is closing its social calendar for 2012 by hosting a two day festival in the City Centre. The theme of this year's party is 'The Journey Home', in honour of all those familiar faces coming back to spend the season with their families and friends. It's by no means a Dubliners Only affair though - all are welcome and you can expect a decent showing of people from across the world.
The beautiful streets have been divided into five family-friendly Festival Zones (no tongue twister intended), demarcated for the occasion. These are Liffey Street, South King Street, Dame Court/Lane, East Essex Street and South William Street - all within walking distance and full of lively pubs and restaurants.
The official evening programme starts with a Torch Parade, which includes fire breathers, stilt walkers, jugglers, dancers and a marching band. It's a free event and all ages are welcome to join in - bring a candle, torch or lantern. The procession starts at 7pm and moves through the capital towards St. Stephen's Green, where a fireworks display will crank the festive vibe up a few notches at 8pm.
Phase Three of the night starts at 9pm, with a Countdown Concert outside the steps of Trinity College. A selection of local and international artists will take to the stage and keep everyone busy until the New Year begins. The nearby festival village is also open till late, selling a mix of food and drinks for those in need of some refuelling.
After a night of strenuous dancing, walking around and partying, there's nothing like a plate of good food to sort out the sea legs. The Dublin New Year's Eve Festival continues on 1 January with a Big Brunch at Meeting House Square, going from 11am until 6 in the evening. There will be more family-friendly entertainment and music happening.
Looking for more ideas? Check out our 24 Hour Guide to Dublin.
Spinnaker Tower, Portsmouth
For something a bit out of the ordinary, Spinnaker Tower is throwing a New Year's Eve bash more than one hundred metres above the beautiful Portsmouth harbour. Attendees can enjoy a lofty view of the city, harbour and the Isle of Wight, over canapés, cocktails and music.
A New Year's party is not complete without champagne-fuelled dancing, and DJs will be on hand to make sure that happens. Spinnaker Tower is one of the most interesting buildings in the UK - the 170-metre structure is shaped like an actual spinnaker at full tilt and boasts the largest glass floor in Europe. Along with landmarks like 30 St. Mary Axe, it is a standout structure that adds to the growing collection of unique modern architecture in the UK.
Tickets for this event are £45 and must be pre-booked in person or by calling +44 (0)2392 857 521.
Top 10 Around The UK
31 December falls on a Monday this year, which makes it a bit harder to go somewhere for the night when you aren't taking much leave from work. It's not the end of the world though - people who are at home on New Year's Eve can still choose from a solid spread of parties and festivals across the UK.
If you're in London, the usual fireworks display at the London Eye is always an impressive spectacle. 2012 has been a massive year for the city, so it could be a nice way to cap it all off and salute the collective efforts that went into making the Olympics and Paralympics such a memorable success. All the pubs along the South Bank will be full and festive, so if you're looking for somewhere to eat dinner before midnight, we'd suggest booking as early as possible.
Further down, the costal hub of Newquay is known for its festive nightlife scene, and New Year's Eve is a golden opportunity to see how it got this reputation - if the words 'Fancy Dress Beach Party' strike you, you won't be disappointed. If you're not into crowds or fireworks, a good old-fashioned house party is always a solid bet.
This month we decided to review our personal Top 10 UK New Year's Parties to make sure that you don't miss out on anything. Drop us a comment below to let us know what you think the best way to celebrate New Year's Eve is.
A Brazilian Bonanza
You put the words 'Brazil' and 'party' together, and thoughts of Carnival spring to mind. New Year's Eve, or Réveillon as it's called locally, is a hefty dose of that carnival-esque craziness packed into 24 hours - the whole city turns on its head and goes into party overdrive.
Copacabana Beach has long since established its place in the partying Hall of Fame, as over a million people dressed in white (which represents 'good luck') take to the beach for a night of Caipirinhas (a deceptively strong and tasty cocktail that will have you speaking fluent Portuguese if you're not careful) and shenanigans. The beach is treated to one of the largest New Year's Eve festivals in the world, which is open to the public at no charge. The fireworks display is right up there with the world's biggest and most impressive too. As a safety precaution, if you're lucky enough to find yourself in Rio on 31 December, make sure you're wearing a decent pair of shoes on the beach, as broken glass has been known to cause a few unexpected injuries to people wearing sandals - especially after the sun goes down.
For more information about what's happening before, during and after New Year's Eve, check out the Rio Tourism Website (www.rioguiaoficial.com.br/en/).
Further south, in magnificent Santa Catarina along the Emerald Coast, the Ponta dos Ganchos Exclusive Resort is offering something a little more intimate and low-key, but no less spectacular. The exclusive resort's New Year's Eve program includes a champagne dinner, live music and a private fireworks display. Each bungalow will receive a handmade, miniature wooden fishing boat to offer to Yemanja - the Goddess of the Sea - at midnight, which is sent into the sea with flowers and your wishes for the New Year. For more information and a gallery of incredible pictures, take a look at www.pontadosganchos.com/.
Antarctica Spectacular
It's a bit unusual to sign up for a New Year's Eve party that takes place inside an aeroplane, but the Antarctica Flight is not your standard 'chicken or beef' journey. This is the future of sight-seeing tours - going to incredible places that you'll never get to see in person, onboard a comfy Boeing 747.
The 12-hour flight takes you on a tour of the driest, coldest and windiest continent. Passengers onboard will be the first to greet 2013, while flying over frozen mountains, polar ice-caps and some of the most otherworldly terrain on earth.
Ticket prices vary from quite pricey for the Economy Class (about £650), to exorbitantly expensive for First Class. It is still a relatively new commercial venture (as well as a very long journey to a place that requires a highly experienced pilot), so it's understandably more pricey than a regular tour. Also, as with all great sight-seeing expeditions, the more you pay the more you'll see. There is an alternating window-seat policy (at the half-way point) for all passengers with the exception of centre isle economy - there are open view points at the exit zones.
It takes roughly three hours to get to Antarctica from Melbourne, and the trip is broken up by two excellent meals and full bar service. On New Year's Eve a jazz band provides the in-flight entertainment, as everyone counts down the New Year.
For booking information, details and answers to frequently asked questions, log on to the Antarctica Flights website - www.antarcticaflights.com.au.
Las Vegas Vs. Reno
Las Vegas and Reno are the two most famous gambling destinations in the USA. But besides having a Circus-Circus and a casino-lined main strip, the two offer a very different holiday experience - especially over New Year's Eve.
Vegas is the undisputed king of shows, casinos, weirdos, night clubs, drive-through chapels and novelty hotels. It's a fun machine that produces its own brand of intense, next-level fun 365 days a year and it shines extra bright on New Year's Eve. Hundreds of thousands of people take to the famous Strip, where they enjoy the city's grand concerto that is crazier than any party you'll see in America. You'll be swigging beers with Elvis impersonators, magicians, drag queens and other interesting characters you'd never dream of meeting.
Every year a bevy of top international acts play at clubs across the city. 2012/13 sees local heroes, The Killers, performing at the Cosmopolitan Club during the build-up to New Year's Eve, while the Red Hot Chilli Peppers take it home on the big night. Otherwise, the Black Keys, Celine Dion and David Copperfield will also be performing at various locations. To top it all off, the weather is still marvellous, so you'll be dancing in the streets wearing a t-shirt, while most of the country is freezing. Drinking on the Strip is also legal, which makes it a whole lot more fun, considering the same thing gets you arrested everywhere else.

Sitting on the other side of the state, Reno shines like a glittering oasis at the foot of the Sierra Nevada mountains. It's a standard venue for country singers, pop stars and stand-up comedians; you'll find someone to watch every week of the year. The casinos, clubs and hotels are still bright, fancy and fun. It's just smaller than Vegas - in fact it's known as the 'World's Biggest Small City'. On New Year's Eve, there is an incredible night with fireworks and crowds gathering on the main 'Strip', where the informal party goes on all night. The Silver Legacy Casino and Resort will also be throwing their Rockin' The Dome New Year's Eve Party, which is set to be a big one.
Overall, what Reno lacks in size, it makes up for further afield. It's right around the corner from Lake Tahoe, which is fast becoming one of the premiere ski destinations in the country - as well as a fantastic place to party and gamble in its own right. If you're staying in Reno or Tahoe, a cross-over visit has to be done. Even a drive around the lake is worth for the views. Heading in the other direction, you have San Francisco, Santa Cruz and California's entire wine country, which is worth the drive any time of the year.
By Clayton Truscott
Cultural New Year Celebrations
In many countries, the celebration of the New Year is more than just celebrating the turn of a page on the calender. It is the celebration of culture and heritage. Take a look at five of the more unique New Year celebrations and discover how you can start your year immersed in the traditions of another country.
Scottish Hogmanay: 30 December to 2 January
Scotland has its very own New Year celebration - Hogmanay. While many of the more modern Hogmanay activities include wild street parties and concerts, the more traditional events are really the things to attend. With flying balls of fire, torchlight processions and the mythical good fortune of handsome men bearing with gifts, Hogmanay should be experienced at least once.
Edinburgh's great torchlight procession takes place on 30 December and kicks off Hogmanay festivals in the city. Starting at 6pm from Parliament Square, it takes you all the way up Calton Hill. Thousands amass to join this event, so get there early. Participation is free, but the cost of a torch isn't. While they are only £7 on the night, they are subject to availability, so it's better to pay for them in advance. This not only guarantees that you get one, but also saves you a pound.
For a more adrenaline-pumping Hogmanay celebration, make your way to Stonehaven, 15 miles south of Aberdeen. Just after the Old Town House bell strikes midnight you can join the crowd watching the old art of balls of fire hung from chains being swung and thrown around. The fireballs are then swung all the way down the high street to the harbour, where they are thrown into the ocean. Around 40 people take part in the swinging of the balls, making it quite a sight. For more information on this event check out www.stonehavenfireballs.co.uk.
The most widely practised Hogmanay tradition is First-footing. This entails visiting family and friends with gifts of shortbread and black buns (a very rich fruit cake), amongst other treats. It is believed that the first person through your door will determine the luck you will have for the rest of the year. Young handsome men being the first to cross the threshold are considered to bring luck (don't they always?), whereas fair-headed women are considered slightly ominous. The reasoning around this slightly slanted custom is unclear, but some say it's because the women resemble the long-haired, fair-headed Vikings that invaded Scotland hundreds of years ago.
Take a glance at the flame filled tradition of whirling fireballs in Stonehaven.
Japanese Oshogatsu: 1 January and 10 February
While the Japanese used to follow the Lunisolar calendar, they have now changed over to the Gregorian calendar, at least on the Mainland. The island of Okinawa still celebrates the event according to the Lunisolar calendar. That is why there are two sets of New Year celebrations in 2013 - 1 January and 10 February.
Preparations for Oshogatsu (New Year) begin the day before on Omisoka (New Year's Eve). They include doing a great deal of cooking and preparing meals such as Osechi, boxes filled with traditional delicacies. These range from seaweed to prawns and are almost always served at New Year's Eve parties. If you are not the biggest fan of seafood then never fear, most hosts provide a range of foods, making sure there is something for everyone .
Speaking of parties, Bonenkai parties, or Forgetting-the-Year parties, are incredibly popular. The parties are supposed to help participants forget the trouble and sorrows of the past year in order to be open to good fortune in the following year. They start in December and happen right up until Omisoka. The biggest activity at these parties is drinking - lots and lots of drinking. They tend to be mainly held in the major cities such Kyoto and Tokyo.
An ancient Japanese New Year ritual to get involved in is the ringing of the night-watch bell. Buddhism indicates that the bell should be rung 108 times for each of the sins committed by mankind. Hundreds of people flock to the temples to participate in this Omisoka event. However, if making the trek and standing in a cue to ring the bell is not for you then it may be worth your while staying nearby one of the temples, where you can listen to the bell being rung. If you are in Tokyo, make your way over to Tokyo Tower. Here you can join the throngs of people there to witness the Tower light up and release balloons with your wish for the new year on them, at midnight.
Take a look at how wondrous hundreds of wishes floating away on balloons can be.
German Silvester: 31 December
New Year's Eve in Germany is known as the Silvester. There are a great many traditions to get involved in - from eating soup that brings you good fortune to watching an old British comedy skit, a New Year's Eve in Germany will surely offer you some entertaining new experiences.
Festivities begin at lunchtime on 31 December with lentil soup. The eating of this soup is supposed to bring good (financial) fortune to your new year. The round shape of the lentil represents the then Thaler, but now the Euro coin. A little later in the evening head to the bar and enjoy a feuerzangenbowle - flaming fire tongs punch. It is usually served hot and made up of wine, oranges, lemons and spices such as cinnamon and cardamon. If you find yourself in Rostock, situated in north eastern Germany, then indulge in your feuerzangenbowle at Samtrot Restaurant and Weinbar, recommended by the locals.
Enjoy your steaming mug of feuerzangenbowle while watching Dinner for One. Since 1963, when the short English comedy sketch was performed in Hamburg, the show and its famous catchphrase, "The same procedure as every year, James", has become synonymous with New Year's Eve. The show has since been televised every year in Germany, making it something of a national phenomenon. No matter where you go: homes, hotels or bars you will be sure to see it. Ask just about anyone "The same procedure as last year, Madame?" and they will surely reply with the catchphrase.
Fireworks, just like in many other New Year's Eve traditions and cultures, are a big part of a German New Year's Eve and are set off at midnight. Displays of international acclaim take place in Frankfurt - with fiery patterns appearing over the harbour water it is definitely worth spending the last couple of hours outside in the fresh winter air securing a place to watch the show. Some of the best spots to nab include the Alte Oper (the old opera house) and Romerberg Marketplace.
Take a look at Dinner for One, the comedy sketch that's taken Germany by a storm since the sixties.
Spanish Nochevieja: 31 December
New Year's Eve - or Nochevieja (the old night), is celebrated every year in Spain with the eating of twelve grapes to the twelve chimes of midnight - locally known as tomar las uvas. This tradition is not only celebrated in Spain, but also across the world in many Spanish-speaking countries such as Mexico and Chile.
Grape eating to the twelve chimes is quite the feat, and many adults compete with each other, consuming one grape a second. Needless to say, no matter where you are in Spain be prepared with your grapes at midnight, and see if you can out-eat the locals. This fun comes courtesy of a legendary bumper harvest of grapes, which saw the King at the time hand out grapes to be eaten over Christmas and the Nochevieja. There are many other spins on this myth, but no matter why, it seems to have stuck. The place to be for this event is the Puerta del Sol Square in Madrid; the rest of the country tunes in to watch and eat grapes to the countdown. The square starts filling up from eleven, and just before the clocks start striking midnight, four high-pitched "warning" chimes are sounded. Only after these have gone off should you start scoffing the grapes.
After the grape gulping, bottles of Cava, sparkling wine, are opened and the party gets rowdier. People in the street make noises with their cars, and others continue to party in the streets until sunrise. One of the best snacks to have after celebrating, is chocolate smothered Churros - a light doughnut stick-shaped pastry. Recommended for this local delicacy is the San Ginés hot chocolate bar in Madrid.
If you happen to find yourself in, or near Estepona, then make your way to the Plaza Del Reloj. Here you will not only be supplied with free grapes, but hats and party streamers are handed out to help get the festivities under way. 12 grapes later you will be treated to a truly magnificent fireworks display. To make sure you don't miss out, stay at a hotel near the plaza. This will ensure that you don't have to arrive too early to get a spot and you can watch the display from your hotel if you wish.
Watch just how much fun eating 12 grapes can be.
Chinese Spring Festival: 10 February
The Chinese New Year, or Spring Festival is determined by the Lunisolar calendar and takes place on different days each year. 2013 will see the preparations begin in February, culminating on Sunday 10 February.
China during this time is most exciting. There is a buzz in every town and village as families reunite to spend this auspicious occasion together. Decorations of red and gold go up on homes and businesses alike to invite luck and prosperity into their lives. It is such an easy element of the festival to get involved in - just dress in these colours and, who knows, you may find your year filled with good fortune.
On Spring Festival Eve, families and friends come together and eat great meals of pork, chicken or fish - expect to be served generous helpings of this wherever you are. Then, depending where in the country you find yourself; you will be offered either dumplings or Niango cake, after midnight. In the North, dumplings are served as they signify wealth. In the South, Niangao (translated directly to New Year's cake) is made, eaten and given as gifts to family and friends and by doing so you are wishing the receiver a prosperous New Year.
Fireworks and firecrackers are also set-off and as much noise as possible is made. The firework displays range from spectacular to mind-blowing. While these festivities are incredibly exciting it is worth bringing earplugs along as the noise can reach levels that make a teen's loud music seem tolerable. One of the most sensational displays to watch take place in Hangzhou, over the West Lake. A magical way to experience this would be on the water. Stay at one of the hotels located near the bay, here you will have unparalleled views of the firework displays.
For the ultimate in hustle and bustle, attend one of Beijing's Temple Fairs. They attract hundreds of visitors and, while it does get crowded, there is something special about walking through the streets and parks fully decked out in decorations with everyone. The crowding, however, can make the city impossible to navigate and could mean that you spend most of your time trying to figure out where to go and how to participate. It may well be worth joining a tour, such as the ones offered by China Holidays, for at least part of the celebrations. This will ensure that you not only don't have to worry about where to stay during your time in the city, but you will also be guaranteed entrance to must visit place like the forbidden city. They will also take you to one of the best Temple Fairs. All that's left for you to do is partake in the celebrations. For more information on their tours visit www.chinaholidays.co.uk.
A small peek at the exquisite fireworks that light up the skies of Hangzhou.
By Christie Cope
Religious New Year Traditions
The dawning of a new year has the magical ability to bring people together. Families come home, friends re-unite and age-old traditions are rekindled. The idea that with the new year comes a shedding of the past and a rejuvenation for the future is held across the globe, but the manner in which this belief is honoured differs greatly. We're exploring a few of the most widely-followed religions' unique New Year celebrations, and the best travel destinations for you to really experience them.
We'd love to hear about your own religious New Year traditions, so feel free to comment in the box below or on the Essential Travel facebook page.
Buddhist New Year
Thailand: 13 - 15 April 2013
Buddhist New Year is celebrated around the world in honour of the Buddha's life and teachings. While countries commemorate the occasion on different dates and in various ways, the underlying meaning remains the same - a determination to bring peace and harmony for humankind.
Thailand's Songkran is one such nationally differentiated Buddhist New Year. The celebrations draw thousands of travellers each year for what may appear, on the surface, to be a three-day water fight. Held from April 13 to 15 - Thailand's hottest time of year - the cooling water is often quite welcome. The idea of water refreshing and cleansing the spirit is carried throughout Songkran. Whether it's gently sprinkled or chucked from a bucket off the back of a truck, the symbol of cleansing and renewal remains unchanged (although sneaky water-gun holding kids may have their own agenda). But of course the traditions run much deeper than that. Songkran is a momentous event on the Buddhist calendar and is Thailand's most famous festival. Traditional activities are honoured throughout the country and an earnest dedication to Buddhism is ever apparent, even in the more light-hearted celebrations.
Rituals and Festivities
Activities begin with Wan Sungkharn Lohng. Houses are cleaned and people prepare for the upcoming New Year festivities. Thai Buddhists dress in new clothes to welcome in the new year.
Wan Payawan, the third day of Songkran and first official day of the New Year, brings an overt honouring of Lord Buddha. All statues and images of the Buddha are washed with scented water and Buddhists visit monasteries and shrines to offer prayers and gifts. As a sign of good luck for one's family, fish are released from bowls and birds are let free from cages.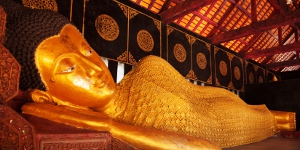 Wan Parg-bpee calls for people to pay homage to their ancestors. And as a sign of respect for elders, scented water is sprinkled over their back and shoulders. In return, elders can apply a white paste to one's face, neck or torso as a symbol of protection.
Tying of Strings is another famous and cherished tradition. As a token of good wishes for the new year, people tie strings around the upturned wrists of others. The strings are to be left on until they fall off of their own accord.
Experiencing Buddhist New Year
Thailand's biggest and most authentic Songkran celebration is held in Chiang Mai. With it's ancient temples, the grand-scale parade from the Railway Station to the centre of the Old Town and a famous mote (so you're never short of waterfight ammunition), this northern city lives up to its reputation year after year.
If, like so many locals and travellers, you make the trip to Chiang Mai over this time, expect to be a part of the festivities - with water being chucked, shot and poured from trucks, motorcycles, tuk-tuks and pedestrians - there's really no escaping it, although come sunset a general cease-fire is called. Chiang Mai as a travel destination receives much acclaim and should be on anyone's Thailand itinerary. From the modern amenities of a dynamic city to the rich cultural heritage still practised by the hill tribe people, Chiang Mai is an experience not to be missed.
Hindu New Year
India: 3 - 7 November 2013
Hindu New Year, or Diwali is a five-day festival celebrated around the world. It honours the victory of good over evil and light over darkness, and derives its name from the Sanskrit, Dipavali, or row of lights. As such it is also named the Festival of Lights. Special blessings are bestowed upon Laxshmi for wealth and prosperity in the new year and to Ganesh, the remover of obstacles. As the most important date on the Hindu Calendar, there are a variety of traditions and rites associated with it.
Rituals and Festivities
Families come together to perform the various traditions, and although the celebrations may vary between regions, the essence remains the same: to rejoice in the Atman (Inner Light) or Brahman (Underlying Reality) of all things.
Each day of the festival holds a different meaning, with the main festivities being celebrated on the third day. Diyas (small clay lamps) and candles are placed in abundance throughout homes, and the skies are colourfully lit with a generous amount of fireworks. People also clean their houses and give gifts.
The fourth day is the start of the new year. Hindus may apply traditional oils to their body, wear new clothes and visit the temple. The fifth and final day of celebrations honours the bond between brothers and sisters and brings families together for a festive feast.
Experiencing Hindu New Year
Steeped in culture and spirituality, Varanasi promises the quintessential Hindu New Year. Said to be "the beating heart of India", this historical city embodies so much of India's rich heritage and charisma. And Diwali in Varanasi is a whole new experience. With around 60,000 people visiting the Ganges' 4 miles of ghats (steps down to the river) daily, it's a sight to behold any time of the year. But from 3 - 7 November, New Year celebrations will bring even more colour and spirit to the banks of India's famous river. Expect a myriad of fireworks and thousands of glowing lamps reflecting the collective hope that the new year will bring great light to life.
Jewish New Year
New York: 4 - 6 September 2013
The Jewish New Year celebrates the creation of the world. The full ten-day celebration begins with two days of Rosh Hashanah and ends with Yom Kippur on the tenth day.
Rosh Hashanah Rituals and Festivities
The period of Rosh Hashanah is a time to reflect on the past and contemplate the future. One considers how to learn from previous mistakes and makes resolutions for the future. As God keeps a record of everyone in the Book of Life, believers consider this time to be of great importance, as their actions will directly affect their fate.
Tashlikh is observed in the first day of Rosh Hashanah: pockets are emptied (or breadcrumbs are thrown) into a body of water, denoting the casting off of sins.
Jews commonly attend Synagogue, dressed in white as a symbol of new beginnings, and males wear the traditional yarmulke (traditional skullcap). They also heed the blowing of a Shofar, the curved horn of a kosher animal, as a symbol of reflection and spiritual awakening.
Rosh Hashanah sees families come together, light candles, recite Kiddish prayers and enjoy traditional treats, such as apples dipped in honey and baked challah bread, which symbolise the sweetness of life.
Yom Kippur Rituals and Festivities
Yom Kippur is acknowledged ten days after Rosh Hashanah and is known as the Day of Atonement. During Shabbat Shuva (the days between the two celebrations), God gives Jews a chance to repent for their sins and on Yom Kippur one's fate is sealed for the coming year. The celebration commemorates a closeness to God and people follow strict fasting.
Experiencing Jewish New Year
Jewish New Year is celebrated in many countries around the world. For a full travel experience and the chance to be a part of a passionately Jewish culture, head for New York. Brooklyn has a famously proud Jewish community, offering locals and travellers alike the opportunity to be a part of the celebrations. Or head to Central Park for the momentous blowing of the Shofar.
By Caitlin Murphy
Last Updated: December 2012