World's Best Ecotourism Destinations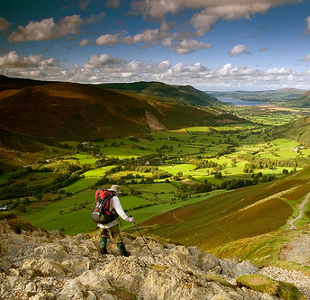 Ecotourism has become a very broad term that describes travelling with priorities. At its very core, it's about putting a premium on the environment, enjoying the world we live in responsibly and making sure that future generations can do the same. 'Sustainability' is something of a buzzword, but it underpins the ethos of ecotourism and stresses the importance of thinking ahead. All the actions that led to the emergence of 'ecotourism' were based on short-term ideas; people were interested in offering tourists fancy holiday packages that had tiny price tags, big financial rewards and bigger hidden costs to natural resources. Today ecotourism works the other way round, as it tries to restore balance to our changing world.
It's not always the cheapest option, but it doesn't carry the weight of our old, naïve ways of holidaying. Big issues like deforestation, pollution and waste removal are all connected to small issues, like recycling, supporting the right businesses and watching your energy usage. It's applicable to all destinations and even in our lives at home, but in different measures of practicality. As the world shifts towards better environmental standards, everyone is trying to do their part to make a difference; an eco-lodge in Ecuador and Chile might focus on planting trees and supporting their community businesses, while a hotel in the middle of New York concerns itself with implementing a practical waste removal system and using LED lights.
This month we're looking at ecotourism destinations that can be enjoyed by all travellers, in big cities, small towns, jungles, islands and marshlands. You don't have to be Bear Grylls to enjoy your holiday with a clear-conscience, but you do have to look at what you do while you're on holiday.
Australasia
Finding eco-friendly eateries, accommodation and activities in Australasia wasn't hard at all. For these countries, it's not a strategy that they're aiming to implement, it's a way of life. Australasia is an eco-friendly haven.
Sydney, Australia
Best known as Australia's famous harbour city, Sydney is certainly one of the best places to enjoy an eco-friendly holiday. Sydney is home to an abundance of environmentally-friendly restaurants and hotels. You're bound to be entertained by the city that has the beautiful Blue Mountains, the Six Foot Track Bushwalk and the Pacific Coast Touring Route. From beaches to parks and gardens, it's the perfect place for explorers.
Where To Stay
Australia seems to excel in everything and environmental conservation is no exception. With over 14 eco-friendly hotels in Sydney alone, Australia is one of the most eco-friendly countries in the world, and big businesses are starting to get involved very quickly. The Shangri-La Hotel in Sydney is just one of the places you can choose from, but their first class rooms and participation in Earth Hour really makes them stand out. They serve 100% local produce in their restaurant, use water-saving devices, have LED lighting throughout the hotel and have eco-friendly bathroom facilities.
What To Eat
Bloodwood Restaurant is one of the most eco-friendly restaurants in the world. The name might sound scary, but the food is superb. If the interior feels especially homey, then it's probably because recycled materials were used to create the warm, contemporary atmosphere. Their dedication to sustainability isn't only reflected in the design, the seasonal menu serves locally sourced produce and is packed with fruit, veg and cheese dishes.
Eco-Friendly Transport
The Sydney Cycle Strategy is in full swing. Previously, 25% of the city's pollution came from its transportation systems, which pushed the powers-that-be to develop a bicycle-friendly city. The city hopes to build a 12 mile bike network by 2016. In the meantime, many residents are trading in their cars and starting to travel by bike. You definitely won't be the odd one out if you decide to cycle around the city instead of taking a taxi or hiring a car.
Eco-Friendly Activities
Tree Tops Adventure Parks should be at the top of your to-do list. The park has obstacle courses for adults and children and an extreme adventure night obstacle course. Set among Australian fauna and flora, the park gives you panoramic views of the Sydney Harbour Bridge. Be sure to go on the canopy ride, you'll be among the treetops with a perfect bird's eye view of Sydney and the Blue Mountains.
Darwin, Australia
Darwin's parks - from the tropical waterfalls at Litchfield National Park to the wildlife and Aboriginal rock art galleries of the Kakadu National Park - are some of the city's top attractions. You can take a stroll through the wetlands or cool down by swimming in the springs. It's a city rich in natural and cultural resources and has often been voted one of the best travel destinations in the world. Darwin has a little something for everyone and to do their part for the world, their concern for their environment has led to the city opening a renewable energy facility and developing methods to sustain their biodiversity.
Where To Stay
Novotel Darwin Atrium is right in the city centre and overlooks Darwin Harbour. The four-star hotel has non-smoking rooms, conserves energy through LED lighting and encourages guests and hotel staff to recycle waste with recycle bins that are placed in the rooms and throughout the hotel. It also has an indoor tropical rainforest complete with cascading vines and palm trees, providing a refreshing, natural atmosphere.
What To Eat
Saffron is the perfect place to find eco-friendly dining with a touch of sophistication. With a focus on sustainability and authentic, innovative Indian cuisine, Saffron stands out among the other restaurants populating the Northern Territory capital. All the fresh produce comes from local farmers, and seafood is only Territory or Australian-caught, where there are strict anti-poaching laws. There are ample vegetarian options and delicious Indian breads and desserts cooked from homemade recipes.
Eco-Friendly Transport
This is one of my favourite eco-friendly ways of getting around. While we can cycle, walk or rollerblade in most places, you won't always find a pedicab. The three-wheeled cabs are run by experienced drivers who are willing to take you anywhere you want. It's the city's most eco-friendly means of public transportation.
Eco-Friendly Activities
Who doesn't love watching movies under the stars? At Deckchair Cinema you can grab dinner from a local food vendor and pull up a deckchair in the fresh air. The harbour-side location also has excellent sunsets, so I'd advise getting there early. The films are both Australian and International with many classics thrown into the mix.
Wellington, New Zealand
Sitting between rolling hills, and boasting a harbour that comes alive at night, New Zealand's capital city is a vibrant mix of culture, art and nature. The array of cafés, galleries, theatres and attractions are endless - if you're looking for an eco-friendly city that will keep you occupied for hours on end, then you should be booking your ticket to Wellington. While it does have the skyscraper buildings and busy downtown area, there's something about Wellington that relaxes you and makes you feel completely comfortable.
Where To Stay
The boutique feel of the Bolton Hotel is trumped by its location - right in the city centre of New Zealand's capital and within walking distance of the stores, theatres and waterfront. This, however, is a good thing. Stepping into the hotel gives you a sense of calmness, looking out of the window makes you want to get up and explore New Zealand - it's a good balance. The Bolton Hotel is amongst the first accommodation providers to receive the Enviro-Gold rating from Qualmark - an indication of its dedication to environmental sustainability. Each room has recycling facilities, energy-efficient light bulbs and locally sourced wines and water.
What To Eat
Logan Brown Restaurant has worked hard to become an eco-friendly eating establishment and, having won the Enviro-Mark Gold Certified Award, it's really paid off. The ingredients for dishes are carefully selected - from eco-friendly fish catching practices to the kind of soil that their fruit and vegetables are grown in, every care is taken to ensure that the environment is not harmed. Their five Conscious Consumers Badges (Composting, Fair Trade, Free Range, Recycling and Vegan Vege) are attributes that the restaurant is dedicated to upholding. Couple this with a full, delicious menu and it's bound to be a memorable culinary experience.
Eco-Friendly Transport
Wellington has an abundance of transport modes - from cycling, skating and rollerblading to our favourite, pedicabs. Most people walk or cycle to work or use carpool systems. There are cycling routes throughout the city, as well as a bike buddy initiative that pairs people cycling in the same direction so that you'll always have someone by your side. If you don't want to walk or cycle then you can make use of Wellington's Green Car Share, which allows you to rent environmentally-friendly cars.
Eco-Friendly Activities
Wellington Botanical Gardens is dedicated to native plants and features a walkway through trees and colourful flowers. The Lady Norwood Rose Garden, playground, duck pond and Bolton Street Memorial Park will keep you occupied for hours. Take a picnic lunch, a frisbee and a book and you're sure to have a great day out.
Auckland, New Zealand
Wellington might be the capital of New Zealand, but many people believe that Auckland deserves just as much attention, and it's not hard to see why. Rolling green hills, renowned wines and excellent cuisine makes Auckland an idyllic city. Throw in the hospitality of the residents and you've got yourself a home away from home.
Where To Stay
The Jucy Hotel operates a recycling program for paper, plastics and bottles, and encourages guests to participate in the scheme by making use of the recycling bins throughout the hotel. All lights use eco-friendly bulbs. Where most hotels have a policy of re-using towels and sheets, Jucy goes a step further and has a general policy that they will only service your room after the 5th night, which greatly reduces the amount of water and electricity used. However, if you do want the room to be serviced more regularly, you just have to pay a small fee. The hotel even provides the guests with eco-friendly transport through their Cityhop car share company.
What To Eat
You might not be in Japan, but that doesn't mean you can't enjoy some Japanese cuisine, especially if it's prepared with an eco-friendly initiative in mind. Janken has an industrial yet cosy feel with custom-made wooden furniture. The restaurant uses as much organic produce as possible and the menu has vegan, vegetarian and gluten-free options as well as macrobiotic desserts. Add free-range chicken, free-farm pork and grass-fed beef to the mix and you'll enjoy a delicious, healthy meal.
Eco-Friendly Transport
If you don't want to walk and cycle then you can take a train or bus. Auckland's environmental initiatives have ensured that their eco-friendly electric trains are faster, quieter and energy efficient. Their buses are also becoming more eco-friendly, making it easier for you to enjoy longer journeys without worrying about harming the environment.
Eco-Friendly Activities
Eco-Zip is probably one of the most fun eco-friendly activities on the list. In a bid to develop a tourist attraction that immersed travellers and locals in the native forests surrounding Auckland, three friends started a business where visitors can experience Flying Fox Zip Lines. Effectively this means taking a cable car (Flying Fox) up and zip-lining down. Zip-lining through the beautiful forests of Auckland - does it get better than that? Alternatively, if you're more comfortable on solid ground, you can take a mini-tour of Waiheke Island.
By Caelyn Woolward
Africa
The state of Africa's natural resources makes a classic case-study for the emergence of ecotourism. As a continent, it has faced famines, the extinction and near-extinction of several species, civil wars and environmental disasters. The toll on its ecology, wildlife and people has been severe. Ecotourism across the continent represents a new way of treading on her soil. If you do a basic search for packages, tours or hotels at any major destination, you'll be hard pressed to find a decent establishment that doesn't publicise its eco-friendly practices. Sure, there are a lot of businesses that will continue to take advantage of cheap labour and use its animals in a circus-fashion to draw crowds, but it's our job to support worthy tourism ventures and use discretion before spending money.
One of the goals for ecotourism has to be self-sustainability. If that's not the long-term objective, then ecotourism is just an industry that uses pity or guilt to sell expensive holiday packages, and it's going down the same road as the 80s. Africa can't be the yardstick for poverty and cheap labour forever.
Namibia
Namibia's Dali-esque landforms and intense climate set it apart from the traditional vision of Africa. Once an obscure destination that saw few visitors because of its lack of tourism infrastructure, now ecotourists, wildlife enthusiasts and serious campers are being drawn in. The blend of cultures making up its population (San, Damara, Ovambo and German) adds to the overall diversity. The Kalahari Desert that folds along its western parametres has a diverse cultural history, along with some of the most interesting fauna and landforms in Africa. Along the hauntingly-named Skeleton Coast, the cold South Atlantic Ocean provides a stark contrast to the seemingly endless desert plains facing it. North of the capital, Windhoek, the Etosha National Park is home to the largest population of Black Rhinos, a species that has tottered on the brink of extinction for the better part of thirty years. Conservation around Namibia has become a united effort. On a national level, there is an interesting set of circumstances driving its tourism efforts. On one hand, the tourism industry stimulates the economy, but on the other it drains local resources like water (which is precious to local farmers) and puts a strain on the country's power supply. So ecotourism is something that really works not only for the animals and environment, but also the people of Namibia.
Where To Stay And Getting Around
The reason I'm lumping these together is because transport and accommodation are closely linked in Namibia. Camping is hands down the best way to see the country and to get a feel for its different areas, but you'll need a sturdy vehicle at the same time. You can go a long way between game parks and cities without seeing people, and the environment can be harsh. Admittedly, a four-wheel drive vehicle isn't very eco-friendly, but for safety's sake you need to be practical. The Namibia Cardboard Box Travel Shop (www.namibian.org) offers a comprehensive list of routes, tips and suggestions for people wanting to visit Namibia.
What To Eat
Unless you're staying at a hotel or a resort, it's best to stock up on food at a supermarket or one of the local markets. One of your big concerns should be what to do with food wrappers and such once you've finished eating. If you're on a day trip or camping, have a system prepared for keeping your rubbish until you find a bin back in the city.
Eco-Friendly Activities
Hiking at the Fish River Canyon will blow your mind; it's one of the deepest of its kind in the world. There are also natural hot springs at the camp sites nearby, where people can relax and enjoy the peace and beauty around them.
Zambia
Two decades ago the Republic of Zambia was poorer than Zimbabwe and hardly featured on the African tourism radar, despite having direct access to Victoria Falls via Livingstone and more open space than almost any other African nation for its size. Today the economy is growing steadily, development is happening as quickly as bricks are laid and the tourism sector is humming. It's one of the most rapidly developing countries in Africa. Some incredible ecotourism opportunities are popping up now, riding the wake of the nation's success. It's a proper African experience in terms of seeing the Big Five, catching Tiger Fish and Bream along the Zambezi River and sipping G & Ts as the sun sets on another ordinarily perfect day.
There are two main ways to go about an eco-trip. The first is to stay at an eco-lodge or hotel, which is more costly, but very luxurious. The second way is to go with a company like African Impact, which provides travel and volunteer packages throughout Zambia. You'll be assisting with projects like the Chimpanzee and Wildlife Orphan Care program, or the national drive to plant trees.
Where To Stay
In June of this year, Norman Carr Safaris announced the opening of Chinzombo (www.normancarrsafaris.com), an ecolodge located in the South Luangwa Valley. "The lodge is comprised of six villas made entirely of recycled or recyclable materials and could, should the need ever arise (the river overflows for instance), be picked up and moved - it has such a minimal carbon footprint", says Peggy Healy Parker of Montgomery Communications.
For those who don't know his name, the legacy of Norman Carr is carried on through the Safari group named after him. He was a British conservationist who played a pivotal role in the establishment of the Rhino Trust, an organisation that was absorbed by the World Wildlife Fund in later years and continues to do invaluable work protecting rhinos from poachers in Southern Africa and Asia. He was, in many ways, one of the pioneer ecotourists.
Another great option is to rent a houseboat on Lake Kariba. The petrol used to power the boat is not necessarily good for the environment, but it's not as bad as a regular household full of electrical appliances and two motorcars. The lake itself is like something out of a dream; it looks like an ocean surrounded by khaki hills and bush camps, and guarded by crocodiles.
What To Eat
There is no shortage of markets and restaurants that support the community and stock locally sourced produce. Be mindful of what you're buying (obviously any lobster or shark fin soup on the menu isn't from the closest river) and don't be scared to ask questions.
Eco-Friendly Transport
While Zambia is growing rapidly, there's still a lot of empty space between major towns on the north and south side of the country. Getting from Lusaka to Livingstone is a long bus ride along a very bumpy road, or a medium-distance car ride through terrifying traffic, or a short, potentially expensive aeroplane ride. None of these is a particularly eco-friendly mode of transport, but your options are limited. The one main alternative you have is to cycle; this sounds like a wild stretch of the imagination, but people do it all the time. The Southern half of Zambia is quite safe (your main worries are traffic, animals and malaria-carrying tsetse flies), so don't count out a cycle tour.
Eco-Friendly Activities
The wildlife in Zambia is amazing. You can get closer than you ever imaged on guided walks at one of the many game parks, where elephant 'hides' allow small groups to silently observe animals from a small hut - which probably offers as much protection as a portaloo. Zambia's rainy season runs from October to May, which is the ideal time to see Victoria Falls (The Smoke That Thunders) in flood.
Tanzania
Tanzania has a full bag of tricks; Mount Kilimanjaro (the highest peak in Africa), Serengeti National Park (where the epic Wildebeest Migration terminates), Zanzibar (possibly the hippest island in Africa) and a selection of game parks that people spend their whole lives dreaming about visiting. A combination of the country's infrastructure and scenery make it easy to enjoy on a tight carbon budge, but the popularity of this power-house country has led to it becoming relatively pricey. That said, it's one of the most ecologically diverse countries in the world, with rarities that you'll never forget. If it was three times as expensive people would still go - more than once.
Where To Stay
The Singita Mara River Tented Camp (singita.com/mara-river-tented-camp) is an off-the-grid facility that uses a custom solar power grid to generate what little electricty is needed to keep things going. In their own words, it's "the epitome of sustainable tourism and consciously seeks to eliminate the unnecessary use of energy and non-biodegradable materials. Inside the camp, bohemian chic sets the tone for cool relaxation, where spun natural fabrics, canvas, stone and raw leather blend with Maasai primary colours and elegant art pieces by young African designers and craftsmen".
What To Eat
Tanzania is not the cheapest destination Africa. Fine dining options (made from locally sourced produce and animals) are widely available, but at a premium. The more appropriate option is to buy from local markets and stores.
Eco-Friendly Transport
The taxis are intense and not very eco-friendly, but that's how people get around town. Unless you're in Tanzania on a cycle tour or have a hired car, your other option is to take a shuttle.
Eco-Friendly Activities
Outside of hiking Kilimanjaro, animal spotting at one of the many game parks and taking it easy on the beach in Zanzibar, the culturally significant activities are massive. If you're there for an ecotourism holiday, the ruins of Kilwa Kisiwani and Songo Mnara are two stops that should be at the top of your list. These crumbled port towns tell the story of the ivory and slave trade centuries ago, at a time when the novelty of Africa's heritage was traded at a premium. Both are significant today, as we consider and face problems like poaching and deforestation. You can't help thinking that we wouldn't need Wildlife Funds and conservation societies if people didn't behave like animals.
By Clayton Truscott
Americas
Ecotourism in the Americas is a big deal. Not because it's necessarily more advanced or sophisticated than other parts of the world, but rather because it's desperately needed there. Both North and South America have been burdened with commercial and residential development. The big shift by tourist organisations to comply with 'Green' standards is both for practical and economic reasons, which really says something about people who live and visit the countries of both continents. There's a growing demand for ecotourism opportunities that will allow visitors to experience the scenery, wildlife and cultures of North and South America, which is the best way to motivate businesses to alter their practices.
'Big Sur', Central California
Central and Northern California represent the more rugged and unpretentious side of America's Golden State. Driving along the famous Pacific Coast Highway, you see a coastal landscape that's unpolished and gnarled, with toothy cliffs jutting into a gray ocean. It's not postcard California, aka Hollywood. Redwood forests and wild flowers decorate the hills, which crane all the way back to the interior regions where the mountains offer a different experience to what most people expect from this part of the country. In terms of ecotourism, the climate and landscape lends itself to low-impact travel, especially along the coast. Summer doesn't get ridiculously hot and winter is not too cold - unless you're inland. You'll often see people cycling or driving the coastal route that starts near the border of Oregon and heads down to the region known as 'Big Sur', camping or staying at eco-friendly lodges.
'Big Sur' is a world unto itself in California. It's a protected stretch of the coast that runs for roughly 90 miles, through some of the country's most exquisite scenery. You won't find nightclubs, shopping centres and fancy restaurants here: the trees, the beach, the waterfalls and the quiet are the main attractions. Its reputation as a natural oasis is reinforced by law; visitors aren't allowed to pick flowers, hunt or even collect seashells. From San Francisco it's a three hour drive (south), which takes you through a number of beautiful spots that are worth stopping along the way. While driving a car isn't the most eco-friendly mode of transport, you'll see more hybrid vehicles and bicycles on the roads in California than most other states. The boundaries of where it begins and ends aren't clear, but once you're there you'll know - it'll feel like arriving in Oz.
Where To Stay
Accommodation in Big Sur is limited because of the strict laws protecting it from being over-developed; this has stopped big hotels, resorts and even residential houses from springing up. Most people who go there end up camping, which is hands down the most ecologically sound way to travel. However, if your days of fighting with tent poles and sleeping on ground mats are over, there is another, far more comfortable way. The Post Ranch Inn is sanctuary within a sanctuary. Every step that went into planning the lodge has been done with the environment in mind, from the materials used to build each of the 39 rooms, to the implementation of a biodegradable cleaning system and the construction of a solar array that minimises the use of electricity. There's no television sets in the rooms either, just windows that offer perfect views. More than just preserving the landscape, the owners of the Post Ranch Inn have also found a way to combine species protection with beautifying their property. "The grounds provide habitat for the endangered Smith's Blue Butterfly, California Red-Legged Frog, Western Pond Turtle and California Condor. A long-time leader in responsible tourism, Post Ranch's goal is to create a distinctive, luxurious guest experience that melds seamlessly with environmental and social stewardship."
What To Eat
There is an amazing restaurant at Post Ranch Inn called Sierra Marr. It's located at the top of a hill, overlooking the ocean and the hillsides. With a view like this, the restaurant could serve cold toast and hard water and people would still go. That said, the restaurant happens to be an award winning, fine dining establishment that boasts a world-class menu "inspired by Big Sur's coast and mountains".
Eco-Friendly Transport
Bring a good pair of hiking boots and your comfiest sandals. You'll be renting bikes or walking. Everything worth doing is outside and doesn't require much in the way of motor transport. If need be, the hotel has hybrid vehicles for guest use and offers a shuttle service. For those who rent cars and drive down from San Francisco or Los Angeles, it's nice to have one handy for day trips and excursions to places like Carmel by the Sea and Monterey.
Eco-Friendly Activities
'Big Sur' is a back-to-basics sort of place, where people enjoy the beach, hiking, star gazing, bird watching and swimming. There's no television or cinemas or anything electronic that will occupy your time. Post Ranch Inn offers morning yoga classes followed by guided tours of the hills and beaches. There are a few keynote areas to explore, which makes for full days and relaxing evenings.
Playa Del Carmen, Mexico
For all the hokey resorts that have popped up around Mexico over the years, it is still a magical place that owes its popularity to the people and things that were there before tourism. In order to preserve its ecological and cultural heritage, there has been a drive towards a new kind of holiday option; one that values and preserves these things, rather than abusing them.
Playa Del Carmen is a vibrant, quaint coastal town at the far end of the Yucatan Peninsula, below Cancun and opposite the famous diving island of Cozumel. It's a busy little place that sees big foot traffic every day, thanks to the Cruise Ship port, but within an arm's length of the town you have access to Mayan Ruins, the jungle and miles of hypnotic beach.
Where To Stay
The Sandos Caracol Eco Resort and Spa is the ecotourism equivalent of a luxury resort with all the bells and whistles. It's been built with the utmost respect for the environment; all 957 rooms are solar/wind powered and there are several ongoing environmental initiatives that range from planting trees to protecting sea turtles. There is also a strong emphasis on providing guests with an authentic, culturally-integrated program of activities that educate and entertains, while benefitting the Maya community.
What To Eat
There is an open-air Mayan Market where visitors can buy fresh fruit, vegetables and a wide selection of the best Mexican food you'll ever eat. The Ceviche (a cold seafood dish that consists of fish, citrus juices and some herbs) will change your life. Around the town you'll also find very reasonably-priced food stands (mostly family-owned) where your tacos or tostadas are prepared right in front of you. The Sandos Resort also has a new gourmet vegetarian restaurant, Salvia, which specialises in raw food and gluten-free options.
Eco-Friendly Transport
Playa Del Carmen is a smaller town, so you'll be able to walk from A to B for the most part. For longer excursions, there are buses and taxis, as well as a ferry that will take you to Cozumel.
Eco-Friendly Activities
Playa Del Carmen lends itself to a broad mix of outdoor activities and cultural entertainment. Bicycle tours of the Mayan ruins at the Xcalacoco archeological site are a must. Although these ancient temples are the main attraction, you're biking (or walking if you please) into a tropical forest that is inhabited by exotic birds (like toucans) and iguanas. One of the unique features found in Playa Del Carmen are the cenotes - sinkholes that are formed in the limestone bedrock. Some have been deliberately sunk into the earth for commercial gain, which is about as ecologically sound as fishing with dynamite, so be aware. The natural cenotes were used for spiritual ceremonies (mostly relating to sacrificial rituals) by the ancient Mayans, which is interesting to think about when you're doing cannonballs into the water.
From March until September, guests at the Sandos Eco Resort and Spa can observe the hatching and releasing of endangered sea turtles at the resort. Sea turtles are highly sensitive to any change in their environment and have suffered heinously over the years, so the work done there is essential for their long-term survival. At the same time, it's pretty magical to see the babies hatch and find their way into the ocean. You can take the experience a step further by going snorkelling with the turtles - just don't touch them or try to ride on their backs.
Panama
While Central America has experienced a serious commercial boom over the last two decades, Panama has flown quietly under the radar, growing at a slower, steadier pace. This has started changing at an alarming rate now, as you'll see in Panama City (which is starting to look more like Dubai every year), but its tardy entrance into the brave new world of tourism has meant that local businesses have benefited from early mistakes made in places like Costa Rica and Mexico.
A sizable portion of the country is protected from development, ensuring that the rain forests, beaches and local customs are preserved - a great long-term business model for a country that plans to keep people coming back for precisely those reasons. It's not a big country, but its cup runneth over with natural beauty and startling contrasts; to one side you have the Caribbean Sea, peppered with islands and beaches to instagram till the cows come home. The other side that faces the Pacific Ocean is a watersports haven, and has become increasingly more popular by hosting events like the World Surfing Games in Santa Catalina.
Where To Stay
As mentioned, Panama is not a big country, so first-time visitors owe it to themselves to see as much of it as possible. XPLORA Panama Tours (www.panamatraveltours.com) offer a nine-day itinerary that covers 'The Best Of Panama', including the famous canal (probably the only thing most people knew about Panama up until two decades ago), the striking Guna Yala/San Blas Islands, Santa Fe and its amazing waterfalls and wildlife, and Panama City. It's a locally-owned, locally-run business that offers small group tours focussing specifically on Panamanian culture, nature and adventure. They're proudly affiliated with the International Ecotourism Society, which is reflected in the big and small details of their products. As far as accommodation goes, they utilise a mix of small hotels and family-run hotels that suit the different regions and destinations you'll visit.
"In Panama City we use the new tower of Torres de Alba Suites, with modern and comfortable suites that even have a washing machine inside of them. For Guna Yala/San Blas we stay with our friend Juan Garcia at Cabañas Ukuptupu, a simple family-run hotel surrounded by two Guna communities", they explain. The Guna are a Panamanian/Columbian community that have inhabited the area for centuries. One of the remarkable things about their culture and language is how they retained their identity through the Spanish Colonial Era and a constant changing political climate. "It is important to note that travelling to Guna Yala is like travelling back in time, therefore the accommodation here is very primitive (bucket and barrel shower system, no TV, no A/C, toilets outside the rooms), but this is part of the cultural experience, and we only stay one night there. For comfort when exploring the countryside, we stay at Hotel La Hacienda in Santiago, and for some Panamanian flavor, we use the basic Hotel Santa Fe, with amazing views and a perfect location close to the National Park. And in the lovely town of Boquete we stay at Isla Verde, a very comfortable small hotel with beautiful gardens and excellent restaurants in walking distance."
If you are backpacking independently through Panama, you'll find a host of affordable hostels and hotels that welcome friendly tourists.
What To Eat
You've come to the right place if you like exotic fruit and seafood, both of which you'll find in vast abundance around Panama. Bananas, papaya, pineapple - it's all the tropical fruit that costs a few extra pennies at Tescos. Local markets are affordable and you'll find them in all regions. There's no magical secret to eating eco-friendly food here. Let common sense and discretion guide you.
Eco-Friendly Transport
Public transport is safe, reasonable and widely available around Panama. If you're a fan of trains, the Panama Canal Railway goes from Panama City to Colon and back, great for day trips. While this might not be ideally eco-friendly transport, you'll be doing the environment a favour by keeping the number of individual cars off the road.
Eco-Friendly Activities
Your Panamanian holiday is really divided into three main regions: the tropical rain forests of the highlands, the Caribbean coastal stretch and the Pacific side. Within these three, you'll be hiking, exploring caves, diving or snorkelling, surfing, observing wildlife and doing a lot of this by foot. The part of your trip that won't be eco-friendly will be travelling between these regions.
By Clayton Truscott
Last Updated: September 2013