Experience The World Of Adventure Travel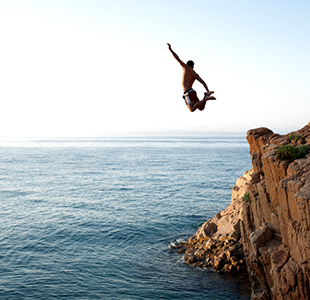 Our busy lives don't always leave room for much in the way of adventure. A gym membership, walks in the park, occasional visits to the Natural History Museum, a bit of mountain biking and trips to the farmers' market over weekends - these are the 'adventures' we can all manage on a regular basis. But they're also practice for the real thing. The desire to see, feel, do and experience more of what the world has to offer is right there. It's one of the main reasons we pinch pennies and spend unfathomable amounts of time researching places to travel. This month we're exploring ways to step outside our weekly routine and scratch the itch for adventure. From close encounters with Great White Sharks, to trekking across the frozen mountains of Tibet, learning about the history of Aboriginals in Australia and base jumping from Angel Falls in Venezuela, there's a range of adventurous holiday ideas to suit everyone.
Wildlife
No matter how humane, spacious or research-oriented they claim to be, zoos are no place for wild animals - and no place to view wild animals. It's like going to a prison to observe human beings. The only natural way to see and experience nature's permanent residents is to visit them in their habitat. If you look at the animals on this list, a lot of them are considered be to deadly, scary or ferocious, yet getting close to them often disproves the cheesy stereotypes created by mainstream media. This month we're looking at some of the most amazing wildlife experiences around the world, focussing on animals that you'd sadly normally only see at zoos and aquariums.
The Marine Big Five - Gansbaai, South Africa
The Great White Shark remains one of nature's most enigmatic and untamable creatures. They've been around for millions of years and yet we still know very little about the inner workings of these complex animals. Despite numerous attempts to keep them in aquariums, research centres and giant swimming pools for observation, the Great White won't be tamed or held captive - they don't play that game. Your only real opportunity to see one is in its natural habitat. And while surfers and free divers pray that doesn't happen, there are other ways to go about it.
Marine Dynamics, based in Gansbaai (Bay of Geese) - roughly two hours South of Cape Town - specialise in two things; one is shark conservation and the other is shark tours. The two concepts work hand in hand to a large extent. By exposing people to the less Hollywood-ified side of sharks, companies like Marine Dynamics are able to educate their customers about the role that sharks play in maintaining a balanced ecosystem and why they need to be protected from humans - the most dangerous animals on the planet.
"We like to say there are two kinds of white sharks in the world, the ones you see on TV and the real ones in the ocean. Our goal is for you to share the water with the real ones, as they behave naturally, in our area", says Brenda du Toit of Marine Dynamics. Although they are every bit (and more) as powerful as you'd imagine, you'll be disappointed if it's a brainless killing machine you're expecting to encounter. "White sharks are incredibly cautions, curious, and intelligent - and it's not uncommon for divers to have eye-to-eye contact with a white shark during their experience... people's perceptions are changed by their experience and they become ambassadors of this misunderstood apex predator."
Safety is obviously a priority when it comes to diving with Great Whites. "Our cage comfortably fits eight people and is designed for the best viewings and safety. Time in the cage is entirely dependent on shark activity and we attempt to give every client the same experience. A typical trip is three to five hours, depending on weather conditions and shark activity." Dyer Island, just off Gansbaai, is also home to the other members of the Marine Big Five, which includes penguins, whales, dolphins and seals. On any given day you'll see them all in a single visit. "Our boat, Slashfin has been custom designed for your pleasure - there is a great top viewing deck, separate toilets, a changing room, cubicles for your belongings, all in all more space per square meter than any other boat in the industry", du Toit explains.
As mentioned earlier, conservation is a big issue in the world of sharks. Great Whites are a protected species for a reason. Despite their vicious reputations, their existence is threatened by over-fishing (their food source), pollution and anything else that upsets the natural balance of the ecosystem.
"What distinguishes Marine Dynamics from other operators is our on-board marine biologist who provides an educational outing, not just an adventure. People know that by choosing Marine Dynamics they truly live the ethos that your choice makes a difference. Our motto is 'Discover and Protect' and we are the only company conducting intensive shark research. Our research has been featured on Discovery's Shark Week and numerous other documentaries. We have dedicated shark biologists involved in research projects. You can read more at the Dyer Island Conservation Trust (www.dict.org.za)".
Prehistoric Species - Galapagos Islands
One of the truly unique aspects of any wildlife adventure is the feeling you get from being a guest in the kingdom of animals. In the case of the Galapagos Islands, you'll feel like a visitor from another planet. Volcanic activity has shaped (and continuously reshapes) the jagged landscapes and landforms, giving this strange corner of the globe an untouchable beauty that looks prehistoric and hostile.
It's impossible to talk about the Galapagos Islands without bringing up Charles Darwin and On The Origin of Species at some point - his work has not only formed a foundation for evolutionary biology, but also put Galapagos on the tourism map. Some of the creatures he notes, like marine iguanas and giant tortoises, look like they're molded from molten lava. The animals are also famously indifferent to people, which is a fun switch up to the jittery sightings you need to work for in common nature reserves; the sea lions that clutter to the rocky shore will look at you the way an annoyed celebrity ignores the paparazzi.
This mystical archipelago is not Club Med, but the lack of glitzy hotels and neon tiki bars is what makes the region special. It has a full range of microclimates, which change from startling to scary to magnificent in a single stretch, all forming part of its allure. Adventure and wildlife tourism has been growing steadily over the last few decades, especially since the islands were added to the list of UNESCO World Heritage Sites and declared national parklands, protecting the area from any harmless development.
Galapagos Safari Camp (https://www.galapagossafaricamp.com/), located on a farm that borders the tortoise reserve, offers a new take on this island adventure. The story of this unique camp starts with Stephanie Bonham-Carter and Michael Mesdag, a pair of adventurous travellers whose love for the islands eventually got the better of them. The luxury camp that stands today is the result of dreams and hard work. They set up the Safari Camp on the same hill where they admired the panoramic views of the Santa Cruz Highlands and the Pacific Ocean.
The couple, along with a team of Ecuadorian and international staff, offer an adventure holiday that allows you to explore the full range of wildlife and scenery while staying in a campsite that uses the low-impact of a camping trip and sustainable resources to create a luxury experience. Nine "luxury tents" make up the rooms (including a large family room) where guests stay, all complete with rain-water supplied showers and flushing toilets (two things you'll appreciate on any adventure trip). Stephanie and Mike place a lot of emphasis on the camp's environmentally-friendly ethos and commitment to supporting the local economy - something I always look for in a business that operates inside a nature reserve.
Guests can choose from a number of Safari options that bring you right up to the animals that stole Darwin's attention. Trips to the tortoise reserve are naturally a must. There are also walking tours of Cerro Mesa and the island's largest volcanic crater, providing an opportunity to balance bird watching (for finch's and Blue Footed Boobies) with some memorable trekking through surreal landscapes. There are island hopping tours and excursions to the Galapagos Marine Reserve (the second largest of its kind in the world), the Charles Darwin Research Center, fishing trips and a list of options you can use to tailor your own unique safari experience.
Getting to the camp is an adventure in itself. From Quito, Ecuador's highly impressive Capital (a UNESCO Heritage Site in itself), it's roughly a two hour flight to Baltra Island - charter flights leave every day, but sell-out like hotcakes throughout the year. From Baltra you'll cross the Itabaca Channel to Santa Cruz Island and then go for a 15.5 mile drive to the highlands, where the Safari Camp is located.
Gorilla Trekking - Rwanda
As a nation, Rwanda has worked hard to overcome the tragedy and stigma of its highly publicised 1994 genocide. The political situation has been stable for some time now and people are starting to realise this more and more, especially since tourism and the local economy have both started thriving simultaneously. The work and legacy of primate researcher Dian Fossey first drew international attention to Rwanda and neighbouring Democratic Republic of Congo in the 1960s, at a time when large numbers of gorillas were being killed and trafficked by poachers. The devastating effect this has had on their existence lingers today, as the mountain gorilla still sits on the endangered species list, but with more support than ever before.
The Volcanoes National Park - Fossey's old stomping ground, named because of its landmark volcanoes - is one of the last natural safe havens for mountain gorillas. A visit there requires a day permit (to the tune of £400) that allows you one hour with the gorillas as part of a group of eight (at the most) other trekkers. The reason your time with the gorillas is limited is to ensure human interaction doesn't provoke any unnatural change or behaviour in the gorillas and their breeding schedule. That sounds like a lot of money for a small amount of interaction, but the experience is worth one hundred thousand times the asking price of any zoo ticket. Additionally, the money from your permit goes straight back into the park, its resources and the local community.
Gorilla trekking is not a walk in the park, so to speak. Bring comfortable shoes (that you won't mind getting full of mud), a walking stick if you've got any bad knees or ankles (or buy one there if you're worried about having it confiscated at airport security) and comfortable clothing. Rwanda sits at a high elevation and the thin air makes it difficult to breath. Going for some preparation walks to get in shape before departure is not a bad idea. It's a proper adventure. You might get lucky and see mountain gorillas after ten minutes, or end up tracking them down for a few hours - the park is 48 square miles, so there are more than a handful of hiding places they could be. Along the way you'll see Golden Monkeys (which are more playful and not as life-threatening as a mountain gorilla), rare birds and other animals that are endemic to the forests of Rwanda.
As far as accommodation goes, the Mountain View Gorilla Lodge (available through Natural World Safaris) offers comfortable, scenic accommodation on the slopes of Mount Sibinyo, a stone's throw away from the Volcanoes National Park - as well as great tour itineraries. This is ideal for gorilla trekkers who want to base themselves in a homey place with great views - perfect for post-walk glasses of wine.
Kanha National Park - Pradesh, India
Kanha National Park, located in the Mandla district of Madhya Pradesh, gives visitors a rare look at some of India's free-roaming Bengal Tigers. The park was formed in 1955 on 750 square miles of sal and bamboo forest land, between the rivers Helo and Banjar. Jeep Safaris (of the variety you'd expect in Africa) are the biggest attraction to locals and visitors. While you don't need to pre-book a Jeep, you generally pay for the whole vehicle - so make sure you've got enough people to fill the car if you want to pay a more reasonable rate. The park is also renowned for barasingha (swamp deer), bison, sambhar, sloth, bears, monkeys and other wildlife.
The Great Wildebeest Migration - Tanzania / Kenya
The Great Wildebeest Migration is one of nature's great miracles - so miraculous, in fact, it was added to the 'Seven New Wonders of the World' list. Between the winter months of July and October, more than 2 million wildebeest will make the harrowing journey from Serengeti National Park, Tanzania, to Masai Mara in Kenya. As you've probably seen on documentaries and youtube video clips, the animals face a torrent of dangers that range from drowning in the rain-swollen Mara River and being injured in the stampede, to crocs, lion and lesser predators. In terms of an African Experience, there's very little that compares to the size and variety of wildlife seen here during this yearly show. The migration takes place within the confines of the Serengeti Ecosystem, a small paddock roughly 15,444 square miles in size and going through four major game parks.
By Clayton Truscott
Action
From the spiritual slopes of Mount Kailash, to the diving mysteries of the Black Hole of Andros, action holidays test both the limits of your body and your will power. It's more than just another form of exercising or a way to get fit; you're not simply running on a treadmill, you're actually touring the world one step, pedal push or board at a time. The best thing about action travel? You can go into the depths of the most unknown places on Earth or you can touch some of the highest landmarks on the planet. Either way, your journey is both physical and spiritual, and it opens up your mind to a whole new set of experiences.
Trekking - Mount Kailash, Tibet
Best time to go: May or September/October
Trekking time: around 14 days
In Hinduism, Lord Shiva, an ancient figure who is believed to be the deterer of ignorance and illusion, is said to reside at the summit of Mount Kailash. In Jainism, an Indian religion that charts a non-violent path to all living beings, Ashtapada, the mountain right next to Mount Kailash is believed to be the site where the first human being achieved liberation and enlightenment. To Buddhists, Kailash is associated with Demchog, a tantric meditation deity. With so much history and faith behind it, it's no wonder that trekkers who have ventured off the beaten path and onto the sands of Mount Kailash report an unparalleled sense of spiritual enlightenment and peace.
It doesn't matter what religion you practice, or what beliefs you hold, your Mount Kailash trek will be more than just an ordinary walk in the park. In a location so far west of Tibet that it borders Nepal and India, Mount Kailash is seen as one of the most sacred mountains in the world. If you stop for a moment on your trek and look around, you'll see that you're surrounded by icy peaks and dry plateaus with just a little bit of light shining on it - the remains of a sunshine desperately trying to get through the clouds covering the region.
As for the trek itself, we've given a very rough estimated time based on trips that trekking tour operators offer. You don't have to trek for 14 days, but there is a lot to see. It all starts in Darchen, a tiny village at the foot of Mount Kailash. With it's slightly barren land and scattered stores and houses, it certainly looks like former pilgrims simply came down after their experience and decided to set up makeshift stores in the middle of a mountain. As the hike moves around the slightly rougher terrain of Lha-chu Valley, you'll be able to see the south face of Kailash.
The second day of the trek is said to be the hardest as the journey to Zutrul Phuk Monastery is plagued with steep slopes and falling rocks. Add this to the rapidly increasing altitude, and you're in for a pretty serious trek. The journey is likely to be a mixture of intense beauty and history, loaded with truths and unforgettable stories. By the time you reach Zhong-chu Valley the adrenalin may have died down and tiredness may start setting in. The only thing that pushes this kind of exhaustion away is the realisation that you have just completed the trek of a lifetime.
Trekking - Donoho Lakes Glacier, Alaska
Best time to go: Late May to September
Trekking time: 3 - 5 days
Among the spiking glaciers of the Donoho Lakes are splashes of green forested meadows and blue alpine lakes. As you move further along the Root Glacier, the colours appear to get brighter; the contrasting snow white of the ground, the seemingly desolate brown plains and the bright green hills make for a truly fascinating site.
Since the hike starts at the Root Glacier, most of the first part of the trek is complemented by scenic views. You also get the opportunity to explore the world of glacier ice; passing moraines, crevasses and canyons. After the long day of walking you'll set up camp near a thundering waterfall. Don't allow this to distract you too much as bears and foxes are known to roam this particular area and that's one sight you won't want to miss.
Where the first day of the hike throws you in at the deep end and tests your endurance, the second day is a lot more moderate as your journey is undertaken on dry land all the way to the foot of Donoho Peak. If the fitness junkies aren't feeling tired enough by then, a hike up the hill close to the camp should do the trick - and you'll be rewarded with beautiful views. By the third day, you're back to walking on thin ice as you head down the Kennicott Glacier. I don't want to spoil all the fun so I'll end it here, but your hike will keep going for another two days and eventually you'll end up back at Root Glacier. Possibly tired and relieved, but without a doubt completely liberated.
Cycling - Jeju Island, South Korea
Best time to go: mid-June to September
Cycling time: Completely up to you.
Why go cycling in South Korea when there's France, Italy and Switzerland a lot closer to home? Well, it's so easy to find information on those countries that it almost takes some of the adventure out of it. South Korea, on the other hand, is an emerging centre of futuristic fashion, towering skyscrapers and a society driven to succeed. There is a lot to be learnt from such a highly motivated society.
Cycling is a sport that completely exposes you. Unlike being in an arena or on a field with like minded sportsmen, you're out on the road among rushing drivers and determined joggers. This is part of what makes South Korea so suitable for cyclists. With no apparent crime, South Korea is one of the safest places to explore on your bike.
South Korea isn't a tiny village nestled away in the crevices of Asia, it's a land mass populated by almost 50 million people. So we narrowed down our cycling routes to Jeju-do, or Jeju Island. The bicycle trail on Jeju has a little of everything. Starting at the waterfront in Jeju City, you'll be able to cycle virtually undisturbed along the promenade. Since there are bike lanes throughout the city, you can chop and choose your route at whim. Don't fancy going down the highway or into the city? You can take a different turn and find yourself approaching sites such as Cheonjiyeon Waterfall or even treat yourself to the view of the purple, yellow and blue flowers that cover Halla Mountain during summer.
If you prefer to immerse yourself in Korean culture, then cycling through the marketplace should be next on your agenda. You can watch vendors furiously debone fish at Seogwipo Olle Market or visit the Jeju Folk Arts Complex Review where you can get all sorts of arts, crafts and local delicacies. The route is rather tame and focuses more on touring the country than exhausting yourself on a bike. Of course, if you prefer the latter, there's always Mount Halla.
If you don't fancy travelling all the way to South Korea, Map My Ride can show you all the best cycling routes in your area and across the world.
Cycling - The French Alps, France
Best time to go: Beginning of June to end of August
Cycling time: 6 days
The Geneva to Alpe d'Huez trip is arguably the best cycling tour you'll find if you venture towards the French Alps. You'll get the opportunity to embark on some of the most famous climbs in the Alps; from the snow-capped peaks of Colombiere to the glaciers of Aravis and the green fields and clear lakes of Saisies, Madeline and Alpe d'Huez. It's certainly one tour that will serve to simultaneously exhaust and exhilarate you.
Route des Grandes Alpes, a path that links Lake Geneva to the Mediterranean Sea, is where your journey starts. The almost 1 mile climb up Col des Aravis will end with a plunge down to the valley that will no doubt give your hard-working legs a needed break, because just after that you'll attack Col des Saisies, the second climb of the day. Albertville is your overnight stop, where you can enjoy a great meal, and maybe even some wine, as you recuperate from the day.
Before long, you'll be venturing up Col de la Madeleine, one of the classic mountain passes featured in the Tour de France. After days of cycling, you'll near the end of your journey; the Galibier Pass. This particular climb is magic. You'll pass graffiti from all the climbers who have made the journey before you, reminding you that among the pristine beauty and intense cold of the Alps, lies a whole lot of history and intrigue.
Diving - The Blue (And Black) Hole Of Andros, Bahamas
The name doesn't exactly scream "safety", but where's the fun in that? While we're not encouraging any reckless behaviour, diving in Andros is well worth it. The capital of the Commonwealth of the Bahamas, Nassau, is a city populated by blooming skyscrapers, luxury yachts and over-zealous tourists eager to bask in the magic of the Bahamas. But just 60 miles from this thriving tropical city is an unexplored land home to one of the universe's great mysteries - black holes.
The Black Hole of Andros was spotted in 1985 from aeroplanes flying over South Andros. Filled with abnormally black water, they were first believed to be meteorite craters. Understandably, scientists and researchers flocked to the area, but it was only in June 1999 that the first diving expedition took place. At about 18 metres deep there is a 1 metre dark purple layer of toxic bacteria containing high concentrations of chemicals never seen before. The layer separates the top oxygenated water from the bottom oxygen-free water. The oxygen-free water has similar properties to water found in the oceans billions of years ago. It's basically a time machine at the bottom of the ocean as it compresses all matter into virtually nothing, preventing anything from escaping.
The Bahamas has the third largest coral reef and the clearest water in the world. While the black holes are alluring, the underwater cave system of the blue holes is a lot more accessible and is home to many specialised and rare species. And if you're lucky enough, you may even share your diving experience with a Nurse Shark.
For your accommodation, Small Hope Bay Lodge is one of the best hotels in the Bahamas.
Diving - Porthkerris, Cornwall
Here's something a bit closer to home. With Porthkerris being a relatively safe diving area, you have the option of diving anywhere along the beach. However, the really interesting reef is in a cove separated from the main beach and hidden by an enormous rock.
The cool thing about Porthkerris? Well, this particular reef provides shelter from the rough seas. While choppy waters and horrendous south-westerly weather wreak havoc in the open ocean, the reef is calm. It's not a difficult dive and many beginners head to Porthkerris for their first open-water experience.
If you are looking for a bit more action, you can venture further out, but do remember that you are leaving the calm shelter of the reef. The marine life is pretty extraordinary with Clownfish, Blue Tang and even Mantis Shrimp being spotted in the area, as well as dolphins and sharks. But only Basking Shark, which is actually the largest fish in the world and isn't very dangerous at all. They enter the Cornwall waters for the tiny plankton that they love eating. With visibility in excess of 10 metres and easily accessible diving spots, Porthkerris is just what you need if you want to relax and enjoy life under water.
Surfing - Samoa
In 1962, Samoa became an independent state and with that came the desire to push the country into the 21st century. The Samoan powers-that-be focused on the tourism industry - not a difficult feat considering the tropical utopia that is the South Pacific.
In my opinion, Samoa should be declared one of the greatest surfing destinations in existence. Samoa has, what has been referred to as, A-grade waves that range from the sudden crush of Dragon's Breath, to the warmer, more subtle Pudding Rock and the long, drawn out riding wave of Devil's Island. If you miss a good wave, don't fret. The crystal clear water delivers these gems quite often.
While all the professionals are battling it out for space on the swells of Hawaii, you can find the same waves shamelessly parading their beauty along the shores of Samoa. And this is just the surfing part, we haven't even begun to discuss the hospitality and welcoming atmosphere that has propelled Samoa almost to the top of the tourism charts.
Sinalei Spa and Resort is a hotel that combines the natural beauty of Samoa and the luxury of an exotic travel destination - the perfect place to come home to after a day in the water.
Snowboarding - Verbier, Switzerland
The slopes of Verbier are a mix of rugged, natural slopes and a polished modern resort showing off its perfectly groomed pistes.
The lines you'll find in Verbier are certainly some of the best in Europe. Grab your guide, head off to some backcountry slopes and enjoy the ride - which you can take as many times as you want without getting bored as Verbier joins with Nendaz, Veysonnaz, La Tzoumaz and Val de Bagnes to create four magnificent valleys. With 94 lifts and almost 250 miles of piste, you'll be spoiled for choice.
With beginner and advanced slopes, there is something for everyone to enjoy. For non-boarders, this will probably make you want to take up the sport. A fair warning, the slopes of Verbier are littered with boarding nutters who may leap over your head and steal your line before you even realise what's just happened.
By Caelyn Woolward
Cultural
Choosing just a few cultures for adventurous travellers to experience was tough. How does one narrow it down, and then put all the information about the culture in one article? You don't, it's not possible. And that's exactly why cultural travel is such an adventure. No matter how many movies you watch or articles you read, you will never fully appreciate and understand that culture unless you are standing in the very place where it originated, taking part in the daily life. Each one of these cultures has a history spanning thousands of years and yet today, in a time of global communication and technological advancements, the fundamental practices and beliefs still prevail.
Russia
The history and people
In prehistoric times, the tribes of nomadic pastoralists lived in what we now call Russia. However, the traditional beginning of Russian history starts in 862 AD. While Moscow and St.Petersburg are the more well-known cities, it is Novgorod that is the most important city in Russian history. In 862 Novgorod housed the state of Kievan Rus, the first united East Slavic state. In 988 the state adopted Christianity from the Byzantine Empire and pioneered the combination of Byzantine and Slavic cultures, which came to define the Russian way of life for thousands of years.
Local food
Thankfully, traditional Russian food hasn't been Westernised, so there will be a lot to try on your trip there. Borshch is a delicious beet soup and one of Russia's most popular dishes. Packed with vegetables and meat, with a beet base, borshch is usually enjoyed with a dash of sour cream. For a quick snack, pirozhki is quite popular; it is a pastry packed full of potatoes, meat, cabbage and cheese. Ikra, better known as caviar, is also popular. In Russia, it is served with blini, something similar to pancakes.
Local customs
As for the local customs, it's all about formality. Greetings between males require bone-crushingly strong handshakes and eye contact, greetings between females are three kisses on the cheek. It is considered bad to give anyone yellow flowers and removing your shoes before entering a house is considered good etiquette. Russians are very patriotic and love to sing songs and recite poems about their country. Their living conditions may be difficult, but they understand this and pride themselves on being able to flourish in conditions that others may find difficult.
Important places to visit
For most Russians, religion is an important part of daily life. The result of this can be seen in their ample historic churches. Alexander Nevsky Lavra, in St Petersburg, is one of Russia's most important Orthodox churches and was built in the 18th century by Peter the Great. Another important place to visit is the Izborsk Fortress, a ruined medieval fortress and settlement in western Russia with a history that dates back to the 7th century. And finally, Kazan Cathedral is a 19th century cathedral in St.Petersburg, definitely a place worth visiting.
Experience the culture
Russia's patriotism makes it easy for foreigners to experience true Russian culture. Visit any restaurant or bar and you'll come across all the important traditional Russian dishes, beers and of course, vodka. The best places to stay are St.Petersburg and Novgorod, as they are the most historical cities. And if you truly want to experience Russian culture, you should avoid the hotels and stay in a homestead. The homes are small, and each house quite a few people as Russian families are large and grandparents, aunts and cousin often share quarters.
China
The history and people
China is one of the world's oldest countries and is riddled with tales of dynasties and powerful families. The written history can be traced back to the Shang Dynasty, which reigned from 1700 to 1046 BC. Other historical texts maintain that the Xia Dynasty existed before the Shang. Chinese culture as we know it today is derived from the Zhou Dynasty (1045 to 256 BC), which is also the longest running Chinese dynasty in history.
Local food
With such a long history, you can expect Chinese food to be an evolution of the culinary art that balances good taste and healthy ingredients. Most dishes contain rice or noodles. Typical Chinese dishes include Jiaozi, which is boiled or steamed dumplings. When it comes to soup, shark's fin and bird's nest soup are two of China's most popular. The ingredients are simmered for hours and complemented with lettuce. And yes, the fins of sharks are really used, so you may want to stay away if you're passionate about marine life. The same goes for bird's nest soup, it is made using the nest of a swiftlet, a tiny bird found in Asia. The swiftlet lives in a dark cave and makes its nest from its own gummy saliva, which is then harvested by humans for meals.
Local customs
Chinese traditions play an integral part of everyday life. When it comes to greetings, it is polite to greet the oldest person first. When dining, chopsticks should be returned to the chopstick rest after every few bites and eating the last piece from the serving tray is a no-no. There are also many traditional celebrations and festivals, including Graveyard Cleaning, the Chinese New Year, Chinese Valentine's Day and the Water Splashing Festival.
Important places to visit
There are far too many important historical places in China for it all to be put down in one article. However, Beihai Park, an imperial garden and palace in Beijing established during the Liao Dynasty in the first century AD, is a must-see. The Chaotian Gong in Nanjing is also noteworthy and was built on the site of a former temple dating back to 390 AD. And of course, the Great Wall of China was turned into a single structure during the Qin Dynasty in 221 BC. For a touch of true Chinese culture and history, these places should be at the top of your list.
Experience the culture
Despite the country becoming open to certain so-called western ideals, there are still many people who remain steadfast in traditional chinese culture, and have shunned the fast-paced life of the city - these are the people you should stay with if you're looking for a truly authentic experience. Traditional families can be found in the rural areas of China. Villages you should visit include Dingxi, Qixin Village and Xiping Village. You can stay with a traditional Chinese family and help them to cook, clean and farm. Or if you want the traditional aspect, but prefer a slightly less rural atmosphere, then that's possible too. The blog ruralchinalife.blogspot.com details a few interesting experiences.
Greenland
The history and people
Most people in Greenland are descended from the Inuit. Life in Greenland is lived under extreme arctic conditions and currently an ice cap covers 80% of the island. Around 2500 BC, the first humans are thought to have arrived in Greenland. Whether it was due to the living conditions or a type of plague is not known, but their descendents all died out. In the period following that, several other groups migrated towards the icy island. It seems that most of these people also died out, before the ancestors of the Inuit Greenlanders arrived in 1200 AD proving that life in Greenland is possible.
Local food
The food in Greenland mainly consists of marine animals, game, birds and fish and contains a lot of protein. The most popular dish in Greenland is suaasat, a traditional Greenlandic soup. It is made from seal or whale and reindeer or sea birds. It also often includes onions and potatoes. The high protein levels maintain an even body temperature in the cold conditions. Other typical meals are warm meaty stews, roasts and potatoes.
Local customs
There are very few people who still live the way the traditional Inuit did. These people are separated from the urbanised majority. Having hunting skills are essential as agriculture isn't possible on the icy coasts. These days, they live in small settlements barely totalling a dozen people. They pass invaluable skills down from one generation to the next, with little girls learning how to make clothes and keep warm, while boys learn the ways of hunting.
Important places to visit
In Greenland, it's not towering cathedrals or historical walls that you should be looking out for; it's tiny villages on the edge of the cities, or icy caps in the middle of the ocean, or even glaciers gleaming against the sunlight. Ilulissat is the third largest settlement in Greenland. Bright, colourful houses with snow-capped roofs dot the skyline of the village, providing a stark contrast to the grey skies. A midnight hike to Sermermiut should also be on the cards, during your walk you will come across an ancient, deserted Inuit village situated on the Ice Fjord. And for a touch of scenery, a boat-trip to the Ice Cap will leave you in awe of the thundering waterfalls and glaciers.
Experience the culture
The hamlet of Niaqornat, an Inuit village on the Nuussuaq Peninsula is one of the few places where traditional Inuit people still live. It's a small settlement, with just 15 brightly coloured houses grouped together. In this tiny village, with only one shop selling whatever it gets from the supply ships (which only come every few weeks between May and December), live the few remaining traditional Inuit people. There are no roads, the only access to the village is via boat during certain times of the year, or a helicopter. There are no gardens as growing anything in these conditions is impossible. Most of the food comes from the sea and is cooked over fires. Virtually cut off from civilisation and left to hunt for survival, it's an experience unlike any other. The documentary The village at the end of the world puts this unusual way of life into perspective.
Australia
The history and people
Indigenous Australians, known as Aboriginals, are the original inhabitants of the continent. They migrated from Africa to Asia almost 70, 000 years ago, before eventually settling in Australia around 50,000 years ago. While the British colonisation of Australia in the 18th century lead to an increase in population, most of the Aboriginal way of life started dying out in favour of a more colonialist ideology.
Local food
Everything in Aboriginal culture has a meaning. They believe that the land and all animals were created by ancestral spirits during the Dreaming (a period from the origin of the universe to a time before living memory or experience). Since the land and all animals were created by ancestral spirits, in theory, so are all kinds of food. Aboriginal food is healthy and natural; fruit, nuts, roots, seeds and fish as well as the meat of kangaroo, porcupines and possums.
Local customs
In traditional times, collecting, gathering and eating food were social occasions. Each person was given a totem based on kinship systems and they were forbidden to harm, kill or eat their totem, except on specific occasions. Some foods could not be eaten at certain times during the year.
Their social, kinship and marriage structures are very complex, and most of their customs are based around this. It comes from the belief that Earth is eternal and all beings that have been created are accessible through rituals. They also believe that different realms can be visited by humans through altered consciousness. Their ceremonies have songs that recount the mythology of their clan, their religion and their understanding of the world.
Important places to visit
A significant Aboriginal landmark is Anna Creek Painted Hills in the far north of Australia, a recently discovered section of former Aboriginal inhabitants. One of the most spectacular natural attractions in Australia, Coongie Lakes National Park, is a place reported to be the fishing and hunting base for indigenous Australians. There are also the many rock shelters, which were used as cooking and camping places for hundreds of years. Flinders Range National Park is world renowned for it's Aboriginal rock art sites and impressive fossil remains.
Experience the culture
Getting an authentic Aboriginal experience in the year 2013 is almost impossible. Sure, you can visit all their landmarks and museums and you can learn about their history, but their traditional culture has all but died out. The way they live today is very different from hundreds of years ago. Most Aboriginals speak English, live in the city and follow a westernised way of life. There are however the few remaining Aboriginals who follow a semi-traditional way of life. They hunt, live in communities set apart from urbanised society and keep their language and traditional stories alive by passing it down through generations.
The largest group of Aboriginals today are the Anangu Pitjantjatjara who live in Uluru (Ayers Rock), and the second largest group, the Arrernte, live in Mparntwe (Alice Springs). They have been known to accept outsiders into their community, but you would need to have a basic understanding of the language.
Egypt
The history and people
The history of Egypt probably rivals that of China when it comes to number of years, rulers and important events. The native inhabitants along with outside influence and the fertile banks of the Nile river have contributed to Egypt's tale. In 3150 BC a unified kingdom was founded by King Menes, who lead a series of dynasties that ruled Egypt for the next three millennia. It was during this time that Egyptian culture flourished in its religion, language, arts and customs. Tour Egypt offers some of the best cultural tours of this magnificent country.
Local food
Ancient Egyptians ate a lot of bread made from emmer wheat, which they grew and ground into flour. They also ate wheat, barley, fruit and fish. The richer Egyptians ate beef, sheep and goat while the poorer Egyptians hunted and ate the wild animals that lived in the delta, including deer and antelope. Today, the Egyptian diet is largely vegetarian with dishes based on fava beans and lentils. For meat eating Egyptians, beef and mutton are very popular.
Local customs
Although Arabic has been the written and spoken language of Egypt for the last 13 centuries, Coptic was the main language of ancient Egyptians. The religion practised by the majority of Egyptians is Islam, which governs their personal and economic lives. The family is the most significant unit of Egyptian society and it always trumps the individual. Prayers are part of everyday life and attire is also very important; women should ensure that skirts and dresses cover their knees and sleeves cover most of their arms. If offered anything, it is customary to refuse the first invitation. When visiting mosques, mausoleums and madrassas, it is customary to remove your shoes
Important places to visit
Ancient Egyptians are known for their architecture, which has given us dozens of historical places to visit. Abu Simbel is an ancient Egyptian temple complex and a definite must-see. If it's tombs and remains you're looking to see then Abydos really delivers. But without a doubt the most iconic of all historic sites in Egypt is Giza, home to the Great Pyramid and the famous Sphinx.
Experience the culture
Although life in Egypt is very different to the period where dynasties ruled for millenia and pharaohs made all the rules, a lot of the important traditions and stories are still upheld. Thanks to the traditional loyalty of Egyptians, you won't find it hard to get in touch with the culture. Most Egyptians live with their extended family and women live with their parents until they get married. Your first step on your mission to immerse yourself in Egyptian culture would be to live with an extended Egyptian family. In the more modern areas, such as Cairo and even the popular tourist destination of Luxor, you'll see that people are moving out of houses and into apartments. The best areas to stay in would be Aswan, Abu Simb and Alexandria.
By Caelyn Woolward
Last Updated: August 2013