24 Hours In Washington DC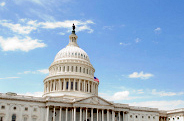 Nobody does patriotism like the American people, and Washington DC is their flag-waving, Stars and Stripes a Singin', Yankie Doodling, capital city - the Holy Land of American patriotism. You're probably already aware of all the main sites - the Washington Monument, the Lincoln Memorial etc. But with suburbs that pre-date the country's independence and a vibrant nightlife scene, there's plenty about the city that will still surprise you. One of the most amazing things about DC is how well-geared it is to receiving the 15 million+ tourists who visit every year. And all that pride for the country is neatly packaged into the city features: the transport, its immaculately preserved monuments, the clean streets and the easy access points to all of these. It's a city that celebrates its vast collection of national treasures and focuses on keeping it that way; there are no sky-scrapers by law, which is a good thing because there's plenty to see.
Ford's Theatre and The National Historic Site
Ford's Theatre was written into the American history books when Abraham Lincoln was assassinated there in 1865. After the trauma of Lincoln's death, the theatre went through a very dark period that included government administrative use (far less glamourous than theatre) and a tragic partial collapse, which killed 22 workers. Its spell of bad fortune ended during the 1960s when restoration work began. It was re-opened in 1968 and has continued to shine as a symbol for non-violence ever since, honouring the legacy of Lincoln's life. Even if you don't have time to watch a show at the newly renovated theatre (it was renovated again in 2007), you can still visit the Ford's Theatre Museum, which contains the actual pistol used in Lincoln's assassination and the door to his box-seat where the shooting took place. Together with the Peterson House (where Lincoln was taken), these two buildings make up the Ford's Theatre National Historic Site.
Shopping And Sundowners In Georgetown
A walk through Georgetown feels more like stepping into an 18th century European village than one of the United State's most revered University districts. Located further North along the Potomac River (from the National Mall), the district is known for stunning views, cobblestone streets and vintage homes. It's also where you'll find a selection of the best retail and boutique shops, along M Street and Wisconsin Avenue. It's got everything from knock-vendors along the pavement to Big Label designer stores. Once you've browsed and shopped and generally tired yourself out, move on to the Georgetown Waterfront, where a wide selection of trendy bars and fine-dining restaurants awaits you. One of the interesting things about the waterfront is its connection to the origins of the area. Georgetown was initially established as a port and commercial district in 1751, before Washington DC as we know it today even existed; some good food for thought while you're watching the sunset, over a cold beer or a glass of wine.
Capitol City Brewing Company, New York Avenue
Capitol City Brewing Co. is an all-American bar/restaurant, which happens to make a selection of very decent beers. It's conveniently located downtown and serves a fun menu that includes mini turkey corn dogs, Barbeque pulled pork and fish tacos, amongst other classics. You're not going to have the fine-dining meal of your life here, but it'll taste amazing and fill you up properly. The vibe is great, especially when there's a good American football game on the telly. As their slogan says though, it's all about the beer. Their pale ale 'Pale Rider Ale', is fantastic; it's smooth and tasty and well-priced. The 'Capitol Kolsch' and 'Prohibition Porter' are also top-class beers that are well worth trying and far superior to most of the standard labels you'd find in a shop. On top of these, you'll find a selection of seasonal and revolving beers to choose from throughout the year. For the atmosphere, the service, the experience and the beer, it's definitely worth it.
Back to top
Watch A Show At The 9:30 Club
The 9:30 Club is Washington DC's premium live-music venue, bringing a mix of top national and international acts every week. While plenty of venues make similar-sounding claims, 9:30 actually follows through and delivers week after week, all months of the year (even in February, at its most chilly). Almost unbelievably, you'll find a selection of famous, infamous and touted artists on the ever-revolving schedule. The venue is within walking distance of the metro station on U-Street and has a maximum capacity of 1200, so advanced bookings are advised if you're planning to see an act like Radiohead or Fatboy Slim.
Go Out In Dupont Circle
By day Dupont Circle is another exquisite area that is characterised by beautiful old buildings, antique shops, great bookstores and restaurants, and its very trendy population. There's also a wide selection of historical sites and monuments, as well as parks and leisure areas you wouldn't expect to find in a city as big as DC. Once the sun goes down, however, it's the city's main hub for nightlife. Head there on the first Friday of the month, as art galleries are known to offer free wine during exhibitions - a great way to get the evening started. As the night rolls on, you'll find a wide and varied selection of clubs, bars and late-night cafe's to visit, which are open till late.
Mucheez Mania, Georgetown
If you find yourself in Georgetown during the late hours of the night (which wouldn't be in any way abnormal) and need something to eat, Muncheez Mania is the brightly coloured oasis of hope you're looking for. We mean this quite literally: the walls are decorated by painted murals, pop-artsy images and UV lighting. The owners have put together a unique Lebanese-French infused menu that offers a selection of wholesome and delicious sandwiches, flatbread, falafel and salads, using fresh ingredients. If you're so ravenous that you can't make it inside, there's a Crepe-Sale window that opens onto Wisconsin Avenue, their Nutella/banana crepes are notoriously irresistible and morish. This is not your standard kebab shop that you don't even want to know about the next day. Besides servicing a large percentage of Georgetown's hungry party-goers, it's also a very popular lunchtime venue, so don't be limited to late visiting hours. It's always good.
Visit The National Mall (By Night)
If the daytime crowd at the National Mall puts you off, head back there late at night, when everything is quiet and illuminated. Guaranteed it'll be eerie if you don't take a friend (or three) with you, but you'll see the monuments in a totally different setting. Better yet, if you can stay up until dawn (or wake up for it), the sun rising over the Potomac River with the National Mall in the background is worth the wait.
Last Updated: February 2013