Nestled between the Baltic Sea and the Carpathian Mountains, Warsaw is Poland's capital and largest city. Known as the Phoenix City, Warsaw endured its fair share of wrack and ruin, before being almost completely rebuilt after World War II, as a vibrantly rejuvenated global city. As host of UEFA Euro 2012, one can safely assume that Poland's capital will draw travellers in the thousands to experience world-class sport and centuries old culture. We've compiled a 24-hour guide to ensure that you get to experience the best of what Warsaw has to offer.
Breakfast
Try Cafe 6/12 for a great selection of healthy food options. Quoted as having the best smoothies in town and suitable for vegetarians, it is one of the few places with a separate breakfast menu. Cafe 6/12 is centrally located, making it a good starting point before a day of exploring all that Warsaw has to offer.
Address: Zurawia 6/12, Warsaw
Tel: +48 (22) 622 53 33
Cultural Tour Of Warsaw: Workshop Of Unusual Travels
The Workshop of Unusual Travel prides itself on presenting Warsaw in a diverse and never-before-seen way. Unlike other tour operators, they offer tours by foot, bicycle, vintage car and even horse-drawn carriage. Tours can be organised for individuals or groups, by day or night and promise to reveal not only the popular tourist places, but also Warsaw's hidden gems.
Address: Ul. Konski Jar 10/35, Warsaw
Tel: +48 (22) 510 432 564
Website: www.pipin.pl
Jewish Cemetery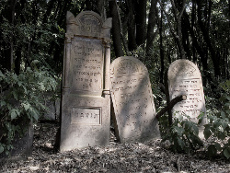 With over 150,000 tombstones, the cemetery is the largest in Europe and stands as a symbol of Poland's darker history. During the second world war, when the cemetery was part of the Warsaw Ghetto, it is said that Jewish smugglers would use the graves as hiding places. Due to space limitations it houses both single and mass graves, although many have been desecrated by people looking to steal the gold-capped teeth of the deceased. The Ghetto was sealed in the 1940s and although the cemetery is still in use today, it has become severely overgrown and time-ravaged.
Address: Ul. Okopowa 49-51, Warsaw
Tel: +48 (22) 838 26 22
Hike the Kampinos National Park
One of Poland's largest parks and an example of nature at its finest, the Kampino National Park boasts a landscape of extensive forests and the widest inland sand dunes in Europe. A treat for hikers and cyclists, the 300km of marked trails are perfect for half- or full-day expeditions. You are likely to see hares, deer, birdlife and wild boars. The lucky few might even spot a beaver, elk or lynx. If you plan on exploring the park, get a copy of the Compass Kampinoski Park Narodowy Map.
Warsaw Zoological Garden
Opened in 1928, the Warsaw Zoo is home to 5,000 animals from 500 different species. Providing both education and recreation, the Warsaw Zoo is a must-see for anyone seeking refuge from the city to enter into the enchanting world of animals. Visitors who wish to explore the zoo in the morning might be lucky enough to see the animals' daily feeding routine. The zoo is on the east side of the Vistula River, catch a ferry across to the other side.
Address: Ratuszowa Street 03-461, Warsaw
Tel: +48 (22) 619-40-41
Website: www.zoo.waw.pl
New Town Self Exploration
Warsaw is divided into New Town in the North and Old Town in the South. Both are bordered on one side by the Vistula River and each possess unique character and charm. We've mapped out two walking tours of Warsaw, appropriate to different times of the day, which incorporate the most popular sites and activities in both neighbourhoods.
The Citadel
The Citadel is a 19th century fortress that overlooks the Vistula River. Built in honour of Tsar Nicholas I as a testament to Russia's power in Poland, it served as a prison late into the 1930s. Today it is used by the military. This is a good jumping off point if you wish to explore New Town.
Address: Ul. Skazanców 25, Warsaw (entrance from ul. Wybrzeze Gdynskie)
Tel: +48 (22) 839 12 68
Tragutta Park
Further south from the Citadel is Tragutta Park. This expansive park is perfect for a quiet stroll or a picnic.
New Town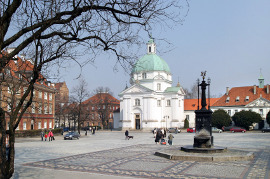 Despite its name, New Town was actually constructed in the 14th century. Completely destroyed in 1944 by German insurgents, New Town was almost entirely reconstructed. While it does not attract as many tourists as Old Town to its South, New Town provides a more peaceful experience of Polish tastes and culture. Explore the streets or indulge in some shopping.
Lunch
To truly experience Poland, head to a Bar Mleczny (Milk Bar) for lunch. Milk Bars originated in the communist days and offer the epitome of traditional Polish dining. Originally established for labourers whose companies did not have a canteen, Milk Bars provide cheap, but filling meals. Why Milk Bar? War rationing meant there was a scarcity of meat, so many of the meals were vegetarian or made from milk. Milk Soup (made from milk and rice), yoghurt and glasses of milk were common meals. At the height of communism, disposable dishware was used and cutlery was even chained to the tables. Today you can order traditional dishes such as pierogi (potato dumplings) and bigos(stew). You're likely to be given your own cutlery, but don't be surprised if your meal is served on a plastic plate by a surly woman in slippers.
Bar Mleczny Pod Barbakanew is rumoured to be one of the best places to eat in Warsaw. Meals range from 3 - 8zl (60p to £1.60) and are served from 8am to 5pm Monday to Friday and 9am to 5pm at the weekend. Find it near the Barbican.
Address: Ul Mostowa 27/29, Warsaw
Tel: +48 (22) 831 4737
Old Town Self Exploration
As mentioned, we've mapped out two tourist routes to make sure you experience everything that Warsaw has to offer. The afternoon tour takes you through Old Town and its surroundings south of Al Jerozolimskie Road, the great divide between Warsaw's New and Old Town.
The Barbican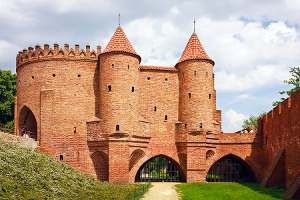 This red-brick tower is one of the last remaining relics of the city's 16th century fortifications. Partially damaged during the war, it was reconstructed after World War II and is now a very popular tourist attraction.
Old Town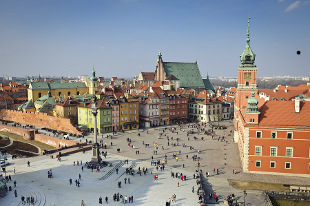 The war left Old Town in great disrepair. As a result, it had to be completely rebuilt and in the process was restored to its 18th-century glory. The atmospheric streets are a blend of Renaissance, Baroque and Gothic elements, and are home to many open-air cafes and art stalls. Old Town is best experienced by taking the afternoon to wander the streets, stopping to take in whatever delights you in this oldest part of Warsaw.
Market Place
Old Town's Market Place is the heart of the neighbourhood. With a variety of traditional shops and local arts and crafts overlooked by centuries old architecture, it is a must-see attraction.
St John's Cathedral
This cathedral was built in the 15th century and is Warsaw's oldest church. Destroyed in the war, it was subsequently rebuilt as a very impressive gothic structure. It currently houses tombs and religious artefacts.
Address: 8 Swietojanska, Warsaw
Tel: +48 (22) 831 0289
Royal Castle At Castle Square
The Royal Castle stands as a true testament to time. In the mid 17th century it existed as one of Europe's most splendid royal residences. At the start of the 20th century it was the official residence of the president. During the war it was razed by German insurgents, and was subsequently rebuilt and restored to its former glory. Today it houses furniture and works of art.
The Royal Castle is open to visitors 7 days a week and tickets range from 6zl (£1.20) to 20zl (£4), depending on age and which tour route you decide to take.
Solidarity Avenue
This well-known street offers a taste of all things Polish. Adorned with churches, parks, government buildings and historical monuments, it's perfect for a stroll and for soaking up Polish heritage and culture.
Grand Theatre
The Grand Theatre was established in 1833, but had to be fully reconstructed after the war. The restoration and expansion saw it close its doors for 20 years, before reopening in 1965 as one of Europe's finest theatres. The Grand Theatre continues to thrive to this day with world-class performances of Opera and Ballet.
Saxon Garden
Saxon Garden was opened in 1727 as one of the world's first public parks. Like much of Warsaw, it was ravaged by the war and underwent reconstruction, all the time continuously evolving. There are a variety of interesting relics to peruse, including the popular tourist attraction, the Tomb of the Unknown Soldier, where visitors can witness the hourly changing of the guards. Saxon Palace, a once distinctive feature, was completely destroyed in the war and plans are still underway for its reconstruction.
Lazienki Palace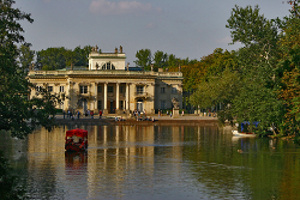 Also called the Palace on Water, Lazienki Palace was built in the 17th century for a Polish noble. Attempts by German insurgents to raze it in the war succeeded only in setting fire to much of the first floor and the palace has since been reconstructed. Set in the beautiful Lazienki Park, Lazienki Palace is open to visitors on guided tours. Entrance is 9zl (£1.80) for children and 12zl (£2.50) for adults.
River Cruise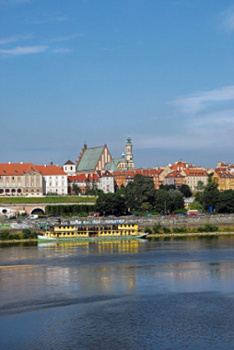 Enjoy a relaxing cruise down Warsaw's Vistula River for a unique view of some of the city's most exquisite monuments. This is a perfect way to unwind after a busy day, before experiencing the delights of Warsaw at night.
Warsaw National Stadium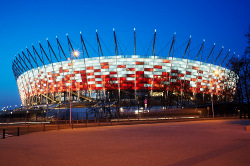 The recently completed Warsaw National Stadium will host the opening match of the UEFA Euro 2012. The enormous white and red structure is beautifully lit up at night, providing tourists with a spectacular view that is likely to become the new face of Warsaw. The stadium is on the east side of the Vistula River. During the day ferries will transport you across, but at night it is advisable to catch a taxi to the other side.
Address: al. Zieleniecka 1, Warsaw
Tel: +48 (22) 622 53 33
Folk Gospoda
To experience traditional Polish dining, head to Folk Gospoda. This restaurant is famous for its hospitality and ruggedly traditional setting. From 8pm until late the live folk band brings to life songs of the ages. The Folk Summer Garden is perfect for relaxing outside in warmer weather and all year around Folk Gospoda offers centuries old character, high-quality meals and traditionally large glasses of ale.
Address: Waliców 13, Warsaw
Tel: +48 (22) 890 16 05
As a country famous for beer and vodka, it's not surprising that Warsaw's night scene is a thriving hub of pubs and clubs, many of which stay open to sunrise. Most of the pubs can be found in the area of the Old Town Square and are a great start to a night out. For the more serious clubbers, there are also a variety of clubs on the east bank of the Vistula River. Known as Praga, this area is shedding its image of degradation and crime, and is fast evolving into the alternative centre of art and music in Warsaw.
Pubs
Head to the Old Town Square for a variety of drinking hole options. You're likely to come across Polish, English and Irish themed pubs in this area.
Luzztro Club
It's been said that no clubbing night in Warsaw is complete without experiencing Luzztro. The high numbers of locals and foreigners alike who frequent this club make it the city's official after-party.
Address: Al Jerozolomskie Road, Warsaw
Tel: +48 (22) 826 6472
Cafe Lemon
This cafe bar can be found above the busy Lemon Club. It is open 24/7 and serves a variety of beers and incredibly strong vodka as well as pancakes and omelets. This makes it a great place to start your night or serves as an excellent hangover remedy for those only heading home after sunrise.
Address: Sienkiewicza Road, Warsaw
Tel: +48 (22) 829 5544
Fenicja
Many people consider a food-stop an integral part of any night out. Head to Fenicja to get an amazing kebab anytime of the day or night. Open 24 hours, Fenicja kebabs are guaranteed to satisfy that late night craving.
Address: Swietokrzyska 32, Warsaw
Tel: +48 (22) 510 759 795
Last Updated: April 2012