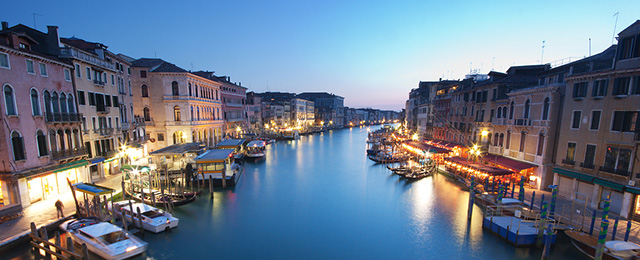 In my opinion, a trip to Italy wouldn't be complete without a visit to its legendary "Floating City". The remarkable city of Venice is made up of islands surrounded by canals and connected by arching bridges. What makes a visit to Venice even more worth it, is the fact that the entire city is a World Heritage Site. From the fantastic cuisine to the awe-inspiring Gothic architecture all around the city, it's hard to be disappointed.
Even if you're only here for a short while, there are so many things you can get up to and see. Apart from travelling by water taxis, you walk everywhere, and this really helps you to experience Venice in its true authenticity. So, even though there are so many things to choose from, I managed to narrow the city down for you in case you don't have much time here.
Breakfast At Caffè Florian
Established way back in 1720, Caffè Florian is easily recognised as one of Venice's historical landmarks. Situated in the top tourist attraction of Piazza San Marco, or St. Mark's Square, this coffee shop is the best place in Italy to start your day. Although it is rather pricey, it's definitely worth the experience. The interior is filled with exquisite, classical artwork, and the exterior is surrounded by tables and chairs so you can enjoy watching the festivities outside. While they serve meals throughout the day, I recommend going for one of their tasty breakfasts and a cuppa.
Handy Tip: Make sure to try a cup of their decadent hot chocolate.
Doge's Palace
After your morning breakfast and coffee, you'll already be in St. Mark's Square, so I would suggest a visit to the museums in Doge's Palace, situated right there on the square. The Gothic palace used to be the residence of The Doge of Venice. In 1923, the palace became a museum and it proves to be one of the most popular places for tourists. Make sure to visit the Museo dell'Opera, which houses six different rooms of history. The Doge's Apartments are also worth a visit, where you get to see his chambers and rooms such as the Scarlet Chamber and the Philosopher's Room. The palace is also home to the old prisons, of which their most well-known inmate was the infamous ladies' man Giacomo Casanova. If you have the time, explore the palace with a guided tour.
The Bridge Of Sighs
The name itself has something wistful about it. The Bridge of Sighs is a stunning, white limestone bridge connecting Doge's Palace to the new prison. The name comes from the legend of hearing the sighs of the prisoners as they looked longingly out the windows of the bridge on their way to their prison cells. The windows have bars and were the last view of the outside world that prisoners had before being locked up. The bridge is a huge attraction and was made even more famous in well-known literature and films. You can only access the bridge if you are going on a private tour, organised through Doge's Palace.
Handy Tip: For all the romantics out there, ride on a gondola under the bridge at sunset and kiss your loved one - rumour has it that it'll mean everlasting love.
The Grand Canal And Murano Island
To experience two of Venice's greatest attractions, I think the best way to do it is with an organised tour. Italy Tours offers a wide range of tours, but the private Grand Canal and Murano Island Tour should be on top of your list. The tour is three to four hours long, first taking you along the city's main "street", the Grand Canal. The friendly tour guides tell you all about the history of the many churches and palaces you pass along the way, before taking you to Murano Island. The island is known for its uniquely beautiful glass - on this tour you get to see the workshop of one of the glass factories and witness the art of glass-blowing. Ticket prices for this particular tour vary, but expect to pay around £51 (€60).
Back to top
Lunch At Arte Della Pizza
When you're in Italy, you have to try the proper Italian pizza at least once, which is why I'm introducing Arte Della Pizza to you. Situated in a narrow alleyway off the side of Strada Nova, this take-away pizza joint is the perfect place to get quality pizza for cheap. One huge slice goes for £1.27 (€1.50) and a whole pizza sits at only £5 (€6). There are very few chairs available and it's almost always filled with hungry customers, so it's best to take your pizza with you and sit somewhere with a view - perhaps alongside a famous canal or on top of a bridge? A great way to have an affordable and delicious lunch in Venice.
Piazza San Marco
I'm well aware that I've already mentioned Piazza San Marco at Doge's Palace, but there is just so much to do and see in this square, that I had to include more about it for you. Tourists love coming here in the afternoon when it's bustling with people wanting to explore some of Venice's most prestigious architecture. Here you can see the majestic Basilica St. Mark and go into the church where you will find a rich interior with walls covered in mosaic made from bronze, different stones and even gold. Then there is the Torre dell'Orologio, or Clock Tower, which was built in 1499 and has a unique blue and gold clock of the Zodiac Signs. Be prepared to work those legs though, as you will have to climb up the narrow staircase to the top. Last is the 323 foot tall Campanile - take the elevator right to the top for the most breathtaking view of the city.
Handy Tip: If you can make yet another trip to Piazza San Marco, go at night when it's relatively empty so that you can experience how vast this square actually is.
Peggy Guggenheim Collection
If you appreciate the beauty of art, you can't pass up the opportunity to visit the Peggy Guggenheim Collection along the Grand Canal. The building itself is actually the former residence of the late American art collector and socialite. Peggy lived in Venice up until she died in 1979 - her ashes are buried in the museum garden, alongside her dogs' graves. This is arguably one of the best modern art museums in Europe and is home to not only art pieces, but also sculptures and temporary exhibitions. Some of the famous art that you will see here are the works of Picasso, Giacometti and Braque (to name a few). There are also 26 pieces of the Gianni Mattioli Collection that you can feast your eyes on. Tickets go for about £11.90 (€14) for adults, £9.40 (€11) for students and kids under the age of 10 get in for free.
Venice Walking Tour
If you don't have time to walk around and try to find all of Venice's attractions by yourself, take a walking tour around the city. Angel Tours offer fantastic walking tours, and best of all, they're private tours so they can be flexible. The friendly guides of Angel Tours know every nook and cranny of the city, so you are guaranteed to be taken to all the best places, some of which you may not even have heard of. On your walk, you will visit Piazza San Marco, famous bridges, palaces and the Grand Canal. You will also learn about the city's rich history and other interesting facts as you stroll along the streets. You can also use this time to try some typical Venetian food, as the guide will make sure to take you to some of the best markets and show you great places to eat.
Handy Tip: Unlike many other tour companies, Angel Tours also offer a Christmas Day Tour - giving tourists something to do on the day when the city seems to shut down.
For more information: www.angeltours.eu
Back to top
Dinner At Orange
Step into one of the best restaurant and bars in the city and you will be greeted by a trendy orange interior complemented with dark wooden floors. Orange is a great place to enjoy dinner and some drinks. The menu is extensive and reasonably priced with pizza and pasta dishes going for as little as £5 (€6). There is also a buffet Happy Hour menu from Mondays to Wednesdays where you can choose an array of tantalising meals, from grilled meat and seafood dishes to pasta and pizza. The staff are friendly and the service is great. Don't forget to treat yourself to one of their many cocktails, which sit comfortably between £3.80 (€4.50) and £5.90 (€7).
Gondola Ride
There's something incredibly romantic about riding on a Gondola through the serene canals of Venice, all the while being serenaded by a licensed gondolier dressed in his traditional uniform. This is exactly the type of romance you can enjoy in this city - although it will come at a price. Usually ticket prices go up during summer months and for evenings rides, but Venice Welcome offer gondola rides for £34 (€40) per person, no matter what time of day or year. The tour typically lasts 40 minutes and you get serenaded as you see the evening lights of the buildings and bridges of Venice switch on. This may be quite a hefty price, but it's completely worth it! What better way to spend your evening with your loved one than gliding along Veniceâ&128;™s canals?
Handy Tip: For eternal love, kiss your partner as you pass under the Bridge of Sighs.
Rialto Bridge
For a breathtaking view of the Grand Canal and the lights of the surrounding buildings reflecting in the water, take a walk across the Rialto Bridge. While walking across this bridge during the day is also an amazing experience, thanks to its many little shops along the way, a walk here in the evening will not only give you an incredible view, but it will also be a lot less crowded. The stone bridge was completed in 1591 and it's the oldest bridge to span right across the Grand Canal. The bridge also leads to the very popular Rialto markets - which not only sell retail, but also wholesale goods such as fish, fruit and veggies. So, if you have too much sightseeing to do during the day, make sure to at least include this bridge in your evening schedule - perhaps a nice little stroll after your dinner?
Shopping
There's no doubt that Italy is one of the fashion capitals of the world - producing and inspiring some of the finest and most innovative designs. So after a long day of walking absolutely everywhere, it's time to take your mind off those sore feet and take part in some retail therapy. Shopping in Venice really depends on your budget. If you're looking to splurge, look no further that Piazza San Marco. All around the square you will find famous boutiques such as Chanel, Louis Vuitton and Prada. Then for those who would prefer to save, but still treat yourselves a little, there are tons of other affordable clothing stores where the locals shop. As you walk around in Venice, you will see there seems to be an H&M on every corner - so not everything is too expensive. Perhaps you could even treat yourself to a cheesy "I love Venezia" jumper - I know I did!
Handy Tip: Don't forget souvenirs. As cliché as it is to bring home souvenirs, they still always make great gifts, and Venice certainly doesn't disappoint. There are beautiful Murano Glass shops everywhere, as well as shops selling their famous masks.
Back to top
Late Night Eats
Venice is absolutely buzzing during the day, but unfortunately it's not very well known for its nightlife. Restaurants generally stop serving food at about 10pm, so if you're on your way home from some drinks and were hoping for some late night munchies, you're going to have to think of something else. But worry not - I have a great solution for you. During the day, go to one of the city's fresh markets, such as the 700 year old Rialto Market and stock up on some fruit, veggies, meats and cheeses. Then make your way to the nearest bakery and get a loaf of fresh Italian bread. So after a night out, you go back to your hotel and voilà , you have yourself a midnight snack.
Teatro la Fenice
A great way to spend the night out in the floating city is to watch a concert performance at Teatro la Fenice, or the Phoenix Theatre (named owing to it burning down a few times in the past). The popular opera house has a rich, golden interior and can accommodate up to 1,000 audience members. The shows here range from opera and orchestra, to ballet and drama classics.
In June, you can treat yourself to the timeless music of Tchaikovsky and Puccini. And if you're in Venice between 21 June and 24 August 2013, you won't want to miss out on the "Spirit of Music in Venice Festival" - starting with Madama Butterfly on 21 June. The main highlight of the festival though is Otello. This is for those who want something a little different, as it's going to be performed outside Doge's Palace, rather than inside the theatre. You can watch this on 10, 14 and 17 July 2013.
For more information: www.teatrolafenice.it
Venice Film Festival
Feel like attending a movie screening at one of the most prestigious film festivals in the world? If you're going to be in Venice between 28 August and 7 September 2013, make sure to get yourself a ticket to this unforgettable experience. The Venice Film Festival enters its 70th year this year and promises not to disappoint! Directed by the legendary film festival director, Alberto Barbera, the Venice Film Festival takes pride in showcasing new and independent films, and pays tribute to actors' and directors' contribution to the cinematic world. Unfortunately, the line up will only be announced in Rome at the end of July 2013, but it's definitely worth re-arranging your travel schedule to fit this in. Who knows, you could be brushing shoulders (or at least getting their autographs) with the likes of Brangelina, Quentin Tarantino, or even the James Bonds themselves in the form of Daniel Craig and Pierce Brosnan.
Handy Tip: I would suggest booking your tickets as soon as the announcements are made - even though there are over 1,000 seats in a venue, they sell out pretty fast. Go for the experience even if you aren't interested in any of the films showing!
For more information: www.labiennale.org/en/cinema
Harry's Bar
As I mentioned before, Venice isn't particularly known for its exciting nightlife, but there are a couple of places you need to go to so you can experience what the Venetians do at night. One of them is Harry's Bar - claimed to be a national landmark of the city. Established way back in 1931, you'll feel like you're back in that era when you step into this bar. An absolute must is to try out their signature cocktail, the Bellini, created by the owner, Giuseppe Cipriani. The cocktail is a refreshing, sparkling, peach-flavoured drink - bound to send your tastebuds into a frenzy. And, whether you've eaten or not, you definitely have to order yourself their famous Carpaccio dish. The prices may be a tad on the expensive side, but the atmosphere makes it completely worth it. With past visitors such as director genius, Alfred Hitchcock; legendary comedian, Charlie Chaplin; and writer, Ernest Hemingway, you'll be walking in the footsteps of some of the most brilliant people in history.
Back to top
Last Updated: June 2013