Japan's capital has been known to cause serious addiction. Once you've had a shot of its intense energy, crazy fads and ancient traditions, you'll want to come back again and again. See Essential Travel's round-the-clock guide to Tokyo and discover the best spot for drinking sake and singing karaoke; where to watch sumo wrestlers battle it out; and where to indulge in a hot spring spa...
Tsukiji Fish Market
Rise early for this legendary fish market. All manner of seafood is traded from stalls while men in rubber outfits patiently dodge tourists and sell their wares. You'll have to be there for 5am for the tuna auction, but if you can't get there that early, plump for a wander around the market followed by a very fresh breakfast at one of the many surrounding sushi restaurants.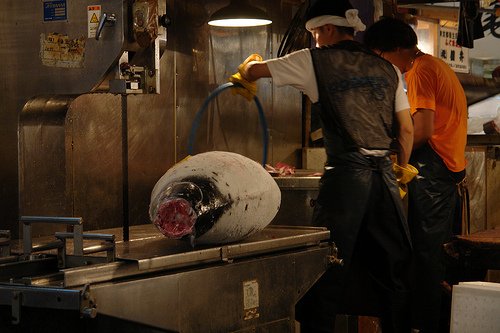 Mount Fuji
The highest mountain in Japan is conveniently close to Tokyo. Jump on a train from Shinjuku Station (in Tokyo) to Hakone where (cloud and fog permitting) you'll find great views. If you'd rather get up close for a walk or a climb, take a bus from Shinjuku Station to Kawaguchiko 5th Station where you'll be met with buses that ferry tourists to various climb starting points.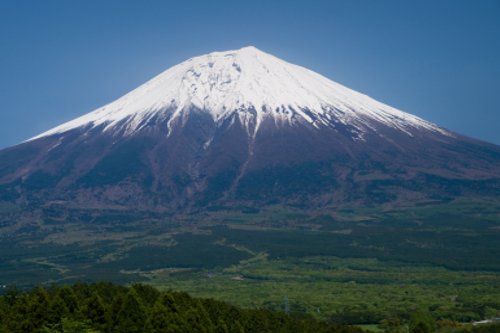 Sensoji Temple
This temple is one of the most popular in the city and has a magical history to boot. There's a bit of a tourist frenzy on the days when souviner stalls line the path to the temple, but get close and you'll feel a sense of calm as you explore the various halls, gates and gardens. Japan's second tallest pagoda is also within striking distance.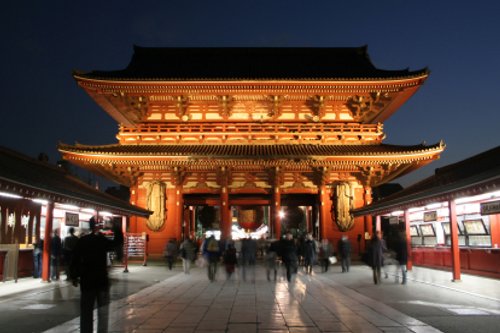 Harajuku and Yoyogi Park
This is where you'll see that eccentric Japanese culture and fashion you hear so much about. The whole area is alive with fashionistas and kitsch styles with Takeshita Street at the hub of things. Yoyogi Park (right by the station) is an unmissable part of Tokyo - head there on Sundays when Tokyo's youth hang out in their visually distinctive groups and busking musicians fill the grounds.
Address: Harajuku Station is the best place to start - explore from here at leisure
Hanayashiki, Korakuen and Disneyland
Dating back to 1853, the rickity Hanayashiki Amusement Park is Tokyo's oldest. Theme park loving kids are spoilt for choice in the city, however, with Korakuen Amusement Park coming a close second in the fun stakes, and Disneyland entertaining families with a penchant for Mickey et al.
Ghibli Museum and Anime Centre
If you enjoyed the animated Japanese film Spirited Away then you'll love Ghibli. The animation studio was founded by the film's writer and director Hayao Miyazaki and now has its own museum. Tickets have to be booked in advance. For a more general overview of Anime in Japan, visit the Tokyo Anime Centre where you'll find the latest trends and merchandise.
Tokyo Sushi Academy
Sushi will be such a dominant part of your diet in Tokyo that you'll probably experience withdrawl symptoms when you arrive back home. Save yourself the pain and learn how to roll a sushi rice ball at this sushi school. Choose from a one day class geared towards tourists or a longer programme.
Address: 8-2-5 Nishi - Shinjuku, Shinjuku, Tokyo
Tel: +81 3 3362 1755
Address: www.sushischool.jp
Sunshine 60
Towering 60 floors above Tokyo, Sunshine 60 is one of the tallest buildings in the country and is made up of offices, a shopping centre and restaurants. One of the fastest lifts in the city can shuttle you up to the top floor where you can look out onto Tokyo's spawling urban landscape.
Address: 3-1-1 Higashi-Ikebukuro, Toshima-ku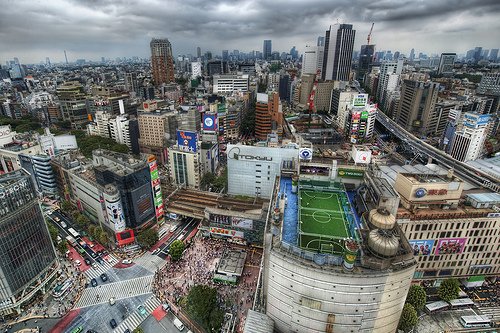 Ryogoku Kokugikan and Sumo Museum
Catch Japan's favourite sport at this legendary sumo hall.There's nothing quite like watching the wrestlers come head to head, battling it out to become a yokozuna (grand champion). If your visit doesn't coincide with the annual tournaments, settle for a trip to the adjoining Sumo Museum that explores the history of the sport.
Museum Of Contemporary Art
This comprehensive museum of modern art concentrates on post war years (1945 onwards) and features international works as well as Japanese artists. Look out for some great pop art courtesy of Andy Warhol and Roy Lichtenstein as well as work by local artists such as Yayoi Kusama.
Bullet Train (Shinkansen)
Popularly referred to as the Bullet Train in Europe, the Japanese know this lightening speed network as Shinkansen. You can travel up and down the country on this high speed railway, or take a simple journey to experience its speed and impeccable time keeping.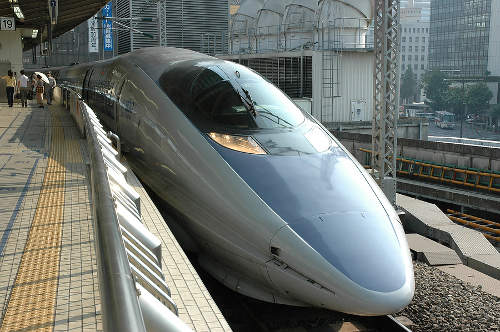 Complex
Contemporary art and culture is on every corner in Tokyo, but you get a little of everything under one roof at Complex. You'll find various galleries across five floors here with big names featured among the newcomers.
Address: 6-8-14 Roppongi, Minato-ku
Tel: +81 3 5786 2344
Akihabara
This legendary area of Tokyo is a computer geek's fantasy. Lit up like a bigger, better Piccadilly Circus, the 'town' is a hub for electronics, manga and computer outlets. Chuodori is the main road, though a network of back streets offer their own surprises - if you dare, pop in to a Maid Cafe where punters are more interested in the waitress and her outfit than the coffee.
Ninja Akasaka
If you like your dress up with less of a sexual bent, try Ninja Akasaka. This themed restaurant (that counts Steven Spielberg as a fan) takes diners into the heart of a fortress manned by ninjas. The experience is as much about dramatic theatrics as it is about the excellent Japanese-fusion food.
Address: Akasaka Tokyu Plaza Bld, 1F, 2-14-3 Nagatacho, Chiyoda-ku
Tel: +81 3 5157 3936
Website: www.akiba.or.jp
Joypolis
Gamers need look no further than this Sega mecca. You'll find cutting-edge arcade games and tech-orientated rides across three floors.
Daikanransha (Ferris Wheel)
The manmade island of Odaiba plays host to this giant ferris wheel (more than 100 metres tall) that affords excellent views of the city. You can reach the island via the Rainbow Bridge (a sight in itself) and if you don't have a head for heights, there's plenty more on offer from a Venice-themed shopping centre to a museum of Maritime Science.
Address: 1 Aomi, Koto-ku
Tel: +81 3 5500 26551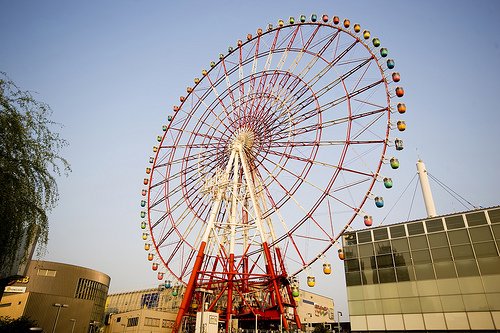 Roppongi
Roppongi is the nighlife district of Tokyo. If you have cash to flash start at Roppongi Hills - an exclusive, upmarket complex that takes in plush apartments, the Mori Arts Centre and top end restaurants and bars. Head deeper into Roppongi and you'll be rewarded with more affordable bars and clubs filled with ex-pats, tourists and Japanese students.
Tokyo City View
Last entry at this Roppongi Hills observation deck is at 12 midnight - the perfect time for a late night view of a twinkling Tokyo below.
Shibuya Crossing
This world famous crossing is a must experience. Every three minutes the traffic stops to let pedestrians scramble over the road in various directions. It's earned the title of the busiest crossing in the world and even featured in Sofia Coppola's Lost In Translation.
Sake and Karaoke
You can't leave Japan without consuming a lot of sake and singing at least a little karaoke. There are karaoke bars and izakayas (fast food restaurant/bars) on every corner, but Ikkon in Akasaka combines both. Induldge in a lengthy sake list, fresh food and choose from five private karaoke booths.
Address: 6F Oogiya Bld, 3-9-4 Akasaka
Tel: +81 3 3586 4888
24 Hour Cafe
Look up in Tokyo and you'll be rewarded with a whole new world to explore. Signs affixed high up will direct you to record shops, massage parlours, cafes and restaurants. If you're knocking around late at night, look out for a 24 Hour Cafe. Most have reclining sofas for gamers, free internet access and a comic book library.
LaQua, Tokyo Dome City
Open 22 hours a day, LaQua spa is part of the entertainment complex at Tokyo Dome City (it also houses a stadium, amusement park, shops, restaurants and a baseball hall of fame). Relax in the healing zone before moving onto the natural hot springs, sauna and 'massage bubble bath'.
Capsule Hotel
Budget price, mini size: a capsule hotel is the cheapest place to nap after a night out. Try the Green Plaza Shinjuku in Kabukicho. Here, capsule units (a space large enough for a bed and with just enough head room to sit up) are stacked on top of each other and lined in rows. The accommodation is for men only, though there is a ladies only Le Luck Spa on the 9th floor which gives women access to a spa, restaurant and beds for 10 hours.
Address: 1-29-3 kabuki-cho, Shinjuku-ku
Tel: +81 3 3207 5411
Info: English PDF
Last Updated: January 2010