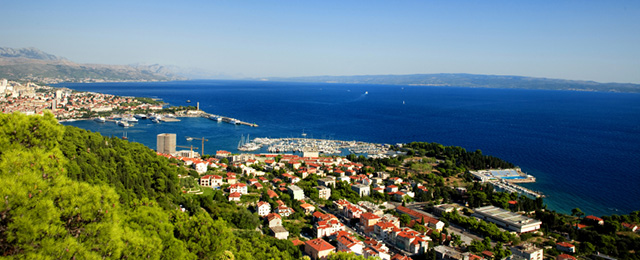 When the late Roman Emperor Diocletian decided to retire from politics after ruling for 21 years, he ordered work to commence on his retirement home - a palace near his hometown, now known as Split. Since its restoration, Split has built itself around this magnificent Roman Palace (a World Heritage Site) with a number of shops, restaurants and residences within the palace walls, making it one of the richest Roman Catholic cities in existence. A breath of history mingles with contemporary design, lapped by the glistening Adriatic Sea. With the third most active port harbour in the Mediterranean and accessible ferries to the surrounding islands everyday, Split has often been called the "Mediterranean flower" and "the most beautiful city in the world".
Breakfast At Stari Pazar - Green Market
Make your way down to Split Pazar to rub shoulders and share trade secrets with the local craftsmen of Split's famous market, while enjoying breakfast at the scattered tables and chairs in the shade of the trees. You will find fresh Mediterranean dishes, local ingredients, fruit, flowers and baked bread, amongst other Green Market treasures. The market opens at 6:30am and ends around midnight. Take the opportunity to save by buying local ingredients such as wine and olive oil directly from the market.
Fish Market
The Fish Market, known as Pekarija, is dedicated to providing fresh seafood every morning, amidst bartering and light-hearted banter. Some of the local specialties are mackerel, sardines, picarel and anchovies. Bargaining is not difficult once you have had a few goes in the deep end. When you have agreed on a price with your favourite fisherman or fisherman's wife, you can get your catch cleaned and cut into fillets, by the man standing with a knife in his hand at the exit - it costs about £1 (kn10).
The market is situated in the Old Town just around the corner from Marmontova Street, but you'll be able to hear the trading and camaraderie even before you turn the corner. Fish is reduced to half price by 12pm and normally everything is gone by 2pm, so try get there early for prime seafood and to experience the vibrant atmosphere.
Cathedral Of St Duje And The Bell Tower
Inside the historic cathedral and the classic Romanesque-designed bell tower, books, artefacts and monuments date back as far as the third century. Diocletian's remains were laid in the cathedral, but removed in the seventh century when the cathedral was being converted into a church. No one knows where his remains are today and ironically a section of the cathedral serves as a mausoleum for Christians massacred during his ruling.
There are stairs up to the top of the bell tower, which will lead you to some of the best views of Split. The bell tower was dedicated to St Dominus, the third Bishop of the ancient city of Salona, which served as the capital of Dalmatia - now known as Split. The cathedral itself was dedicated to the Virgin Mary. There is a small entrance fee of just over £1 (kn10), but well worth it for its rich history.
Opening times: 7am to 7pm
Top Tip: The Cathedral opens its doors for Mass every Sunday at 9 am.
Bačvice Beach
Summer months are spent enjoying Croatia's beautiful Adriatic Coast - endless hours of sunlight and warm crystal clear water luring locals and tourists to long days at the beach. And Bačvice is no exception. Only ten minutes by foot from the promenade lies one of the most popular beaches in Split, for swimming, relaxing and playing picigin - Split's traditional ball game. The game is played in the shallow water with a soft ball. The aim is to use the palm of your hand to keep the ball up in the air for as long as possible, with extra points awarded for dives.
This sandy beach is also accessible along a paved area, catering for people with disabilities. The beach has been awarded the Blue Flag Of Excellence and has a number of restaurants and cafés along the boardwalk. It's guarded by lifeguards, and there is a pine forest behind it with children's facilities such as trampolines and water slides.
Back to top
Lunch At Pizzeria Zlatna Vrata
Zlatna Vrata is tucked away inside the palace walls in a semi-lit, atmospheric building, and serves excellent wood-fired thin-based pizza as well as pasta and salads. Zlatna Vrata means golden gate and was formerly the northern gate entrance to the palace. The setting is perfect, with a charming outdoor terrace, high Romanesque arches, fourth century architecture and stained glass windows. A very tasty and popular place to stop for lunch while you weave your way through the history of Diocletian's Palace.
Top Tip: Try one of the legendary Croatian soda drinks - Pipi and Orela
Hvar Island
It's not hard to see why Hvar has been called the Madeira of the Adriatic. Follow the brown signs and cobbled steps through Hvar to reach the Fortica Fortress, which sits high above the northern side of Hvar Town. The fortress was used as a defense fort during the Byzantine Empire. It offers panoramic views of Hvar and the surrounding Pakleni Islands.
Hvar Island is covered in lavender and ancient olive trees. Visit one of Hvars local Konobas, or taverns, to sample the famous wine, olive oil and olives that are harvested on the island each year. Most of the island's beaches are rocky and situated in large bays surrounded by pine forests. The sandy beaches can be found in the northern bays. There are also many small swimming coves, which will feel like you have found your own private beach.
Warm winters flow into pleasant summers and year after year Hvar takes on more character, mostly from the diverse mix of tourists and locals who step onto its shores. It would certainly be a shame to miss out on the Hvar experience. For more information you can visit Adriagate, which offers exclusive tours and guides to Hvar and the surrounding islands.
Take a trip to Hvar Island, either by boat, the grand ferry Stari Grad or - if you're travelling by car - the Drvenik Sucuraj Ferry. Split Port is the third busiest port in the Mediterranean so get there early. The ferry times to Hvar Island are 8:30am, 2pm and 8:30pm.
Krka National Park - Waterfalls
Krka was declared a national park in 1985 and has seen an increase in tourism, and educational, scientific and cultural interest since then. Just northeast of the city of Sibenek, an hour and a half drive from Split, lies the impressive Skradinski Buk and Roški Falls. Spend the day swimming in natural pools right next to the falls, or take a walk on alternative wooden pathways throughout the park, enjoying the sweet smell of pine. The national park is inland from the coast so you'll get an even more varied Split experience.
There are also boat rides up the Krka River after the Roški Falls, which take you to the small islet on Lake Visorak. The islet is home to the Franciscan Monastery, which was built in the 15th century by the first descendants in the area.
Bike Tour
Red Adventures Croatia sets off from the city harbour twice a day. The first tour departs at 9am and the second, sunset tour, at 5:30pm. These guided tours explore Split's sights and sounds, and give you the chance to navigate through the historic Old Town's narrow streets and enjoy some of the city's best seaside views. The tour slowly climbs through the city and further up Marjan Hill, visiting famous parks and marina sites along the way, finally reaching the 15th century chapel of Saint Jerome. Finally the tour descends down onto the promenade and finishes in the city center, just in time for a bite to eat.
Back to top
Supper At Apetit Restaurant
Within Papalićeva Palace you will find the restaurant Apetit surrounded by stone walls and local décor. Coming well recommended, Apetit has all the surroundings of a perfect Mediterranean night - a good selection of wine and a menu boasting unique Croatian flare with a focus on fish and meat. They also take great pride in their homemade pasta and cakes, so be sure to try out the gnocchi and dessert. During the summer months it's wise to make a booking.
For more information, visit www.apetit-split.hr
Poljud Stadium
One of the greatest football rivalries in Croatia is between HNK Hadjuk Split and GNK Dinamo Zagreb. The two teams not only top the Croatian League, but also hail from two of the most popular places to visit while in Croatia, and often have head to head battles, either in the Euro League or locally. But no matter who the home team is playing against, the 35,000 seater Poljud Stadium will be full. The stadium has also been used for many international athletic fixtures and is known as the "Poljud Beauty" to the locals.
Diocletianâ#128;™s Palace
Diocletian's Palace's imposing architecture and Roman remains have dominated the city of Split for centuries. While Roman buildings have been destroyed over the years, Diocletian's Palace is the most complete Roman palace in existence today. With its extreme edifice made from marble and limestone, it has remained the centrepiece of Split since 305 AD and attracts visitors from all over the world each year. Diocletian spared no expense when developing his dominating creation. Marble was imported from Italy and Greece, columns and sphinxes were imported from Egypt, and each fortified gate is named after a metal - gold, silver, bronze and iron.
The Romans abandoned the palace following Diocletian's death, leaving it standing empty until the 7th century, when residents took refuge within its walls to protect themselves against barbarian attacks. Today there are 3000 inhabitants inside the walls of the palace along with locally run businesses and restaurants. The cellars act as a marketplace where you can find reproductions of Roman antiques and a variety of other goods, including silver cigarette cases, candlestick holders, wooden sailing ships and leather goods.
The palace is a constant buzz of international visitors and locals who come together to celebrate this National Heritage Site and keep Diocletian's Palace very much alive. At night you can witness live opera or music inside the walls and dine at one of the many restaurants.
Fee and entrance times: Walking tours of the Palace can be easily arranged. They usually last about two hours and cost around £10 (kn90).
Caffe Bar Hip Hop
Bačvice has a splendour of bars and cafés dotted along its boardwalk known as the Bačvice Mile. This is where Split's nightlife is alive until the early hours of the morning. Hip Hop has an impressive array of beers on tap and some of the finest Mediterranean cocktails on offer, which can be enjoyed in the relaxed atmosphere.
Back to top
Split Summer Festival
This year is the 59th annual Split Summer Festival, which attracts visitors from mid-July to mid-August each year to celebrate the city's rich heritage and culture diversity. Split has been known as the cultural hub of Croatia and this festival only emphasises that. It features open-air theatre, music and dance performances at various special venues around the city, including in and around Diocletian's Palace. It is a must-see if you are in Split at this time.
Tickets: Ticket prices vary depending on what you will be seeing, but usually range from £5 to £7 (kn50 to kn60).
Riva Seafront - Promenade
Make your way down to the Riva Seafront that runs along the water's edge to see how it transforms at night - becoming a mecca of cafés, bars and restaurants. It's a common sight to see yachts and even mega yachts lit up and parked in the bay during the summer months, giving the promenade a real touch of "Mediterranean". Some of the yachts even allow tourists to jump on board to get the feel of these fine vessels. The Riva was built over 100 years ago, but was restored in 2007 due to its constant wear and tear. It received new modern architecture, palm trees, park benches, very impressive concrete tiling and generally a new urban twist on the ancient Croatian city. A good spot to have a drink on the Riva would be St-Riva. It is located on the water side of Diocletian's Palace and has real charm to it. Try get a table on the first floor balcony where you can overlook the whole Riva.
Top Tip: Ice-cream is very popular in Croatia and some of the best is sold at Hajduk. If you see this name do not pass it - stop immediately and try out some of the amazing flavours.
Caffe Bar Gaga
Caffe Bar Gaga is an infused venue of happy-go-lucky holidaymakers and locals, enjoying each others' company while trying to decipher each others' foreign languages. It's a cosy atmosphere where you can still hold a conversation without having to shout over loud music, but after 11pm it gets a bit more upbeat. During the day Caffe Bar Gaga is a quiet coffee shop, but turns into a great meeting spot to begin your night on the town, or to have an after-supper drink.
Tropic Club Ecuador
Split has always been known for its quiet Dalmatian lifestyle and generally closing up early, even during the busy summer months - until recently. Latino style Club Tropic has taken on the theme of Bačvice - palm trees, fruity cocktails and summer parties, with many friendly faces and international DJ's showing up as the sun goes down. Finally, the warm summer nights have been transformed into something worth speaking about. Unless you have a boat, plane, train or bus to catch the next day, do not expect to leave early - it only really starts to get going around 11pm.
For more information on events and times, visit www.tropic.hr
By Josh Downes
Back to top
Last Updated: July 2013