24 Hours in Rio de Janeiro

Rio de Janeiro is a world-famous travel destination. Beautiful weather, an incredible coastline, mesmerising monuments and vivacious locals make the city number one on our travel list this month. We've put together a list of the top attractions to enjoy in Rio, not an easy task considering everything it has to offer. If you think we've left anything out, drop us a comment in the black box below or post it on our Facebook page.
Breakfast
To experience a traditional Rio breakfast, head to a padaria. Cariocas (Rio locals) generally start off their day with fruit or bread, and these bakery-type places, which can be found throughout Rio, offer a great selection of breakfast choices. Papaya, mango and guavas are amongst the most popular, locally grown fruits and bread is usually enjoyed with cheese and ham. Brazil is the world's largest producer of coffee, so experiencing Brazilian coffee culture should kick off your gastronomic exploration of Rio de Janeiro.
Rio's Beaches
The beaches of Rio are famous all around the world. The dazzling blue water and white-sand shores attract travellers and locals day in and day out. A stint on the beaches of Rio is as much a part of experiencing the city as drinking Caipirinhas (a cocktail made with the rum-like spirit, cachaca) or photographing the famous statue of Christ the Redeemer. For the best beaches in Rio, head to:
Copacabana
One of the world's most famous beaches, Copacabana stretches for almost 2.5 miles and is an acclaimed New Year's party destination. It attracts people from across the globe and is an absolute must-do for anyone travelling to Rio. To understand why this beach is so popular, check out the video below.
Ipanema
Frequented by surfers and sun-kissed bodies, Ipanema has been named the sexiest beach in the world. The local sport of footvolley (a combination of volleyball and football) is a popular beach activity and is often followed by enjoying the beers sold all along the beachfront. Sundays see the main beach road closed off to traffic for skateboarders, bike riders and and wanderers to be able to make the most of the beautiful stretch of coast. For more insight into why Ipanema has been voted the world's sexiest beach, check out the video below.
Leblon
Leblon is Rio's wealthiest area and is home to many of the rich and famous. Quieter than trendy Ipanema (which is further down the same stretch of beach), it is considered to be the city's most exclusive beach and attracts anyone looking to experience the epitome of sophistication and high-end Rio.
Sugar Loaf Mountain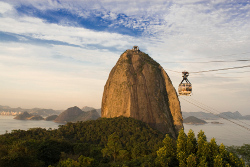 One of the most visited places in Brazil, Sugar Loaf Mountain is at the mouth of Guanabara Bay. Glass-walled cable cars offer 360-degree views of the Atlantic Ocean and vibrant city below. Since it's opening in 1912, the cable cars have transported more than 37 million visitors and continue to carry thousands of people the 1,299 feet to the summit of Pao de Acucar (as it's known in Portuguese). The mountain is also one of the world's most popular locations for rock-climbing and boasts 270 routes to test rock-climbing enthusiasts at various levels of expertise.
Botanical Gardens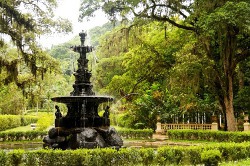 Rio's Botanical Gardens were opened in 1822 and continue to welcome visitors from sunrise to sunset every day of the year, excluding Christmas and New Year's Day. The 54 hectares are home to various historical monuments and 6,500 species of flora. Located at the foot of the Corcovado Mountain, it offers a welcome escape from the hustle and bustle of the city.
Carnaval
Carnaval, the Portuguese for carnival (but you knew that), is as much a part of Rio as tea is a part of England. Dating back to 1723, it is the biggest Festival in the world and attracts two million people to the streets each day. It is held before Lent each year, and 9 to 12 February 2013, will see the streets of Rio come alive once again with Samba, floats, elaborate costumes, and beads - so many beads! It's impossible to put into words the incredible spirit of Carnaval, so check out the official site, or better yet, make sure you're in Rio next February for the experience of a lifetime.
Lunch
Rio is famous for its lanchonetes - cheap and cheerful self-service lunch spots. They offer a large variety of dishes, from sandwiches and smoothies, to salads and various meat buffets. Alternatively, head to the famous beach areas to take your pick from the numerous dining options.
Christ the Redeemer - on Corcovado Mountain
For everything you might want to know about the world's largest Art Deco statue, the famous face of Rio and an icon of Brazil, watch the video below. The Cog Train, which leaves every half an hour between 8:30am and 7pm, is considered the best way to get to this famous statue.
Tijuca National Park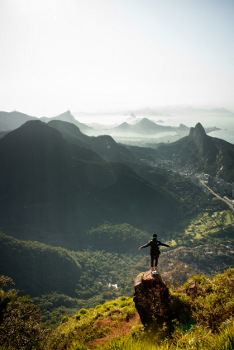 The Tijuca National Park is Rio's famous hand-planted rainforest and the largest urban forest in the world. It is accessible from nearly all areas of the city, is home to hundreds of plants and has thirty waterfalls. Apart from boasting the Corcovado Mountain and Christ the Redeemer, the park also attracts people to its many other beautiful sites, some of which include:
Cachoeira Macacos (Monkey's Waterfall)
Vista Chiresa (Chinese Views)
Mesa do Imperador (Emperor's Table)
Cascatinha (Taunay's Waterfall)
Capela Mayrink (Mayrink Chapel)
The waterfalls are the perfect way to unwind and cool-off after a long hike through the park. Alternatively, you can organise a tour, such as the ones offered by Rio Adventures.
The entire park is open all year round and there is no admission charge.
Dinner
To experience Rio's famous, traditional cuisine, head for a restaurant that serves Feijoada. It is a bean and smoked meat stew, usually pork or beef. Infused with the flavours of cumin and parsley, traditionally the recipe does not call for vegetables, although sometimes greens or tomatoes are included. Casa da Feijoada is considered one of the best restaurants in tourist-populated Ipanema.
Address: Rua Prudente de Morais 10B Ipanema
Tel: 021 2247 2776
Hours: Noon -11:30pm
Sambadrome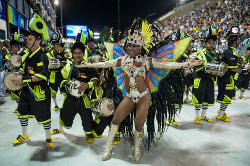 Samba is the beating heart that keeps Rio alive. And Sambadrome are the exhibition areas of Rio where the many Samba Schools come to parade their talents. The Sambadrome at the Rio Carnaval is of course the most spectacular display of the samba spirit - both in the music and dance. For more information, about tickets to the Sambadrome for Rio Carnaval 2013, check out the site.
Maracana Stadium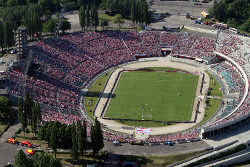 Football enthusiasts cannot miss out on the opportunity to watch a live match at Rio's famous Maracana Stadium. The stadium can accommodate over 100,000 people and is proud host of the Fifa World Cup final match in 2014. What better time to travel to famous Rio de Janeiro than for one of the most important events that the world of sporting offers us. For full stadium fixtures, check out https://futebolnomaracana.blogspot.com/.
Rio is famous for many things - its beaches, monuments, samba and bassa nova. And of course its world-famous nightlife, which can be attributed to the vivacious spirit of Rio's Cariocas (locals). If you're looking for a party in Rio de Janeiro, you're guaranteed to find one - whether it's in a pub, Night Club or a college Chopadas. Although Copacabana and Ipanema both boast a vibrant after-dark scene, downtown Rio's Lapa District is most famous for its parties. Wherever you decide to go, make sure to sip on a few Caipirinha's - Rio's famous cocktail - or sample some a Skol or Brahma - some of the most popular beers.
Chopadas
Named after chopps (the local name for draft beer), Chopadas are parties held by college students. This is one party where your enjoyment of it might be age dependent, but for anyone young at heart, if you're fortunate enough to get invited to a Chopadas, why not take the opportunity to get to know some locals and soak up the Carioca spirit.
Pubs
Rio undoubtedly offers numerous pubs, the most popular of which are The Irish Pub, Shenanigans and the Scenarium. To find out more about the Scenarium and Rio's famous Lapa District, watch the video below.
Clubs
Rio's club scene is famous across the globe. Although there are a few clubs, such as Booxthat often limits access to the privileged Cariocas, there are many others that welcome travellers with lively music and eccentric decor. For an inside peek into just one of Rio's many thrilling clubs, have a look at the video of The Week, which can be found on Rua Sacadura Cabral.
Eclipse: 24-Hour Restaurant
There's nothing like grabbing a bite to eat at the end off a great night out. Eclipse in Copacabana is one of Rio's few 24-hour restaurants, and famously serves traditional Brazillian food and pizza. The outdoor seating is a festive way to mingle with fellow partiers, or head inside to the air-conditioned restaurant to escape the heat.
Last Updated: September 2012