Maybe you're an artist, or a romantic, a bar-fly, a fashion-fiend, or even a good old-fashioned revolutionary - whoever you are, there's something for you in Paris. And, with EssentialTravel.co.uk's 24 hour guide on hand - showing you the way to the chicest shops, the louchest bars - or the most child-friendly restaurants - you can be sure you'll take the city by storm.
Clingancourt Flea Market
Stall holders at Paris' many flea markets start setting up around now. The biggest - in the world - is Clingancourt, open weekends and Mondays.
Arnaud Delmontel
We're in Paris, it's breakfast - it has to be a croissant. Head for the best at Arnaud Delmontel, which does all sorts of delicious sweet things too.
Notre Dame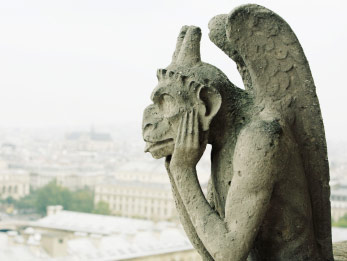 Notre Dame was built as a place of worship, not the tourist attraction it has become. Beat the hordes and see it as it was intended by coming first thing.
Musee d'Orsay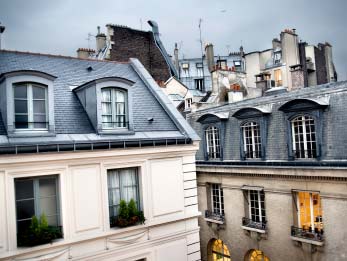 Be here when it opens and you'll get the world's most impressive Impressionist collection to yourself. It's a beautiful building, too: go for great views at the Cafe des Hauteurs.
Address: 1, rue de la Legion d'Honneur
Tel: +33 (0)1 40 49 48 14
Website: www.musee-orsay.fr
Metro: Assemblee Nationale or Soliferino
Saxe-Breteuil Market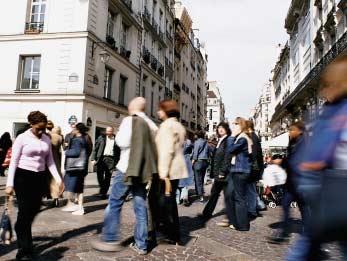 Fantastic food, beautiful backdrop: Saxe-Breteuil market sells cheeses, honeys, meat, fish, vegetables - and it's right by the Eiffel Tower. Try before you buy - because you can.
Info: Open 7am to 2:30 pm every Thursday and Saturday. The market runs from Place de Breteil to Avenue de Segu.
Metro: Ecole Militaire or La Motte Pique
Jardin du Luxembourg
Jardin du Luxembourg is every Parisian's private garden. It has a great children's playground, puppet theatre and merry-go-round too.
Address: Pl Auguste-Comte, pl Edmond-Rostand or rue de Vaugirard
Tel: +33 (0)1.42.34.23.89
Metro: Odeon
Avenue Montaigne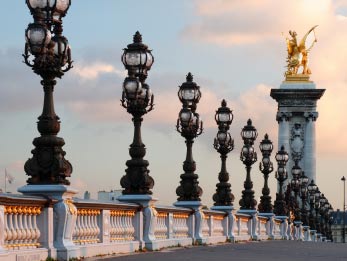 Chanel, Dior, Louis Vuitton, Valentino, Gucci... yes it's Avenue Montaigne, part of Paris's golden triangle (the Champs-Elysees and Avenue Marceau make up the rest). Remember if you need to ask - you can't afford it.
Address: Avenue Montaigne
Metro: Franklin D. Roosevelt or George V
The Ritz
"Good cuisine is the foundation of true happiness," said Auguste Escoffier, the first head chef at the Paris Ritz. Seize the joy with both hands at one of the Ritz's one-hour lunch time cooking classes - you get to eat it all afterwards.
Address: 15 place de Vendome
Tel: 15 place de Vendome
Website: www.ritzparis.com
Metro: Tuileries or Opera
Pere-Lachaise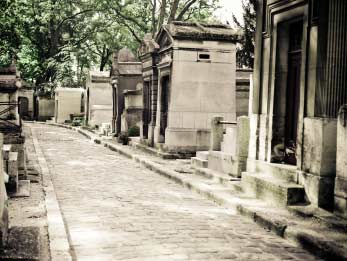 Jim Morrison, Chopin, Edith Piaf, Proust, Balzac - the after-life comes to life at the world's most glamorous (and possibly picturesque) graveyard. It's illegal to leave tokens on Morrison's grave, but still they do.
Address: Bd de Menilmontant
Tel: +33 (0)1.55.25.82.10
Metro: Pere-Lachaise
Bike About Tours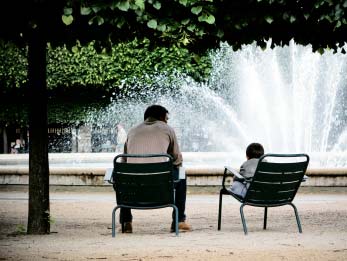 Pedal you way to the Marais, to the Latin Quarter, to the Louvre and the Eiffel Tower, with hardly a hill in sight. Bikes are included.
Cite des Enfants
Making learning fun: Cite des Enfants, part of the Cite des Sciences et de l'Industrie, lets under-12s push, pull and poke in the name of science. Fun!
Address: Niveau 0, Cite des Sciences et de L'Industrie, 30 av Corentin-Carlou
Tel: + 33 (0)1.40.05.80.00
Website: www.cite-sciences.fr
Metro: Porte de la Villette
Chez Adel
Unleash the accordion - chanson is alive and well at Chez Adel. They sing all the old songs Gallic-style with a whiff of nostalgia.
Address: 10 rue de Grange-aux-Belles
Tel: +33 (0)1.42.08.24.61
Metro: Jacques Bonsergent
The Eiffel Tower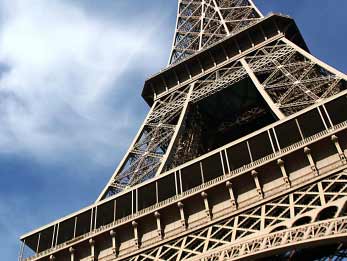 You'll never be alone on the Eiffel Tower, but catch the last lift up and there's less of a queue - and wait ten minutes and the whole tower sparkles.
Address: 5 avenue Anatole France, Champs de Mars
Tel: +33 (0)1.44.11.23. 23
Website: www.eiffel-tower.com
Metro: Bir Hakeim, Trocadero or Ecole Militaire
Batobus Paris
Float past Paris's classic sites with Batobus Paris: the sun sets and the lights of the city come on - and it's pure magic.
Address: Boats stop at the Eiffel Tower, St Germain-des-Pres, Jardin des Plantes, Louvre, Musee D'Orsay, Notre-Dame, Hotel de Ville, and Champs Elysees
Tel: +33 (0)8.25.05.01.01
Website: www.batobus.com
La Coupoule
Pull up a chair and tuck in your napkin at La Coupoule. Picasso, Satre, Piaf, Hemingway, Dietrich and numerous left bank luvvies and literati ate here, but it's still fun. Go for the seafood.
La rando roller
Meet at the bottom of the Montparnasse tower for la rando roller du vendredi (so that's Fridays only) - a three-hour roller skating extravaganza that takes you right across town.
Fleche d'Or
The Fleche d'Or continues to bring live indie, rock and electro acts into the mix. Lively, friendly, fun - and usually free.
Address: 102 bis rue de Bagnolet
Tel: +33 (0)1.44.64.01.02
Website: Fleche d'Or
Metro: Alexandre Dumas
The Crazy Horse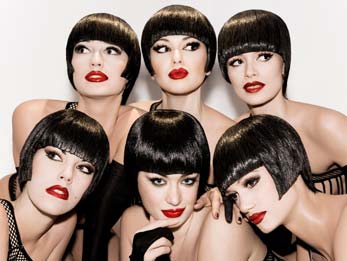 You're unlikely to be shocked by the Crazy Horse, but the girls put on a good show - and it's much classier than the Moulin Rouge.
Address: 12 avenue George V
Tel: +33 (0)1. 47. 23. 32. 32
Website: The Crazy Horse
Metro: Alma Marceau
Harry's Bar
Yes, it sounds American, and yes, Hemingway drank here, but this is still one of the best-loved cocktail bar in Paris. Try a Bloody Mary - it was invented here.
Address: 5 rue Daunou
Tel: +33 (0)1.42.61.71.14
Website: www.harrys-bar.fr
Metro: Opera
Le Rex
1am is the earliest you should even consider going clubbing. And, while Laurent Garnier may have moved on, Le Rex is still the best techno club in town.
Address: 5 bd Poissonniere
Tel: +33 (0)1.42.36.10.96
Website: www.rexclub.com
Metro: Bonne Nouvelle
Cafe Charbon
Some say Oberkampf is over, but who cares? Cafe Charbon got it all going and still does old-school boho at its distressed-chic-and-gilt-chandeliers best.
Address: 109 rue Oberkampf
Tel: +33 (0)1.43.57.55.13
Metro: Parmentier
Batofar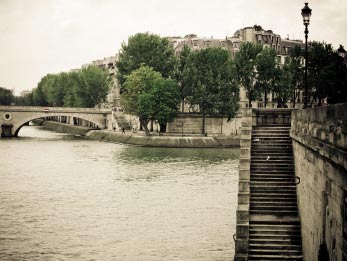 Take a boat, some trance or house, and one of the most beautiful rivers in the world, and ladies and gentlemen we bring you Batofar. Hang out quay-side or join the DJs on the deck.
Address: Opposite 11 quai Francois-Mauriac
Tel: +33 (0)1. 53.60.17.30
Website: Batofar
Metro: Bibliotheque Francois Mitterand
Bowling de Montparnasse
It's not quite boule, but Bowling de Montparnasse does offer bowling, pool and video games lets you knock 'em for six until the wee hours (4am Friday; 5am Saturday).
Address: 25 rue du Commandant Mouchotte
Tel: +33 (0) 1.43.21.61.32
Website: www.bowlingstar.fr
Metro: Montparnasse
Bar Conde
Who wants to drink in a small underground bar with no windows and gravel on the floor? At this time in the morning - us. The bar staff are surprisingly friendly.
Address: 27 rue Conde
Tel: +33 (0)1. 43. 29. 06. 61
Metro: Odeon
Last Updated: September 2008