With a motto like Munchen mag Dich (Munich likes you!), this beautiful city in the heart of Germany's Bavaria is a great place to visit at any time of year. With its turbulent history and rich heritage, Munich is home to some of the most exquisite architecture, museums and tastiest cuisine. The city is filled with friendly people and plenty of things to do - even if you only have 24 hours to experience it.
If you've ever visited Munich and think we have left something out, let us know on our Facebook page or drop us a comment in the box below.
Breakfast at Cafe Glockenspiel
A perfect start to your day is breakfast at the lovely and very popular Cafe Glockenspiel, right in the middle of Munich. Situated in the famous Marienplatz City Centre, you can have a big breakfast croissant for about £2 and a full breakfast for about £6. Enjoy the relaxing atmosphere here from 9am Monday to Saturday and from 10am on Sunday mornings.
Where: Marienplatz City Centre, Munich
Handy Tip: Arrive early so that you get a seat.
Hitler And The Third Reich Walking Tour
Much of Munich was bombed by the Allies during World War II - this mainly had to do with the fact that it used to be dubbed theHauptstadt der Bewegung (Capital of the Nazi Movement). Now, over 60 years later, many of the buildings still stand. Munich Walking Tours offer a two and a half hour tour of all the fascinating sites that reveal this dark history. You get to see memorials dedicated to those who opposed the Nazi regime and the place where Adolf Hitler gave his very first speech. What better way to brush up on your World War II history than going to the actual places you've learned about?
Tickets: £9.60 per person and £8 for people under 26 and students.
Handy Tip: The meeting point is outside the New Gothic Rathaus on Marienplatz.
Marienplatz
This is the famous and most popular public square in Munich. Cafes, food stands and tourists fill the square. At the centre you'll find the New Gothic Rathaus. The lovely piece of Gothic architecture holds the infamous Glockenspiel - the main tourist attraction. When the clock strikes eleven (11am), the bells chime and almost life-size figurines pop out on top of the tower and do a folk dance. If you didn't get a good glimpse the first time around, go there at 5pm when it happens again.
Handy Tip: Make sure to arrive at least 20 minutes before as the square becomes very crowded.
Take a look at the Marienplatz Glockenspiel in the video below:
Brandhorst Museum
If you feel like seeing beautiful and inspirational artwork, you need to visit Brandhorst Museum. This modern art museum is famous for its creatively adorned, multicoloured exterior and is home to original pieces of art created by Andy Warhol - including his Marilyn Monroe masterpiece. This museum hosts exhibitions often, with the next one being the "Revolution", a solo exhibition from Hiroshi Sugimoto which takes place from 25 October 2012 to 10 February 2013.
Where: 35 Theresienstrasse, Munich
Tickets: Admission is £5.60, although prices are subject to change.
Lunch at Zum Augustiner
Take a break from your sightseeing and enjoy a delicious lunch at Zum Augustiner. This is the ultimate Bavarian dining experience with waitresses dressed in traditional Bavarian dresses serving wurst and beer. There's an extensive lunch menu and it changes each week. If you're not particularly hungry, it's still worth it to pop in for a cup of coffee and some cake - even if it's just to experience the warmth and friendliness of the restaurant.
Where: 27 Neuhauser Street (between Karlsplatz and Marienplatz), Munich
Englischer Garten
Munich is home to one of the world's largest public parks. The Englischer Garten (English Garden) is bigger than New York's famous Central Park and offers many attractions for locals and tourists alike. Take a picnic basket with you and enjoy relaxing at Shonfeldwiese, Shonfeld Meadow or stop by the Japanese Teahouse for a traditional Japanese tea ceremony. The lush garden also boasts a serene lake and waterfall. In summer, visitors can enjoy surfing on the garden's mechanic wave or listen to some live music at the open air theatre.
Handy Tip: If you plan on spending your whole day there, make sure to pack something warm as evenings tend to get a bit chilly.
Olympiapark
Olympiapark was built for the 1972 Summer Olympics and still remains a great tourist attraction today. The stadium is amongst the most famous in the world, thanks to its unique architecture, and now hosts Germany's top competitions and cultural events.
The Olympiapark offers fantastic tours of the park and they include fun activities such as climbing onto the roof of the stadium and taking in the breathtaking view.
The tours are very popular as the park isn't only home to the stadium, but also includes a lake, a mountain, an Olympic hall, swimming pool and a tower - giving you plenty to do on this two-hour tour.
Where: Spiridon-Louis-Ring 21, Oberwiesenfeld, Munich
Tickets: £32.80 for adults and £24.80 for children.
Tierpark Hellabrunn
A fun afternoon out with the family in Munich definitely calls for a visit to Tierpark Hellabrunn, Hellabrunn Zoo. This old zoo houses many different and wonderful creatures such as sea lions, birds of prey, Indian elephants, gorillas and tigers. Visitors can go on a guided tour around the zoo, which takes you to all of the habitats there. The tour is also offered at night when most of the animals are most active. Go at the right times and you get to witness tigers, penguins and baboons being fed.
Where: 30 Tierparkstrasse (Tierpark Street), Munich
Tickets: £9.60 for adults and £3.99 for children.
BMW Welt
Welcome to any car-enthusiast's dream: a museum dedicated entirely to BMW. BMW Welt is the only BMW museum in the world and it puts many of its best cars and motorbikes on display. The museum teaches you all you need to know about the creation and design of this elegant brand and you also get to test drive simulation cars just for the thrill of it. This is where you will want to visit to be kept updated on all BMW's new products.
Where: BMW Welt Am Olympiapark
Tickets: £7 for adults and £4.80 for children and students.
Take a sneak peek inside the BMW Welt in the video below:
Dinner at Nurnberger Bratwurst Glockl Am Dom
If you feel like tasting some world-famous food, then have dinner at Nurnberger Bratwurst Glockl Am Dom. This upbeat restaurant has a stunning interior and also a large outside area. Take your pick from a big selection of meats, an array of real German sausages and delicious desserts. Their Rostbratwurstl (pork sausages) are grilled to perfection over an open wood fire and you can enjoy this treat for about £8.50.
Where: Sporerstrasse (Sporer Street)
Handy Tip: If it's summer, try to go early and get a seat outside so that you can experience the authenticity of Bavarian culture.
Shop on Maximilianstrasse
Some early-evening shopping is a nice way to round off your busy day. Although, if you take a walk down the acclaimed Maximilianstrasse, you will need to accept the fact that you may only be doing window-shopping. The street is adorned with shops such as Louis Vuitton, Chanel and Versace. There are plenty of restaurants and jewellery stores. Even if your budget won't allow you to buy anything on Maximilianstrasse, it still guarantees an enjoyable evening stroll - and that's for free.
Handy Tip: Maximilianstrasse is a tourist haven, so try out the side-streets to find some cheaper stores.
Allianz Arena
There's no way that football fans can go to Munich and not watch a football game, or at least pay a visit to the Allianz Arena. Built in 2005, this attractive stadium can hold almost 70,000 people. We suggest that you visit here in the evening so that you can see the stadium light up.
The foil panel exterior is illuminated in blue or red for the local Munich teams and shines a magnificent white when Germany plays. For those who wish to learn more about Allianz Arena, they also offer individual and group tours.
Where: 25 Werner-Heisenberg-Allee, Schwabing, Munich
Take a look at the Allianz Arena in the video below:
Atomic Cafe
Evening has arrived and perhaps you feel like some cocktails, beers and dancing while you're in Munich. There's no better place to go for this than Atomic Cafe. Lit up in red with elegant white furniture, it's very popular among the locals. Music concerts and DJs often perform here while the audience sip away on cocktails at one of the bars and enjoy the music. This is a great spot to party the night away, as they only close at 05:00.
Where: 5 Neuturmstrasse (Neuterm Street), Munich
Tickets: Please note that ticket prices vary.
Late Night Munchies at Bergwolf
Munich boasts a great nightlife for those wanting to party the night away, so it's also important to know where you can get great food after your night out. Walk past Bergwolf at the weekend and you will see crowds of people queuing to buy their famous currywurst - said to be the best in Munich. Currywurst is a large, sliced sausage that's covered in ketchup and sprinkled with curry powder. This is then served with chips and mayonnaise. Some people even refer to Bergwolf's food as the perfect hangover cure.
Where: 17 Fraunhoferstrasse (Fraunhofer Street), Munich
Handy Tip: If you want to snack on currywurst, make sure you get to Bergwolf before 4am, as that's the time it closes at the weekend.
Oktoberfest At The Hofbrauhaus
Munich's main tourist attraction is the Hofbrauhaus - one of the most famous breweries in the world. The vibe inside the halls of this historic building is always friendly and warm. Hofbrauhaus has a rather sombre past, with it being the venue of Adolf Hitler's first speech, but today it hosts the most successful Oktoberfest, bringing in millions and millions of visitors every year.
If you happen to be in Munich from the end of September into October, you have to join in on this 16-day festival of beer drinking, eating and dancing on tables to the Oompah band. Step into the Hofbrauhaus and its enormous beer tent and you will be transported into the best of full-on Bavarian mania. Jugs of local beer are served by cheerful waitresses in traditional dresses. You'll also be able to feast on some delicious German food such as Eisbein, Schnitzel and lots of sausages! Whether it's morning, afternoon or night, if you're looking for a good time in Munich, Oktoberfest is without a doubt the best and biggest event for you to experience.
Where: Platzl 9, Munich
Tickets: £6.40 per person.
Handy Tip: As this is a festival of eating and drinking, it's best to take a taxi. Then you won't have to worry about finding Hofbrauhaus and you can have as much fun as you want.
P1 Club
Party like a star and get treated like a VIP at P1 Club. This nightclub is over 60 years old and it's one of the most popular clubs in the whole of Germany. If this is the spot you choose to party, keep in mind that you'll need to have cash to spare.
Drinks don't come cheap at a club that hosts top international DJs and celebrities such as Paris Hilton. If you're feeling tired from dancing on the 72 square yards of dance floor, then rest your feet as you relax on one of their comfortable leather sofas. This is the ultimate party location and you can do some celebrity spotting at the same time - a perfect night out in Munich.
Where: 1 Prinzregentenstrasse (Prinzregenten Street), Munich
Handy Tip: P1 is a very popular club, so try to go there as early as you can to avoid spending your night in a queue.
Essential German Language Guide for English Travellers
If you're spending 24 hours or more in Munich, you'll want to be able throw a few phrases around. Between us, your Essential Travel Experts, we've created this basic language guide from our collective experience chatting to Germans. It includes a casual explanation of German pronunciation to be used with your phrasebook as well as some realistic conversational firecrackers. Because none of us can claim to be fluent, the guide has been checked and edited by an actual German, Herr Schmidt.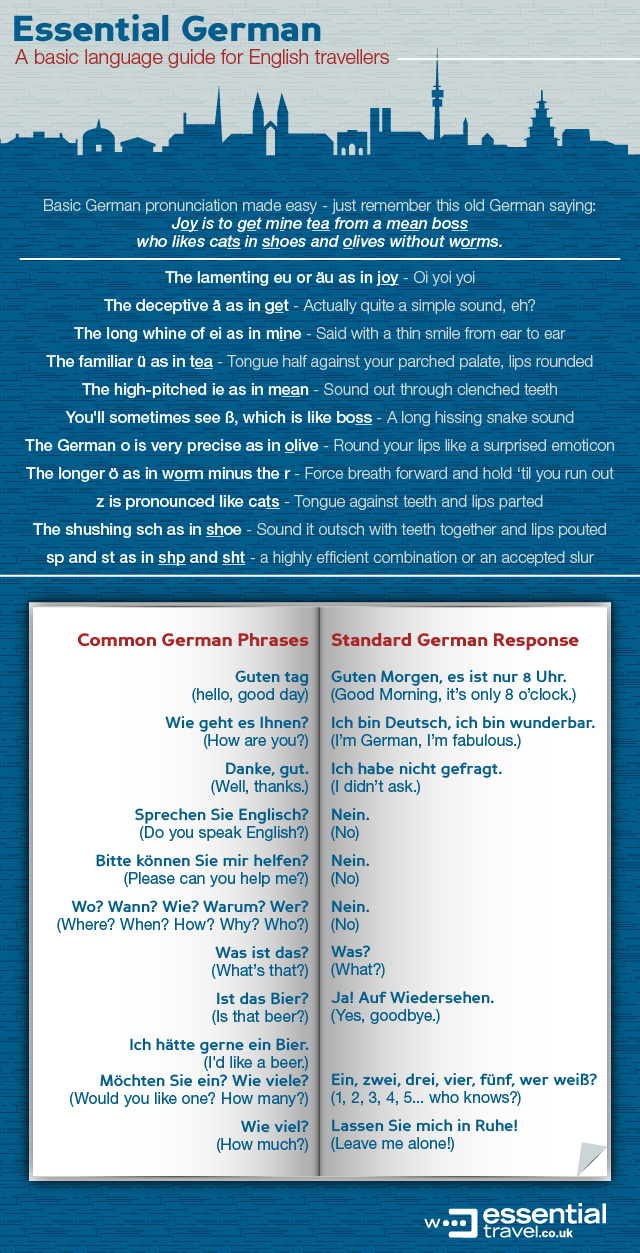 To feature this language guide on your website or blog, simply copy and paste this embed code:
<a href="https://images.essentialtravel.co.uk/et-magazine/24-hour-guides/german-travel-phrases.jpg"><img src="https://images.essentialtravel.co.uk/et-magazine/24-hour-guides/german-travel-phrases.jpg" alt="Essential Travel - German Language Guide" width="590" height="1155.11" /> <p>Graphic by <a href="https://www.essentialtravel.co.uk/">EssentialTravel.co.uk</a></p>
Last Updated: October 2012