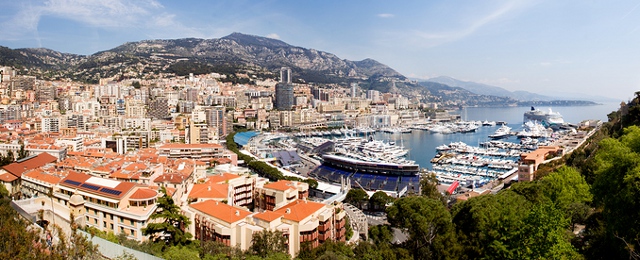 Taking up pride of place along the French Riviera (Côte d'Azur), Monaco is a mixture of charming Mediterranean architecture and glittering new-builds. With an extravagant nightlife and a rich royal history, its atmosphere and activities really are as exciting as it appears. It's fascinating to see what pride the citizens take in the Royal Family, from the legendary Prince Rainier III and Princess Grace Kelly to the current Prince Albert and his South African athlete wife, Princess Charlene. Recognised as the second smallest country in the world (after Vatican City), Monaco is also one of the richest. So with such a wealth of entertainment, it was tough to narrow it down for you in this month's 24 hour guide. But I think I've managed a sun-up to sun-down selection of this beautiful city-state's highlights.
Breakfast At Stars 'n Bars
This popular restaurant opened in 1993 at Monaco's port of glamorous yachts and luxurious lifestyles. Although there are Stars 'n Bars franchises all over the world, it is particularly relevant here because of Monaco's almost tangible star quality. Start your day off with some tasty food at this American-style restaurant that offers a very extensive menu, including vegetarian options. Enjoy typical American and English breakfasts, Eggs Benedict or pancakes. Continental breakfasts are served from 07:30 on weekdays and you can get your full breakfast from 11:00 until 15:00 on weekends and holidays. Take a stroll around the restaurant to see all the sports memorabilia, such as Magic Johnson's signed jersey and Cantona's signed football kit!
Handy Tip: If you happen to be there on a Saturday or Sunday, make sure to try out the Brunch of Champions, served between 11:00 and 15:00.
For more information: www.starsnbarsmonaco.com
Princess Grace Memorial Rose Garden
We've all heard the saying, "stop and smell the roses", and there really is no better place to do that than at the Princess Grace Memorial Rose Garden. The garden is set on the slopes of the serene Fontvieille Park and is one of Monaco's biggest attractions, for tourists and locals alike. As the name suggests, the rose garden was created in memory of the late former actress, Grace Kelly, who married Prince Rainier III, but tragically lost her life in a car crash with her daughter Princess Stephanie, in 1982. Two years later, 4,000 roses of over 150 varieties were grown in her honour to create this beautiful garden. There is also a statue of Princess Grace in the middle of the garden surrounded by roses to keep her memory alive.
Oceanographic Museum Of Monaco
For something fun and educational, pay a visit to the Oceanographic Museum of Monaco. Situated on the majestic Rock of Monaco, the building houses aquariums each suited to the natural habitat of the species - such as Mediterranean, coral reef and even a shark lagoon. The museum has many interesting things for you to see, like the Whale Room where you can see a 2.8 ton whale skeleton suspended from the roof; and the historic art collection inspired by the world that lies beneath the Earth's surface, or check out Turtle Island - home to the endangered African spurred turtles.
Handy Tip: Kids love the Tactile Pool - a full 45 minute session where they can learn about (and touch!) various creaturs, such as starfish, sea urchins and baby sharks, to name but a few.
Saint Nicholas Cathedral
Now it's time to admire some of the awe-inspiring architecture that Monaco has to offer. The Saint Nicholas Cathedral, also known as the Cathedral of Monaco, was built way back in 1875 and is one of the most remarkable buildings in the country. If you're visiting there for religious reasons, then venture inside the chapels and try to stay for Mass. Otherwise, if you're more into the history of it, it's also the very place where Prince Rainier III and Princess Grace exchanged vows in 1956. Most visitors who come here also pay their respects to these royals' final resting place, they're buried side by side. You will also see many of the other Grimaldi relatives' graves here too.
Back to top
Lunch At Polpetta
Stop by Polpetta for lunch - you won't regret it. Here you can enjoy traditional, authentic Italian cuisine that's affordable, and you'll be dining with the locals as this restaurant is a popular local hangout. Polpetta is known for their array of succulent meat and seafood dishes, and especially for their freshly-made pasta. Actually, all the ingredients are so fresh - the vegetables and eggs are delivered to Polpetta in the early hours of the morning. Polpetta is open for lunch from 12 until 2pm every day of the week except Saturdays, and re-opens again a bit later for dinner). It's also worth knowing that this cosy spot was frequented by Prince Rainier III and the legendary Frank Sinatra.
Handy Tip: Due to its popularity, you'll need to make a booking if you want to enjoy a relaxing lunch here.
Prince's Palace Of Monaco and State Apartments
A spectacular architectural feat - the Prince's Palace of Monaco. Originally built in as a fortress in 1191, in 1297 Francois Grimaldi allegedly disguised himself as a monk and seized the grounds. And The Grimaldis have taken up residency in the palace ever since - you'll even see a statue commemorating this moment outside the palace. As it is now the private home of H.S.H Prince Albert II and H.S.H Princess Charlene, it's mostly closed to the public. You can, however, take a tour of certain parts of the building such as the main courtyard and the Throne Room. Even though you can't explore the palace as much as I'm sure most people would like to, you can view the State Apartments between 29 March and 31 October 2013. If that isn't really your thing, it's worth going up to the palace simply to take in the breathtaking views of the Monaco harbour.
Handy Tip: Try to get to the palace before 11:55 so that you can see the patriotic changing of the guards. This happens every day at the same time and is so popular that the police close the surrounding roads for the duration.
Monaco Grand Prix
You can't be in Monaco during the Grand Prix and not go. Formula One fans from all over the globe flock to Monaco to see one of the world's most prestigious racing events. The race has been running here since 1929 and it is still said to be the most challenging race course of all. The drivers race 78 laps around the famous 3.340 km Circuit de Monaco which is full of tight bends and inclines, and even has a tunnel - which is why drivers are required to drive slower in this particular Formula One race compared to others.
This year marks the 71st Grand Prix and is from 23 to 26 May, with the actual Grand Prix race happening on 26 May. Tickets can become pricey, but completely worth it if you're there at this time of year. Prices start from £33 for general admission and go right up to £370 for top-notch seats (although most of these are already sold out for this year).
Take a look at the first ever Grand Prix in Monaco in 1929:
Larvotto Beach
Thanks to Monaco's abundant sunshine all year round, you're almost guaranteed amazing weather no matter what time of the year you decide to visit. Larvotto Beach is the only public beach in Monaco, making it a huge tourist attraction. The best time to go is between June and September when the sea is at its warmest. It tends to get very crowded during these summer months though, so I would advise that you get there early to get a good spot. The clear sea also offers a perfect opportunity to view the incredible marine life, so don't forget a snorkel. You should also take suitable shoes as there are pebbles instead of sand (common on the beaches along the French Riviera). If you prefer to admire the beach from afar, there are loads of restaurants and bars scattered along the streets for you to sit on the balcony, sip on a cocktail and admire the view.
Back to top
U Cavagnetu
For an affordable, yet authentic Monégasque dining experience, I recommend U Cavagnetu. Established in 1968, U Cavagnetu (which means little picnic basket) has a variety of dishes including plenty of traditional meals. The restaurant is situated on the Rock and is a few minutes walk from the Prince's Palace. Not only are the meals affordable, the restaurant is also kid-friendly. It's a perfect place to eat dinner as it gives tarvellers the opportunity to dine and mingle with locals.
Monte Carlo Golden Circle
Take an early evening, leisurely stroll through Monte Carlo's Golden Circle" for some fantastic window shopping. I want to emphasise the word window, because the shops here are the kind that don't fit into the average budget (but this doesn't mean that they won't appeal and tug at the heartstrings of every fashion lover who walks past). Clothing boutiques like Dior, Valentino and Chanel adorn the Golden Circle, as do high-end jewellers such as Cartier. If haute couture is within your budget, then you have until 7pm to splurge until your heart's content. Otherwise, if you want to buy some souvenirs, I'd suggest heading to the old town streets where you can find some shops with great deals.
Handy Tip: Remember that consumers are charged 20% VAT on all purchases - just something to keep in mind if you have a budget in mind.
Cinéma d'Été
Imagine enjoying a warm, summer evening under the stars in Monaco by sitting on a rooftop and watching a film. At Cinéma d'Été you can do exactly this. The rooftop of a parking lot on the Rock is no ordinary cinema - it's filled with comfy, cinema chairs and you get to watch a movie on the 200 square metre screen. It's an open-air cinema, so you can take in your breathtaking surroundings with the sea nearby (and the big screen of course). The cinema is open from June to September, and will be showing English movies between June and July. Tickets are €11 (about £9) and the movie starts at 9:15pm. There is also a snack bar available for those feeling a little peckish while viewing the movie.
Fort Antoine Theatre
So I realise this is another outdoor activity for the evening, but with the lovely weather in Monaco it would be a shame to be indoors all the time. Fort Antoine Theatre is an outdoor amphitheatre that has theatrical shows such as dramatic plays and music concerts of all kinds ranging from opera to all sorts of modern music. The theatre is an 18th century fortress, complete with a watchtower, that can seat up to 350 people, and the alluring view of the sea as well as the surrounding lines and lines of pine trees top off the great venue. The concerts begin in June and run the whole summer. Each show starts at 09:30pm. A perfect way to spend your evening getting in touch with the arts and culture of Monaco.
Back to top
Late Night Dining At L'Intempo
Whether you feel like a late night dinner before painting the town red, or you're coming back from your night out and feel like you haven't eaten in days, go to L'Intempo. L'Intempo is situated in Le Meridien Beach Plaza and is Monaco's only 24 hour restaurant. Don't let its location throw you off though - the prices are reasonable and the food is tantalising, even if you're there in the early hours of the morning. On warm nights, make use of the open-air terrace, or else sit inside where you can see your food being cooked at the live cooking station. The 24 hour menu has tons of choices ranging from starters to snacks, seafood and desserts.
Monte Carlo Casino
Monaco comes to life at night time, and one of the reasons for that is one of its greatest sources of entertainment, the Monte Carlo Casino. This is also another example of Monaco's interesting architecture, as the huge building boasts a hotel, restaurants and a state-of-the-art casino - guaranteed to keep you there until the early hours of the morning. Up until recently, Monte Carlo Casino was actually the primary source of the House of Grimaldi's income (thanks to it being the country's major tourist attraction). Choose from every type of gambling game you can think of from Blackjack to Roulette to the beeping madness of the countless slot machines. This world renowned casino has even been featured in blockbuster movies such as James Bond's Golden Eye and appeared as an animated version in Madagascar 3: Europe's Most Wanted.
Take a sneak peek at the Monte Carlo Casino in the video below:
Handy Tip: Remember to take your identification document with you to show that you're not a citizen of Monaco. Monegasques aren't allowed into the casino as part of a law stipulated by Prince Charles III in the 1800s in order to keep the locals out of debt.
Jimmy'Z
If you're looking for a night out amongst the young party people or the rich and the famous, you absolutely have to put on your dancing shoes and go to Jimmy'Z. It opened over 30 years ago in 1974 and this nightclub continues to be one of the great highlights of Monaco's nightlife. The club is always being modernised to keep up with current trends - at the moment you can enjoy a big dancefloor that extends outside for some summer fun, as well as a Japanese garden to chill in. A host of well-known DJs have appeared here such as Bob Sinclar and they're getting David Guetta there soon. So go here for a memorable night of music and dancing like no one's watching.
Handy Tip: Make sure to keep your eyes open for some A-list celebrities. George Clooney, Penelope Cruz, Bono and Michael Shumacher, to name a few, have all come here for a night out.
Back to top
Last Updated: April 2013