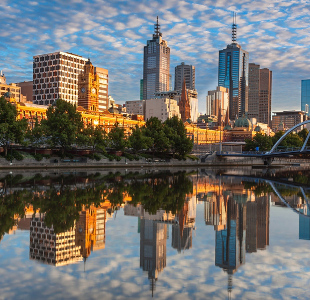 Melbourne is the hub of the metropolis in Port Phillip, Victoria. The Australian city is often ranked among the best places to live in and when you consider the standard of education and healthcare then this comes as no surprise. Also famous for its classified coffee spots, nighttime skyline and clear blue beaches, the city truly comes alive when its art, music and culture mix. A Melbournite will often greet you on the street and happily introduce you to the sights, turning any trip to Melbourne into a roller coaster ride of thrills and flavours.
Dinner At Little Creatures Dining Hall
The Little Creatures Dining Hall has the full package - good food and some of Australia's finest beer. Their most iconic beer is the Little Creatures Pale Ale, full of hops and flavour brewed right in the restaurant. As for the food, their pizzas are as legendary as their beer. If you're looking for a dish a little closer to home, then trying the fish and chips would be a good bet as it comes highly recommended.
Federation Square
Federation Square hosts some of the biggest events and cultural attractions in Melbourne. And where there are world-class events, there are world-class restaurants, bars and stores. At night you can take a stroll through the square and see exhibitions, visit galleries and watch movies. The Australian Center For The Moving Image is where you can watch the classics of Australian cinema, explore the special exhibitions or create your own short film. It brings the world of the moving image to life with hands-on workshops, live panel forums, exhibitions and screenings, and is particularly special at night when the square is lit up.
Melbourne Cricket Ground
The month of September sees the final of the Australian Football League at the Melbourne Cricket Ground (MCG). If you want a chance to see the matches, you'll have to book your tickets as soon as possible. The Melbourne Cricket Ground is more than just a cricket pitch, it has played host to Olympic ceremonies, soccer qualifying games, rugby matches and concerts. With 100,000 seats, there is plenty of space for anyone to watch whichever performances they enjoy.
Back to top
Last Updated: September 2013