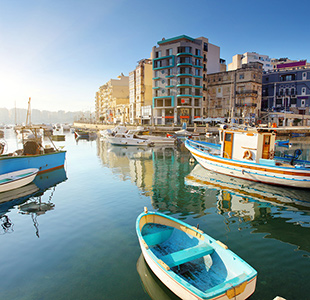 The island of Malta lies in the Mediterranean, south of Sicily. It was used for many years as a stronghold to control the Mediterranean Sea. Because of this it was dominated by many different powers including the Phoenicians, Greeks, Romans, Arabs and French - who all left their mark. The influence of each of these eras can be seen throughout Malta's religious, military and political sites, and greatly shaped its rich culture. You can see this just by walking through the narrow streets, in the architecture of the ancient, walled towns with their great fortresses and fortifications, each taking you on a trip to a different time. Coupled with its great Mediterranean weather, natural beauty and incredible turquoise-blue sea, after 24 hours you may never want to leave.
Breakfast At Caffe Cordina
Caffe Cordina has established itself as a well-known family business offering up delectable handmade and traditional treats. Like most things in Malta, Caffe Cordina has a long history. Founded in 1837 by Cesare Cordina in Bormla, it relocated to Valletta in 1944. Caffe Cordina includes tea-rooms, pasticceria, gelateria, a full bar and outdoor café, all set in a charming and elegant atmosphere, making it the perfect place for breakfast.
Mdina Old City
In medieval times this Old City was known as Citta Notabile - the Noble City - with its golden-stone palaces and mansions that were built for the nobility. Mdina is described as the perfect example of an ancient walled city and an outdoor museum, rich in character. It is located in the centre of the island on a high plateau, and it is from here that you can see the most beautiful views across the countryside and Mediterranean Sea.
Mdina is Malta's medieval capital and truly reflects its 400 year old heritage. A visit to the Old City is worth experiencing - with its enthralling culture you will feel like you're in a different time. Walk the narrow, winding streets, visit the palace courtyards, churches and museums, and enjoy the magnificent architecture and stone work; either with guided tours or on a self-guided audio tour. The old capital still remains largely residential with almost all the buildings being privately owned. Vehicles have restricted access in order to preserve the beautiful cobbled streets and maintain the title given to Mdina of The Silent City.
Top Tip: Don't miss Sergio Muscati's exhibition, Fringe held at the Palazzo de Piro throughout August.
Blue Grotto
Visit the Blue Grotto situated near the village of Zurrieq, west of the Wied iz Zurrieq Harbour for an exciting adventure to discover the caves and see the stunning blue water. Visits to the Blue Grotto started when fishermen at Wied iz Zurrieq Harbour would take people wanting to see the caves on board with them. Now it is a popular attraction and one that is worthwhile visiting to see the picturesque rock formations.
Blue Grotto is the biggest part of a collection of sea caverns carved out in the rock on the southern coast of Malta. And if the Blue Grotto looks familiar, it's because it was used in a scene in the movie Troy starring Brad Pitt. The boats ride into the caverns and you can get a chance to swim around and enjoy the grotto, so visit when the sun is still high to see the amazingly clear, blue water. You can also take a walk along the cliff paths to see the breathtaking views of the Blue Grottos' arch shape. It is only possible to enter the caverns when the weather permits so make sure you check the forecast in the morning.
You can get there on iMalta's ever popular Jeep Safari, which takes you on a guided exploration around the island's hidden treasures. iMalta's Jeep Safari is ideal for all age groups and operates everyday except Friday and Sunday. It's best to book in advance as there are a limited number of spaces each day.
Barrakka Gardens
Barrakka Gardens, a UNESCO Heritage Site offers unparalleled views across the Grand Harbour over to the Three Cities from the fortress walls. A visit to the Barrakka Gardens will make for a lovely retreat from the activity of the town. Everyday at noon you will get to experience the cannons being fired from the gardens into the harbour at the Saluting Ceremony, with a full narrative of the tradition of artillery salutes from the guards.
Barrakka Gardens is described as a green oasis with well maintained plants, flowers and fountains, with the greenery creating a wonderful contrast to the largely stone-walled Malta. To add an adventurous and exciting spin to your visit, book a tour with Malta Segway Tours - the most fun you'll have on two wheels. They offer tours in and around Malta on segways, so you'll be able to zoom around, admiring the beauty of the gardens and its surroundings whilst having heaps of fun. And if you've never been on a segway before don't fret, the professional and friendly tour guides will get you up and going in no time.
Top Tip: If you happen to make it to Malta during 8 -11 August venture to Upper Barrakka Gardens for the Delicata Classic Wine Festival.
Lunch at Rubino
Lunch at Rubino, a cosy restaurant with glossed wooden floors, low arched ceilings, original stone walls and a mix of Maltese and Italian cuisine will be a worthwhile experience. Rubino offers traditional Maltese dishes in an intimate setting and it certainly makes up in character what it lacks in size, with generous portions, friendly staff as well as an international wine list. Not forgetting Rubino's sweet treats, making it hard not to indulge with choices like the Cassata Gelato, a Maltese layered ice-cream, and the Torta tal-Marmurat made with chocolate, crushed biscuits, nuts and candied peel. You'll need to come back again to try them all.
Top Tip: Try the Lampuki (fish) cooked in a pie or fried with a salsa piccante (spicy sauce).
Casa Rocca Piccola
Situated in Valletta, the capital city of Malta, is a stunning palace owned by the noble de Piro family for over two hundred years. It is the only privately owned palace in Malta open to the public. Casa Rocca Piccola was originally built in the 16th century for Don Pietro la Rocco, a knight of Malta. This palace has a great history attached to it, evident from the tour that takes you through the network of tunnels and bomb shelters cut out of the rock underneath the house, used during World War Two. The palace is lavishly adorned by artefacts collected over the years, such as 16th century de Piro family documents, and ancestral portraits of the de Piro family, housed in the Archive Room.
Interspersed with a lot of history, Casa Rocca Piccola is still a family home with 50 rooms boasting centuries of furniture and decorative arts collected from Maltese, Gothic and Florentine styles. You will be able to visit the gallery at Casa Rocca Piccola, housed in the smaller courtyard, and experience the lovely contemporary art with exhibitions by local and foreign artists. If you are lucky, you can come on the day the Marquis is giving the guide and get a chance to meet the family and ask questions. Casa Rocca Piccola is open from 10 am to 4 pm everyday except Sundays, and during Public Holidays tours take place on the hour. Entrance is €9 for adults and €5 for students (children under 14 are free).
Shopping
Although Malta might not be one of the world's fashion capitals, some serious shopping can be done in the newly developed urban area and commercial centre. Not only will you find some real treasures to take back home as souvenirs, but Malta also has a number of popular and high street name brands available. These you can get from The Point, Malta's shopping destination of choice that's easily accessible and offers a wide variety whether you're looking to splurge or treat yourself to something small.
Spa Treatment
After a day filled with exploring and sightseeing around Malta, not forgetting all those shopping bags you're carrying around, a little rest and relaxation is needed to soothe and ease your body and get you ready for the evening. Heaven Beauty Clinic and Day Spa is set in a 400 year old palazzo, situated in the heart of the village square of Naxxar in the northern part of Malta. The beautifully restored palazzo is a wonderful mix of old and new blending together with perfect ease and charm.
At Heaven you can enjoy a wide range of holistic therapies from around the world to balance and restore your body, mind and spirit. There is also a Couples Room where you can do massages or spa packages together, as well as a relaxation area where clients can relax after treatments with a tea ritual.
Dinner at Terrazza
Terrazza is a restaurant and wine bar, and dinner there is guaranteed to be inspired by a friendly and passionate culture. The restaurant is in a peaceful area and has beautiful views across the picturesque Spinola Bay. Their cooking brings together fresh ingredients from Malta and flavours from years of experience, for a relaxing evening and enjoyable atmosphere.
Top Tip: Make a booking before you go to guarantee a table.
Marsovin Cellar Wine Tour
Marsovin, Malta's biggest producer of premium wines, brings together the favourable climate, 17th century wine cellars, imported oak barrels and a serious commitment to wine culture, to create the island's best wine. Opened as a family-run business in 1956, Marsovin has since worked to perfect their wines that are enjoyed both locally and internationally. And with their premium quality and high standards, they've certainly earned their reputation as a household name.
Marsovin Wine is grown across five estates covering 20 hectares of land, each producing single vineyard estate wines. Grand Maitre, launched in 1999, is recognised by wine enthusiasts as one of Marsovin's most popular labels.
Manoel Theatre
No visit to culturally-rich Malta is complete without visiting Manoel Theatre, or Teatru Manoel, which is one of Europe's oldest theatres and at the heart of Malta's cultural scene. It's been heralded as the rediscovered gem in Malta's heritage since its grand reopening in 1960 after a decade-long restoration and refurbishment process. During World War Two it was used as a shelter for the homeless.
Manoel offers a range of productions with both local and foreign talent, including ballet, orchestra, contemporary dance, music and drama. There's even 40 minute concerts put on especially for the little ones. The theatre hosts music festivals, so be on the lookout for these when you visit. You can also enjoy tours around the display rooms and through to the auditorium showcasing the theatres history. And costumes are on hire if you fancy getting dressed up and really capturing the theatre's heritage.
Valletta Waterfront
Valletta Waterfront is set within the majestic Grand Harbour and is the gateway to Malta's capital city . This 18th century baroque wharf offers a mix of retail, dining and leisure experiences. It is a great place to just slow down, relax and take in all of Malta, with its fortifications, historic dockyards, naval ships and the fishing boats moving in and out of the harbour. Not only can you enjoy the views, but you can also soak up the Mediterranean ambience and lively atmosphere of locals and tourists. For an even better view of the waterfront take a boat ride across to the other side of the port.
Head to the town of St Julian for a great night out in Malta. With its more upbeat and modern atmosphere there's fun around each corner and loads of clubs and bars to keep you up until the morning.
Portomaso Casino
The newly refurbished Portomaso Casino can be found in Portomaso's Business Tower in the exclusive St Julian and offers a luxurious and vibrant way for you to enjoy your night. If Lady Luck is on your side try your hand at the casino's Poker Room, the most popular in Malta. If Poker isn't your game of choice, there's a wide and extensive range of slot machines as well as other table games like Roulette and Blackjack. Or make your way to the lounge and bar area where you can sip on a few evening drinks while listening to Jazz and chill-out melodies from local artists. You can also enjoy dinner at the casino's brasserie with a wide selection of dishes made from fresh Mediterranean ingredients.
BarCelona Lounge
This Bar Lounge is the place to see and be seen in Malta. BarCelona is not only great for relaxing and sipping delicious cocktails, you can find a different buzz of activity every night here. On Wednesday night they have fashion shows with models showcasing beautiful designs from outlets on the island and on the weekends BarCelona steps it up a notch to a vibrant club scene with funk house music and live musicians getting the crowds excited. So just choose your night and prepare to have fun.
Gianpula
Malta's largest open air club complex is called Gianpula and is found on the outskirts of Rabat, a suburb in Malta. The complex is set in a farmhouse on 30 acres of land and has three different clubs, a VIP hut, pool area and restaurant - so you can choose which scene best suites you. You'll definitely need to put on your dancing shoes for this one as Gianpula boasts a great sound system as well as a line up of the very best international DJs. They host different events throughout the summer, which is the perfect time to come and enjoy this unique nightclub experience - you'd swear you were in Ibiza.
by Sipelele Ndungane
Last Updated: August 2013