Straddling the Bosphorus strait (half in Europe, half in Asia), Turkey's second city offers travellers a heady mix of east and west. Only here does the Muslim call to prayer ring out at the crack of dawn while partygoers make their way home after a hedonistic night of clubbing. And only here do ancient mosques, palaces, baths and markets sit happily alongside, ultra modern shops, cafes and bars. It's this diversity, and the city's immense energy, that has earned Istanbul the title of European Capital of Culture in 2010 and made it one of the hottest destinations in the world.
Our round-the-clock guide to Istanbul shows you how to get the most out of this amazing city, discover where to admire the city's holy architecture, feast on super fresh seafood or take a boat trip along the Bosphorus.
Blue Mosque
Also known as Sultanahmet Camii and Sultanahmet Mosque, the Blue Mosque is one of Istanbul's major attractions. The mosque itself doesn't open to the public until 9am, but admire its early 1600s architecture and six iconic minarets bathed in morning light for a peaceful perspective.
Address: Off Atmeydani Caddesi, Sultanahmet
Visitor Info: Daily 9am to one hour before dusk. (except during prayer times, five times a day for around 30 minutes). Access is through the north gate.
Markiz Patisserie
The tea time haunt of well-heeled Europeans in the 1930s, this beautiful cafe has had a chequered past. Previously known as Lebon Patisserie on Grand Rue de Pera (now Markiz Patisserie on Ä°stiklal Caddesi, see 2pm) the cafe closed in the 1960s and only reopened in 2007. The interior is largely original and still features art nouveau tile murals by the legendary JA Arnoux and elegant mahogany furniture. The cakes aren't as special as they once were, but the surrounds make up for it.
Address: Markiz Pasaji off Istiklal Caddesi (at 360/109-110), Beyoglu
Kapalı Çarşı or Grand Bazaar
Market sellers have been doing trade at this covered Bazaar since 1460. Today you'll find a colourful collection of tacky souvenirs, hand woven rugs, tea sets, jewelry and Turkish delight. Be prepared to haggle for something you want - and deal with persistent shop keepers!
Address: 65 alleys in and around Kapalı Çarşı in the Beyazıt district
Istanbul Modern
This wonderful art space, set in a converted shipping terminal, presents a good mix of contemporary and traditional works by both Turkish and international talent. Stop in at the gallery cafe for a break: the view of the Bosphorus and the old city is like a work of art itself.
Topkapi Palace
This sultan's palace, built in 1478 in the heart of Sultanahmet (the old city), is packed with Ottoman treasures and sports a colourful royal history. Wander around the pretty grounds featuring courtyards and pavilions before exploring the chambers of sultans, their harem and religious quarters.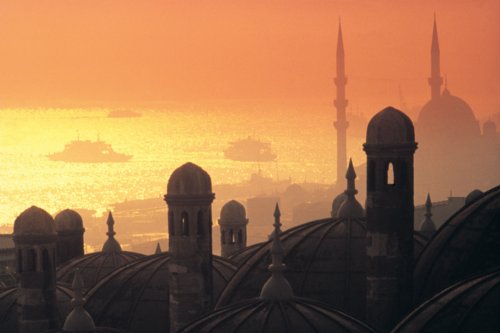 Pera Palas
Enjoy a spot of mid-morning tea at this original 1890s hotel which has recently had a complete makeover (due to reopen April 2010). The grand Pera Palas was known as the hotel of choice for Orient-Express passengers and once counted Agatha Christie, Ernest Hemmingway and Alfred Hitchcock as guests.
Address: Mesrutiyet Caddessi 52, Tepebasi
Tel: +90 212 2228 090
Website: www.perapalas.com
Hagia Sophia
You'll find Hagia Sophia (Church of Divine Wisdom) just across from the Blue Mosque in the ancient district of Sultanahmet. Now a mosque (and museum), the 6th century Hagia Sophia has become a fusion of Byzantine and Ottoman styles with a Basilica-style dome as well as Islamic minarets and Byzantine/Ottoman mosaic interior.
Address: Aya Sofya Square, Sultanahmet
Tel: +90 212 522 1750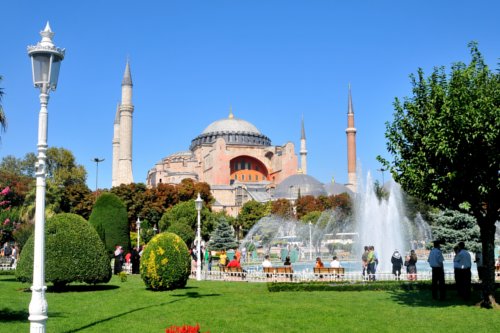 Topaz
Panoramic views of the Bosphorus serve this chic restaurant well. Enjoy Ottoman-Mediterranean dishes such as grilled lamb sweetbread with crushed wheat and porcini risotto, or kumquat crème brulee. There's also a degustation menu that sees premier wines paired with each dish in a six course meal.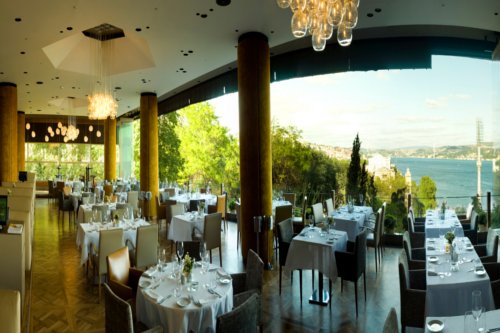 Ä°stiklal Caddesi
Ä°stiklal Caddesi, or Independence Avenue, is a pretty, Parisian-style, historic pedestrian avenue where you'll find the hub of Istanbul's commercial culture. Bars, cafes, restaurants, shops, cinemas and markets range from the hip and expensive, to everyday and affordable. Parade up the street with the throngs towards Taksim Square - the Leicester Square of Istanbul.
Address: Istiklal Caddesi, Taksim
Ortaköy Mosque
Beautifully set on the shores of the Bosphorus, this mid-1800s mosque is a pleasant diversion in the trendy Ortaköy area. The mosque is surrounded by tea houses and restaurants offering views of the mosque, Bosphorus and its bridge. The perfect place to wile away an afternoon.
Address: Ortaköy, Beşiktaş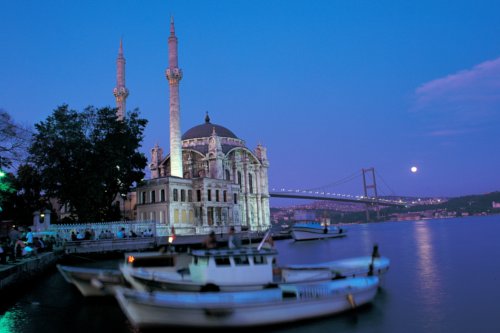 Cemberlitas Hamami
This 16th-century Turkish bath is one of Istanbul's finest. Seperate hot and cool rooms under gorgeous domes are provided for both men and women. Lay down and sweat away your stress before being scrubbed down by a hammam attendant.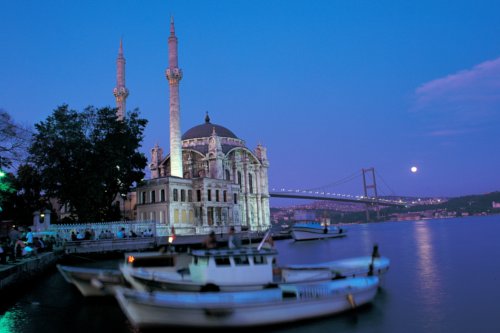 MiniaTurk
Children will love this quirky attraction which recreates more than 100 of Turkey's most famous sights in miniature. Expect to tower over tiny versions of Leander's Tower and the Blue Mosque as well as rides and games.
Kumkapi
Fish fans need to head to the Kumkapi district on the Marmara coast. The area is a hot spot for seafood eateries which spill out onto narrow streets and a small square where musicians play traditional music.
Address: Kumkapi, south Istanbul (Europe side)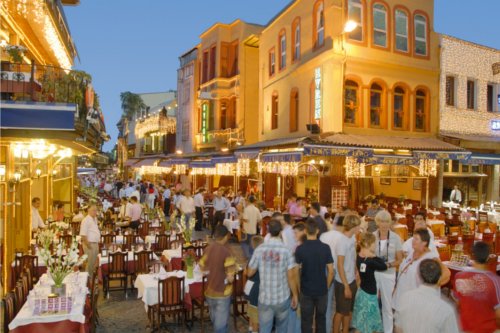 Mikla
Rooftop restaurant Mikla (on the top two floors of luxury hotel Marmara Pera) is the perfect place to dine while watching the sun set over the old city, the Golden Horn and Bosphorus. The food is a unique fusion of Finish and Mediterranean cuisine.
Babylon
You're guaranteed a decent night of live music at Istanbul's popular Babylon. The venue has hosted the likes of Patti Smith, Courtney Pine, Elbow and The National among other international and Turkish acts.
Bosphorus Ferry
Tourists and locals love cruising along the Bosphorous on one of Istanbul's famed Bosphorus ferries. There are various ferry options including commuter ferry boats that shuttle over the Golden Horn as well as longer ferry trips that run up the Bosphorus and from Istanbul's Europe and Asia sides.
Address: Main ports include Karaköy and Eminönü
5 Kat
Turkish movie star Yasemin Alkaya owns this glamourous city bar. Expect a chic interior with dark red walls and plenty of satin and velvet, plus a roof top terrace and cafe offering more of those Bosphorus views.
Address: Soğancı Sokak 7, Cihangir
Tel: +90 212 293 3774
Website: www.5kat.com
Baklava
Baklava - gorgeous sweet treats made with filo pastry, pistachio nuts and syrup - are one of the many foodie pleasures to be found in Turkey. Enjoy with a glass of thick, hot, sweet tea at one of the many teahouses in the narrow streets off Ä°stiklal Caddesi (see 2pm).
Address: In the narrow roads off Ä°stiklal Caddesi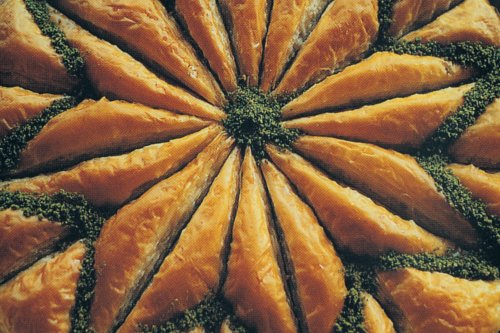 Suada Club
This floating club (yes, floating) bobs about on the Bosphorus somewhere between Europe and Asia. A free shuttle service to the island club can be picked up on shore from Kurucesme Park. Once on board, you'll find three restaurants, an Olympic sized swimming pool and nightclub. International DJs love to spin records here, so check in advance for tickets.
Ghetto Club
World music, funk and jazz is the mainstay at this popular music lounge/club opened by saxophonist Ilhan Ersahin (also behind Nublu in New York). The area around the venue is teeming with restaurants and bars, so head down early for a few drinks.
Address: Kalyoncu Kulluk Caddesi 10, Beyoğlu
Tel: +90 212 251 7501
Website: www.ghettoist.net
Ghetto Club
World music, funk and jazz is the mainstay at this popular music lounge/club opened by saxophonist Ilhan Ersahin (also behind Nublu in New York). The area around the venue is teeming with restaurants and bars, so head down early for a few drinks.
Address: Kalyoncu Kulluk Caddesi 10, Beyoğlu
Tel: +90 212 251 7501
Website: www.ghettoist.net
360 Istanbul
This penthouse club offers 360 degree views of Istanbul as well as nightly DJs and live performance. The swish venue is also open for lunch and dinner. If you're heading there to club, don't arrive before 12midnight!
Address: Istiklal Caddesi 311 (through an unassuming door and up the lift!)
Tel: +90 212 251 1042
Website: www.360istanbul.com
Wanna
This sleek modern Japanese/Chinese restuarant makes way for a hip club come nightfall. Expect international DJs and stunning cocktails until the wee hours.
Address: Tepebaşı Meşrutiyet Caddesi 151, Beyoğlu
Tel: +90 212 268 2222
Website: www.istanbuldoors.com
Witt Istanbul
Tired? Well, there's no better crash pad than Witt Istanbul. Hailed as one of the world's best 100 hotels in the Sunday Times, the luxury hotel offers retro cool interiors; spacious suites featuring a kitchenette, living space and mamouth walk in showers; and a chic bar/breakfast area. It's situated in the Soho of Istanbul, Cihangir, and surrounded by cafes, quirky boutiques and trendy eateries.
Çamlıca Hill
Of Istanbul's seven hills, Çamlıca is the tallest. More than 260 metres high, the hill park offers gorgeous sunrise views.
Address: Çamlıca Hill, Üsküdar, Kısıklı (on the Asia side of Istanbul)
Last Updated: March 2010