White sandy beaches, super-cool clubs and a never-ending parade of beautiful people - yes, Ibiza is the best party destination in the world, but these days there is plenty for families too. Hang at the hippest beach bars and splash at kid-friendly beaches, explore the old town, underground and hippy markets - or simply savour the sunset with our 24 hours guide to Ibiza.
Croissant Show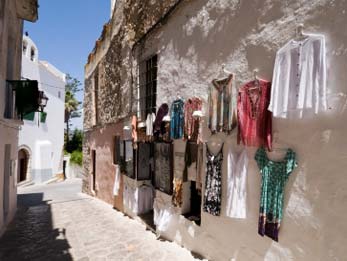 Start (or finish) your day at an Ibizan institution - these freshly-baked pastries are easily the best in town. Sit and watch the vegetable market opposite come to life or get it to go and explore the cobbled streets of the Dalt Villa (upper town).
Address: Mercado Viejo
Tel: + 34 971 317 665
Phoenician Ruins
The Phoenicians arrived here in 654 BC and named the island Ibossim in honour of the god of dance and music. The Poblado Fenicio (Phoenician Ruins) at Sa Caleta is all that is left of their settlements. It's a ten-minute climb from the beach but the views are fantastic - and you can always cool down with a dip afterwards.
Address: Head past the airport, towards Sa Caleta
Aguas Blancas
Some claim this is the best beach in Europe: remote and wild with a hippy vibe - and the crashing waves means it's body surfing-tastic. It's also only fair to tell you this is officially a nudist beach - but you can wear clothes if you want to.
Las Dalias
It started with only five stalls, but now it attracts 20,000 people: Las Dalias Hippy Market is the place to head for tie dye... as well as leather goods, jewellery, and all sorts of arts and crafts from the world over. Open 10am-8pm on Saturdays, with a smaller version on Monday evenings. Generally there's a good vibe but it can get a bit hectic - go early.
Address: Carretera San Carlos KM12
Tel: +34 971 32 68 25
Website: www.lasdalias.es
reVOLVER
The latest face on Ibiza's designer scene is the love child of a London ex-media couple. This is the place to come for a mix of labels you know (Vivienne Westwood, Twenty8Twelve) and labels you'd like to know (Junk de Luxe, Daniele Alessandrini), for men and women.
Cova de Can Marca
Once the haunt of smugglers, Cova de Can Marca is the perfect place to escape the midday sun. The waterfalls may be artificial but the 100,000-year-old caves can't fail to impress - and the view when you come out the other end is amazing. Tours leave every 30 minutes between 11am-1.30pm and 3-5.30pm. Entrance is £5.
Address: Just north of Sant Miquel
Tel: +34 971 334 776
Juan Y Andrea
Jump on the ferry to Ibiza's sister island, Formentera, for the ultimate toes-in-the-sand dining experience. Lunch at Juan Y Andrea doesn't come cheap ... but can you really put a price on melt-in-the-mouth garlic lobster washed down with Champagne Sangria - and followed by a stroll along the beautiful Playa Illetas? You can charter a boat, or ferries run hourly from Ibiza Town or San Antonio for around £20 each way.
Atzaro
A selection of beauty treatments in your own Asian-style temple - pampering doesn't get much plusher than at agrotourism hotspot Atzaro. A converted finca nestled among the San Juan orange groves, it also boasts a stunning Japanese-inspired Art and Cocktail Lounge with Djs and delicious cocktails for immediate re-tox.
Address: Ctra, Sant Joan KM 15
Tel: +34 971 33 88 38
Website: www.atzaro.com
Salinas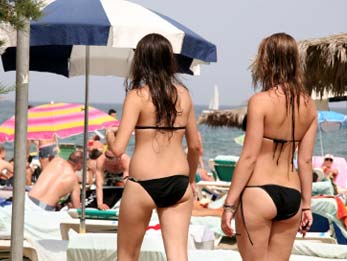 A long sandy beach and crystal-clear shallow waters makes Salinas ideal for children - and a selection of great beach bars means it's ideal for adults too! Kids seem to love Guarana but will also be happy at the Jockey Club and Sa Trinxa - both come with DJ sets and a cooler crowd.
DC10
It's under the flight path and has no VIP area, but Sienna Miller, P Diddy and Kevin Spacey have all been spotted at this unlikely hero of a club. DC10 is (in)famous for its hedonistic Monday rave, Circoloco (4.30pm-6am). Get here when it opens before it all gets too messy...
Address: Carretera de las Salinas KM1
Video: DC10
Dalt Villa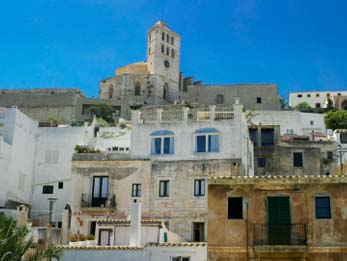 Meander through the tiny cobbled streets of the Dalt Villa (Upper Town), a former walled fortress and now a UNESCO World Heritage Site. You'll find tiny shops and restaurants hidden around every corner, and when you reach Our Lady of the Snows Cathedral - amazing views.
Aguamar
Big slides, swirly slides, steep slides and one called the Black Hole: a day at a waterpark is all part of the Ibiza experience. Clocking up a tally of seven, Augamar is the biggest and best. It's £18 for adults and £10 for children, but you do get a full day of splashy fun.
Address: Behind Space nightclub at Playa Den Bossa
Blue Marlin
The Blue Marlin beach bar hosts DJs and acts all week, but the highlight is an evening with flamenco guitarist Paco Fernandez. Catch his Sunday sunset show from 7pm. Early birds get to bag a ringside Baliense beach bed.
Es Vedra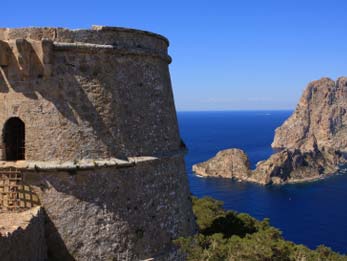 The White Island has its spiritual side, too. Feel the force with a swim in the shadow of the majestic Es Vedra - legendary home to Homer's sirens and, some believe, the tip of the lost city of Atlantis. Either way, prepare to be profoundly moved.
Address: Cala D'Hort, on the south-western tip of the island
Kumharas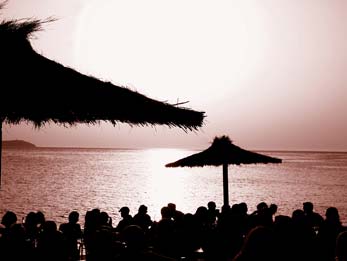 Sunset is the big deal in Ibiza. And sure ... legendary Cafe del Mar still guarantees a great soundtrack, but it gets extremely crowded too. Sneak around the bay to Kumharas in San Antonio - a chilled-out sunset bar with DJs, pirate tower and a bar in a ship - as well as killer cocktails and deliciously exotic food.
Address: C/Lugo No 2, Cala de Bou, San Jose
Tel: +34 971 80 57 40
Website: www.kumharas.org
Ibiza Rocks
Putting San Antonio firmly back on the social map is new opening Ibiza Rocks Hotel, a showcase for a fantastic range of guitar-lead bands and DJs old and new. Acts confirmed for 2009 include The Enemy, Dizzie Rascal and Pendulum - check the website for details.
Address: Calle Cervantes 27, San Antonio
Tel: 0871 716 1099 (UK only)
Website: www.ibizarocks.com
L'Elephant
Jade Jagger and Paris Hilton both like to push salad around their plates at L'Elephant in San Rafael. Super-trendy with a delicious French/International menu (vegetarians get a look in, too), the sofa strewn roof terrace - with stunning views across to Dalt Villa - is the place to be seen.
Base Bar
Ibiza Town's port area kicks into action about now - expect to be met by a number of increasingly flamboyant characters trying to entice you into their bar. But there is only one place to go: the Base Bar. Hang here with the 'in' crowd - some of them famous - before you hit the clubs.
Address: Carre Cipriano Garijo 16, Ibiza Town
KM5
Lounge bar KM5 bills itself as 'the perfect escape from the craziness of Ibiza's pounding club culture" but it's pretty famous for its parties, too. A short drive (about three miles) from Ibiza Town, but worth it for the exotic gardens alone - filled with Moroccan-style tents and sumptuous sofas - this is a great place to soak in the Balearic atmosphere and see some island faces.
Pacha
The epitome of Ibizan glamour, world-famous Pacha is quite simply a must. A labrynthine concoction of rooms and roof terraces, every night has its own theme, unique decorations - and superstar DJs. Two things: it's expensive (expect to pay around £15 for a vodka lemon) and never arrive before 2am.
Address: Avda 8 d'Agost s/n, Ibiza Town
Tel: +34 971 313 612
Website: www.pacha.com
Underground
Catch the last hour at this intimate venue near San Rafael. With no entrance fee it's a firm favourite with islanders and seasoners - but prepare to get sweaty as the dance floor only holds 150.
Address: Carretera San Antonio KM7
Amnesia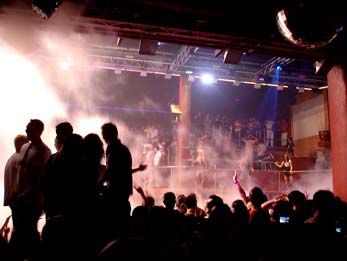 You might recognise this converted 18th-century finca from movies Kevin &Perry Go Large and It's All Gone Pete Tong, but more importantly it was the club responsible for igniting the Ibiza dance explosion back in the '80s. Check out the island's club-culture roots but beware: this is the place of choice for true dance fanatics.
Space
Space first pioneered the 22-hour rave - until Ibiza's new licensing laws kicked in, that is. These days it's open a little later, but you can still party until 6am. 'We Love Space Sundays' continues to rule the roost, but check the website for more great nights.
Address: Playa D'En Bossa s/n, Sant Jordi
Tel: +34 971 396 793
Website: www.spaceibiza.com
Sa Talaia
Climb to the top of Ibiza's highest mountain (475 metres above sea level) in the middle of the San Jose hills and watch the bay of San Antonio come to life below. It's a two-hour trek from Sant Josep, or you can drive some of the way (but only if you're car's up to it - it's quite a precarious drive).
Address: Follow signs for Cami de Sa Talaia. Eventually the track will flatten out slightly and you'll pass a large red and white pylon. Drive a little further before continuing on foot.
Last Updated: April 2009