The motto on Cardiff's crest reads: Deffro mae'n ddydd. Awake, it is Day! The sort of chipper saying that morning people are prone to saying to those of us who struggle to raise eyelids at dawn. But with so much to do and see in the Welsh capital there's no reason to spare a moment sleeping in or slumbering about. From the peaceful Roath Park in the morning to stirring performances at the Millennium Centre at night, this is a city that demands a full day's attention.
Millennium Centre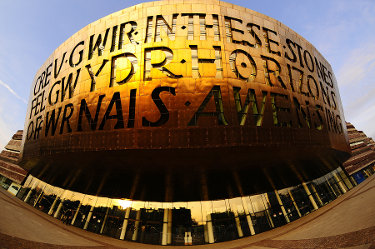 Millennium Centre is the new venue on the block for performance art of all types. The conspicious writing (seen to the right) that dominates the building roughly translates to: "Creating Truth Like Glass From The Furnaces Of Inspiration." A beautiful verse that sums up the purpose of the building. Inside the glitzy glass and steel structure are six performance spaces with the 1,896-seat Donald Gordon theatre as the centrepiece. For those who can't get tickets to the nightly performances, the Glanfa foyer has free lunchtime performances for an entertaining lunch with a serving of culture.
Address: Bute Place, Cardiff Bay, CF10 5AL, Cardiff
Tel: 029 2063 6464
Website: www.wmc.org.uk
Buffalo Bar
Buffalo is the type of bar that has a space to satisfy every inclination. In the mood for fresh air and a beer in the hand, the Beer Garden can take care of that. Late night hunger pangs? There's food for that too. For the John Travoltas among you (and also for those who struggle with basic foot placement) a dance floor is available with a steady supply of live acts on club nights.
Last Updated: May 2012