There's something of the seductress about Cape Town. The city lures you in with her beautiful sandy beaches and stunning mountain landscape, party people, cafe culture, wildlife, wineries and a unique sense of adventure. You can pack in sporty activites (from kloofing to kayaking), sights and culture, or kick back and take advantage of sandy shores, bars and cafes. To get the most out of your stay, see our 24 Hour Guide to Cape Town and find out how to reach the top of Table Mountain without breaking a sweat, the best place for penguin spotting and where to head for afternoon tea.
Kloofing
Sporty types are well served in Cape Town with ample opportunities to surf, sail, walk and dive. The ultimate in adrenaline sports, however, is the rather extreme 'kloofing'. It involves making your way down a waterway (usually a steep one) through a combination of swimming, abseiling, jumping, climbing and sliding. Sounds fun, doesn't it? Book with a reputable operator such as Abseil Africa.
Africa Cafe
It's lunchtime - the perfect time to try traditional African cuisine from across the continent and there's no more lively, friendly or tasty place to get stuck in than Africa Cafe. Dishes range from Kenyan Coconut Chicken to Malawi Mbatata Cheese and Sim Sim Balls. Yum.
Table Mountain Cable Car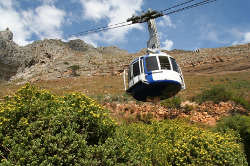 You can walk, rock climb, cycle... or take the cable way. Views from Table Mountain are going to look spectacular whatever you do, but this hi-tech cable car is worth a ride. Each car rotates, giving everyone a 360-degree view on the way up.
Cape Town's Beaches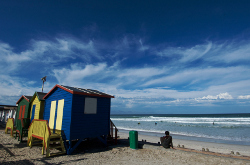 Though the water can be a bit on the nippy side off the coast of Cape Town, there's still a buzzing beach life. Camps Bay (see 9pm) is where to people watch the rich and famous; Boulders is the best for sheltered sunbathing and penguin company (see 2pm). Surfers should head to Llandudno or Muizenberg; False Bay is for swimmers while Sandy Bay for naturists.
Mount Nelson Hotel
If you don't have the cash to crash at this hotel, sneak in through the back door for its legendary afteroon tea. The buffet style affair offers a delectable range of cakes, pastries and finger sandwiches as well as savoury empanadas, endless pourings of tea and (if you're feeling naughty) champagne.
Rhodes Memorial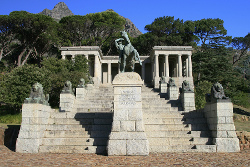 Not only does Rhodes Memorial have stunning views of the city, but it's right next to the Kirstenbosch Botanical gardens (see 8am). Bring some wine and crackers and enjoy an end-of-day picnic with a view.
Garden Route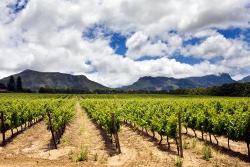 The Garden Route (or Garden Trail) runs along the stunning Western Cape coastline. While the wildlife and ecology on this route make for breathtaking views its the locally brewed beer and wineries that make it so special. You can enjoy all three on a self drive tour of the region; the wineries in particular are well marked off Route 62 out of Cape Town. Happy Holiday organise a seven-day wine tour through the various wine growing regions stopping off for regular tastings.
Sports
South Africa is the only country other than England to have hosted the Soccer, Cricket and Rugby World Cups. The more recent Soccer World Cup was a roaring (or should we say 'vuvu') success and highlighted the magnificent sports infrastructure that Cape Town has. With Newlands Rugby Stadium, Newlands Cricket Ground, Athlone and Cape Town Stadiums for Football there's plenty for the sports fan to enjoy.
Address: Newlands Cricket Ground and Rugby Stadium: Boundary Road, Newlands. Athlone Stadium: Klipfontein Road, Bridgetown, Athlone. Cape Town Stadium: Greenpoint.
Artscape
The cultural centre of Cape Town regularly serves up the best in Mother City art - from classic ballets like the 'Nutcracker' to uniquely South African plays to cutting edge exhibitions showcasing local talent. The locally produced operas are a especially good for family entertainment.
Camps Bay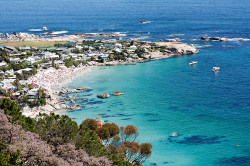 See and be seen lounging among the well-heeled of Camps Bay. The beach attracts not only the rich and famous, but the body beautiful too - making it a particularly attractive place to to start an evening out. Watch the sun go down while enjoying a cocktail in one of the many fancy bars along the promenade.
Green Dolphin Jazz Bar
The Green Dolphin's fame precedes it, so don't be surprised if you bump into a few other tourists here. Despite being a popular stop at the V&A Waterfront, the quality of the nightly jazz is incredibly high, while tasty cocktails and fresh seafood make it a sure fire hit. Arrive early to avoid the packed bar, or book a table.
Address: V&A Arcade, V&A Waterfront
Tel: +27 (0)21 421 7471
The Grand Cafe and Beach
The Grand Cafe and Beach may modestly make use of a former boat house, but it's another of Cape Town's rather upmarket hangouts. The Grand has three bars in the city, but this is the only one where you can sip cocktails in the open air, on the beach.
Signal Hill and Lion's Head
Take a late night drive up Signal Hill to get a stellar view of Lion's Head, Table Mountain and the shimmering Cape Town below.
Mr Pickwicks
Mr Pickwicks restaurant is a favourite spot for travellers needing to recharge. After a lengthy day of wandering down the Long Street strip, what better way to unwind than enjoy the Mr Pickwicks 5-7 pm Happy Hour or the Buy-One, Get-One-Free selected cocktails from 7-9pm. Mr Pickwicks is known for its owl-like tendencies and its rustic and grunge interior is very welcoming to party-hopping individuals looking to indulge in late night/early morning hangover cures. Its most celebrated menu item is the decadent and delectable milkshakes offering, such as as Oreo, blueberry cheesecake or butterfudge flavours. The menu is varied and the chicken mayonnaise toasted sandwich is a knock-out.
Address: 158 Long Street
Tel: +27 (0)21 423 3710
Greenpoint
Capetonians know how to party hard and Greenpoint offers up a wealth of clubs and bars for the night of your life. The addition of a world class stadium which has an urban park makes it a nice space to hang out during the day.
Long Street
Long Street is not only one of the oldest streets in Cape Town, it also forms the centre of the city's nightlife. Enjoy the architecture, traditional Turkish baths, street markets and shops during the day, before hitting the bars at night. Try Jo'Burg at 218 for hip hop and a cool crowd, Zula Sound Bar at 194 for trendy live music and Fiction at 226 for late night/early morning clubbing.
Twelve Apostles Hotel & Spa
If you don't have the pleasure of staying at this luxury hotel, stop by for an early morning breakfast at its 24 hour cafe. Choose anything from a posh fry up to West Coast Mussels, while looking out onto views of Table Mountain.
See the Cape Town Sunrise from a Sea Kayak
Escape land altogether and sail out to sea in a kayak. Operators organise sunrise and sunset sails giving you the opportunity to enjoy this beautiful time of the day with only seals for company. Bliss.
Last Updated: May 2010