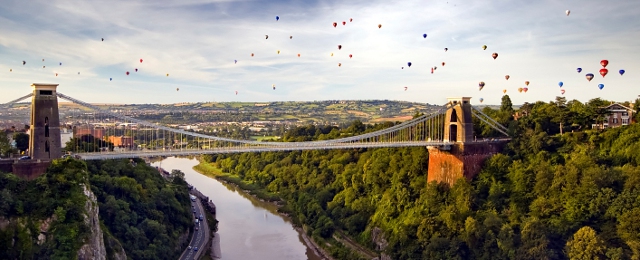 Situated in South West England, Bristol is one of the country's most vibrant cities. It lies along the River Avon and is famous for its large docks, outstanding architecture and rich heritage. As the birthplace of street art legend, Banksy; poetic genius, William Wordsworth; and Hollywood legend, Cary Grant, Bristolians will tell you that there's no doubt that this city is absolutely saturated with arts and culture. If you're going to be taking a short trip to Bristol, it's essential to squeeze in as much sightseeing as you can - there's really so much to do and see here. In this month's 24 Hour Guide, I've chosen (with great difficulty, I might add) some of the best ways to experience Bristol in 24 hours - from morning to night.
Breakfast At Lockside
If you're keen for some casual dining in a relaxed and friendly atmosphere, Lockside is the place to go. While they serve delicious lunches and early evening dinners, it's their breakfasts that Bristolians swear by. The menu is extensive with great prices. Sit on the deck and enjoy views of the Clifton Suspension Bridge while sipping on coffee to start your day - and eating one of their tasty breakfasts, ranging from the simple Early Bird and traditional English Breakfast, to dishes with salmon. If you want something to cure your sweet-tooth, they also have pancakes, muffins and tea cakes. The café opens at 7 am Monday to Friday, 8 am on Saturday and 9 am on Sunday, and closes at 4 pm every day of the week.
Handy Tip: Make sure to take your camera with you. The restaurant used to be called Popeye's Diner, which was occasionally the setting for Sid's Café in the famous Only Fools And Horses series.
Banksy Walking Tour
Bristol is the birthplace of Banksy, which means that the city is filled with original Banksy street art from when he was just starting out. If his original art on the buildings and streets of Bristol is something that tickles your fancy, you'll want to go on a self-guided Banksy walking tour. While many of the pieces you're likely to come across anyway, there are a few that are must-sees and should be included on your tour. Artworks such as the Grim Reaper on the side of the Thekla (the famous boat anchored in the harbour), the Well-Hung Lover on the side of the sexual health clinic and the Masked Gorilla on the Bristol Social Club, are all among his most famous. To help you out, there is a brilliant app called the Banksy Bristol Tour App, which will give you a virtual tour so that you can map your own out.
Handy Tip: To plan your tour, it's best to have a map with you and to mark off the areas where you will find Banksy's art.
Take a look at some of Banksy's most famous street art around the world in the video below:
Georgian House Museum
If there's one thing to say about Bristol, it's that it has a rich and varied heritage - the Georgian House Museum is proof of this. The "townhouse" was built in the 18th century for John Pinney and stands six storeys tall. Pinney was a wealthy owner of a slave plantation and lived in this house with his slave, Pero. The house is displayed as originally as possible (although some restorations had to be done) and it even has some of the original furniture, bringing an authentic feel for any visitor. Best of all, you can view the house for free. You get to see all 11 rooms, including the kitchen, basement, Pinney's office, the library and his plunge pool, to name a few.
Handy Tip: Book a tour of the house so that a guide can walk you through and fill you in on all the interesting stories it holds.
Castle Park
As summer is around the corner finally, it's time to grab those picnic baskets and get some much-needed Vitamin D. Right in the centre of the city and along the Floating Harbour, you'll find the beautiful Castle Park. The park has a bandstand and is a popular venue for events and festivals throughout the year. There is also a play area for children and a kiosk, so you can have a great day in the sun with the whole family.
Many people go there for the park's great history - it was bombed in World War Two and as a result features the ruins of the Bristol Castle and St Peter's Church. There is also a plaque with all the names of the victims of the 1940 air raid, and you can sit amongst the memorial trees planted in honour of Anne Frank.
Back to top
Lunch At Pieminister
We all know how the Brits love their pies, it's one of the traditional dishes after all! So I think there's nothing more fitting than to have lunch at Pieminister - home of the tastiest pies in the country. Pieminister opened for the first time in 2003 in Bristol and has since expanded its branches to London, Oxford, Trentham and will be arriving in Manchester May 2013. While their pies are sold in loads of supermarkets and delis, it's definitely worth stopping by at the actual place for some lunch. There are simply too many pies to list, but it's good to know that they're all made from the freshest ingredients courtesy of local-only farmers. You simply cannot go wrong by tasting Pieminister's multiple award-winning pies.
For more information: www.pieminister.co.uk
Bristol Zoo Gardens
Visiting Bristol Zoo Gardens is like stepping into the ultimate animal kingdom. The famous zoo was opened way back in 1836 and is the perfect way to spend an afternoon. It's home to a huge number of different species, including penguins, gorillas, the rare red panda and lions. The various sections of the zoo are designed to resemble the animals' natural habitats as accurately as possible. If you're more interested in the smaller species, there is also a Bug House, an Aquarium and a Reptile House.
Bristol Zoo often hosts fun events, and May 2013 will not be a disappointment. Go there on 12 May for the fundraising fitness event, Zumbathon. Discovery Day on 18 and 19 May is especially for the little ones - they can learn about animals and take part in arts and crafts. Lastly, DinoZoo2 is back from 23 May all the way until 8 September, where 12 realistic dinosaurs will be displayed throughout the zoo. This is definitely not a place you'll want to miss out on if you're in Bristol with the family.
Handy Tip: If you're an animal lover and feel like helping out, you can always make a donation to the zoo or even "adopt" an animal such as a lion or red panda.
For more information: www.bristolzoo.org.uk
Bristol Pirate Walking Tour
Not many people are aware of this, but Bristol has a rich history of pirates. So rich in fact, that there is an actual Pirate Walking Tour - led by guide Pirate Pete. Pirate Pete takes you on a tour around Bristol to all the spots famous for their piracy history. The walk is generally an hour long and takes you around the harbour where you will see John Carbot's ship, Matthew of Bristol. You also get to see John Carbot's statue, Smuggler's Cave and the home of the pirate of all pirates, Blackbeard.
Not only is this tour a fun spin on history, it's also an affordable activity - tickets go for £7.50 per adult and £3.50 per child. Another plus is that tours take place throughout the year, every Saturday and Sunday, from 2 pm. You'll want to book in advance though, as spaces fill up quickly.
Brunel's ss Great Britain
With a slogan like "Discover the ship that changed the world", Brunel's ss Great Britain should be on every visitor's list of things to do in Bristol. The ship was launched from Bristol as a passenger ship in 1843 (it was the largest ocean liner at that time), served as a warehouse at Falkland Islands from 1886 until 1937, was restored in 1969 and then safely returned to its hometown in 1970.
This is quite an incredible journey, so it's best to see all of it for yourself and visit the ship. Tickets go for £12.95 per adult and £6.75 per child - make sure you keep your ticket safe as it includes free returns to the ship for a year. The museum ship is open from 10 am until 5:30 pm daily, and you get to view the first class passenger cabins, the engines, and even go explore the ship below the waterline to see the world's oldest iron hull.
Handy Tip: Make sure to visit the Dockyard Museum too, where you can learn the timeline of the ship in extraordinary detail.
For more information: www.ssgreatbritain.org
Back to top
Dinner At Cowshed Bar And Grill
Besides the tastiness of their food, Cowshed Bar and Grill also has a couple of other qualities about them that I'm particularly fond of. As an animal lover, I find it very comforting to know that this restaurant knows exactly how their meats have been farmed - and they make sure it's all ethical. Not only that, but they also make sure to get all their ingredients supplied to them by the local farmers . Famous for their juicy steaks, Cowshed offers a relaxed atmosphere for you to enjoy your dinner. They now have a "Steak on Stone" feature on the menu, where diners can fry their own steaks to perfection on a hot stone - an interesting and unusual twist on a night out for dinner.
Cowshed Bar And Grill are open from Monday to Saturday, 12 pm until midnight, and from 12 pm until 3:30 pm on Sundays.
Clifton Suspension Bridge
The iconic Clifton Suspension Bridge is a great way to start off the evening. Built in 1864, the bridge spans the Avon Gorge and stands 246 feet above the tide. While they offer free tours during the day (10 am to 5 pm), it's a worthwhile experience to take a walk and see the almost 150 year old structure become silhouetted in the twilight. And if you happen to visit before 5 pm, you can learn all about the bridge - from conception, to design, to execution - in the Visitors Centre. There are also plenty of original souvenirs there for you to admire as well as a shop filled with postcards and souvenirs that you can take home with you.
Handy Tip: If you are going to the bridge specifically for a tour, you'll need to go within opening times - you can always stick around after the tour to see the sunset.
For more information: www.cliftonbridge.org.uk
Millennium Square
You won't want to miss out on an evening stroll through Millennium Square, especially on a warm, summer evening. And, as summer is coming up, I thought I had to include this as a great thing to do in the early hours of the night. Not only is it enough to marvel at the wonderfully lit up square's huge water feature and giant (what can only be described as) silver disco ball; it also has many features that spring this flat piece of land to life.
For the avid sports' fans, Bristol's Millennium Square is home to one of the 22 BBC Big Screens situated throughout the UK. This 270 square foot screen often shows important sport games, making it a great experience for all fans. There are also a number of bronze statues in the square, such as one of Bristol-born Cary Grant.
Handy Tip: Check out the city's social calendar if you're heading there in the summer - the square plays host to many festivals and events.
Bristol's Floating Harbour
For a breath of fresh air in the evening, I suggest taking a walk along Bristol's famous Floating Harbour. Constructed in 1809, acres and acres of tidal river were removed so that incoming and visiting ships could always stay afloat - hence the name Floating Harbour. The harbour closed in 1975 and is now one of Bristol's main attractions. If you're visiting during the day, there are a couple of ways to experience it, such as sailing or walking along the harbour. You will also be able to see the lovely nature that surrounds it, including mute swans, mallard ducks and an array of flowers. But it's the harbour at night that you'll want to see. Grab an ice-cream this summer and take a stroll along the harbour while admiring the view of the city lights reflecting off the Avon waters.
Take a look at the video below for some history on the Floating Harbour:
Back to top
Late Night Dining At Magic Roll
There's nothing like that intense hunger you feel after a good night out. Magic Roll has recently opened under new management and proves to be a popular spot for night owls. This is mainly due to their delicious sandwiches and wraps served until late - and of course the cheap price tag that comes with them. From 10 pm onwards, you can get your own 'made to order' sandwich. They have vegetarian and meat options, as well as extra snacks and drinks. A medium toasted sandwich goes for £4.50 and a large is £6. Definitely worth a stop-by on your way home.
The Seven Stars
When you step into The Seven Stars pub, you truly feel as if you've stepped back in time. Built in the 17th century, the pub today is still as original as possible. The Seven Stars is known for its variety of tasty, real ales. Besides enjoying the real ales, you can play pool or darts, or relax to the music of live bands on Saturdays and Sundays.
There is also a humbling history behind the pub. Thomas Clarkson, the legendary anti-slavery activist, met up with people in this very place to get information on the slavers' accounts. He later used this information to present to parliament in support of the abolition of slavery. Something to think about while you're casually sipping on an ale.
For more information: www.7stars.co.uk
Bristol Hippodrome Theatre
With over 60,000 performances under its belt, the Hippodrome Theatre was built in 1912 and can seat 1,951 people. A visit to Bristol wouldn't be complete without seeing one of the world-famous shows at this grand theatre. The theatre has staged some of the most popular musicals to date, such as Cats, Les Miserables and The Phantom of the Opera. Hippodrome was destroyed in a fire in 1948, but luckily reopened just 10 months later - better than ever.
Besides the entertaining shows of all genres that are staged here, there is another unique feature. The roof is a dome that is able to open to reveal the starry skies above. So, if you feel like being entertained in Bristol, this is definitely where you'll want to be. In May, you can enjoy shows such as The Mousetrap and Bohemian Rhapsody: A Tribute to Queen.
Handy Tip: Go there during lunchtime before 15 July and you can experience some lunchtime choir training at the theatre's Piano Bar.
Thekla
If you went on the Banksy Walking Tour, you would've come across his Grim Reaper painting in the Floating Harbour right on the side of the Thekla boat. This is also where you will experience a night out to remember. Thekla is one of the best nightclubs in the city and hosts many live music acts. Franz Ferdinand and Pete Doherty are among the famous names to grace the club - although Thekla also likes to showcase local bands.
Â
While the club is known for its Drum 'n Bass scene, it also has a variety of party nights throughout the week, catering to all types of music fans. There are certain themed nights such as Pressure on Thursday nights, where they only play the best alternative music and drinks are two for one, and Pop Confession on Saturdays, where they play all the cheesy pop music, from old school to new. In May, you can enjoy some live performances by Katey Brooks, The Stringerbessant Band, Sense Fail and a lot more.
Handy Tip: It's great to get there early in the summer so you can sip on a drink while soaking up some sun on the decks.
Back to top
Last Updated: May 2013