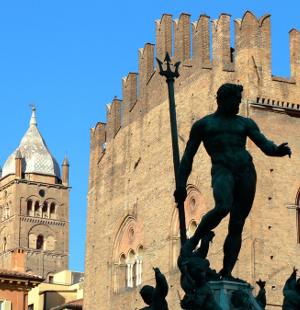 A true medieval cityscape, Bologna is full of Portico's and Renaissance towers, not to mention a culinary treat. Gourmet Bologna offers visitors alfresco dining, watch the world go by while dining on the best mortadella, pasta and chocolate. With an excellent mix of bars, restaurants and sights, no traveller visiting Bologna will be bored. We've put together a 24 hour guide on the best this city has to offer.
Gamberini
Take your morning coffee at Gamberini, the oldest bakery in Bologna. The Italians like their coffees strong and they drink it fast, standing up. If you've a little more time, take a table and enjoy one of the mouth-watering pastries. The good news is that many cakes come in miniature if you are trying to be good!
Two Towers
Fortified by your espresso, climb one of the two Towers, the symbols of Bologna, found at the Porta Ravegnana Square, but visible from just anywhere in the city. Dating from the 12th century, these towers fulfilled an important part of Bologna's military defences, and you can now climb the tallest, The Asinelli Tower. Standing at almost 98 metres, it has a whopping 498 steps. Phew.
Compianto sul Cristo Morto
You'll find this collection of terracotta statues, by artist Niccolo dell'Arca, depicting the aftermath of the Crucifixion at Santa Maria della Vita. It's both haunting and powerful and the expressions of pain and agony are said to be modelled on the patients of the hospital to which the church was attached.
Bologna's Food Markets
Just off the main square, Piazza Maggiore, is the Quadrilitero District, Bologna's food sector, mainly consisting of the narrow streets of Via Clavature, Via Pescherie Vecchio and Via dei Orefici. Here you will come across rainbows of fresh fruits and vegetables, shop windows piled high with tagliatelle and tortellini, huge hunks of parma ham, prosciutto and Mortadella, just waiting to be sliced.
Teatro Anatomico
Part of the University of Bologna Medical School, Teatro Anatomico was built in the 14th century and is a round lecture hall where University students learnt about anatomy by watching autopsies on a marble slab. Despite this gruesome aspect, the room is beautifully clad in cedar wood, with ornate but disturbing statues and carvings both above and around the room. You'll find this at The Palazzo dell'Archiginnasio.
Tamborini
If the foodie streets have got your mouth-watering, head to Tamburini, on Caprarie Street. Here you can lunch on many different types of ham, bread and cheese, whilst dipping chunks of Parmesan cheese into syrup-thick Balsamic vinegar. Order a large glass of house Sangiovese to accompany it, and you'll have the perfect lunch. Perch at one of the tables outside and you can watch the world go by as you nibble.
Underground Bologna
Discover the labyrinth that lies beneath Bologna. On this tour you'll explore the Bagni Di Mario, a large underground gothic reservoir going back to the 16th century, the stalagmite and stalactite covered Roman aqueduct of Ponteccio Marconi, the underground canal and port, and Roman Archaeological remains.
Porticos
If it's hot (or raining!) explore Bologna's 40km of Porticos - covered paths where you'll find shelter from the elements. Built in the Middle Ages, you can still see some of the very first Porticos in the historical centre in the wooden portico of Isolani House on Strada Maggiore, and the portico of the Reggiani in Piazza della Mercanzia. Bologna is also home to the longest Portico in the world. It starts just outside the city walls and takes you to the Sanctuary of the Madonna di San Luca on the top of the Colle della Guardia.
Cremeria Funivia in Bologna
Just to the South of Piazza Maggiore lies one of Bologna's most celebrated gelateria. It does look oh so slightly clinical, but don't let that dissuade you. Here you will find such flavours as dark chocolate and ricotta Cassata Siciliana, as well as cherry Amarenata, along with various chocolates and sweets.
Manjani Chocolate
Chocolate lovers will want to to make a stop at this famous Bolognese chocolate house, which can trace its origins back to the eighteenth century. Not only famous for its chocolate, these Bologna premises were also one of the first places to have electric lighting! Recognised since the nineteenth century as one of the finest in Europe, this award winning chocolatier is situated on Via De' Carbonesi, but only open during the cooler months of the year.
Galleria Cavour
If in Italy, shop! Whether you are window shopping or have a little cash burning a hole in your pocket, this is the place to to find the famous Italian designer shops: Armani, Prada, Fendi, Bulgari, La Perla, Gucci etc, they are all there.
Pinacoteca Nazionale di Bologna
This is the National Gallery of Bologna, and is housed in a former Jesuit college. You can't help but gasp in admiration at the beauty and power of some of these worldwide acclaimed works of art from 14th to 18th centuries. Look out for St Cecilia by Raphael, Titan's Christ and The Good Thief, The Visitation by Tintoretto and El Greccos' the last Supper. On the Via Belle Arti.
Drink a Spritz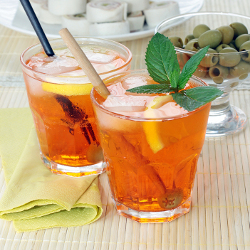 Early evening, many Italians settle outside their favourite bar and sip a Spritz. This orange coloured drink is a concoction of Prosecco and Aperol (or Camperi if you'd prefer something more bitter). Many bars will serve a tasty and often filling array of nibbles with drinks; some even have a buffet where you fill your plate. Perfect for people on a budget, you may even find you don't need dinner! (Some bars will make a small surcharge for the buffet).
Piazza Santo Stefano
The Square of the Seven churches. While this is definitely also worth a visit during the day, it is a magical place to sit and people watch in the early evening and if you are an architecture fan, admire the diverse styles of the churches that date back to the eighth century, or further.
Osteria del Sole
Back in the foodie Quadriletero District, the Osteria del Sole is the oldest bar in Bologna and you can bring your own food! You will need to get here early if you want a seat - crowds spill out onto the street it is so popular. Don't expect grand surroundings. This is rustic and basic but strong on atmosphere.
Le Stanze
Housed in a former 16th-century palace chapel on Via borgo di San Pietro, here you can sip your wine surrounded by beautiful frescoes and intricate hand painted walls. Serving food as well as wine, this is perfect place for a spot of cultured dining.
Cantina Bentivoglio
If you like a bit of jazz with your drinks and dinner, Cantina Bentivoglio on the Via Mascarella, which hosts live jazz, is something of a Bolognese institution. Famous for its traditional rich Bolognese sauce and pasta, this is where the locals dine.
Teatro Comunale
Viewed as being a serious competitor to Milan's La Scala, here you can watch and listen to acclaimed opera and ballet, as well as catch cinema screenings. The surroundings inside are in stunning Belle Epoque style and date from the eighteenth century. Get a private box for the ultimate experience at Largo Respighi.
Cinema Lumière
Head here to find films you will be hard pressed to find anywhere else. Cinema Lumière, on Via Azzo Gardino, shows rare films, restored classics, independents and films no longer on distribution or ignored by the market, subtitled in English. With two screens, it changes its schedule daily and also holds events with filmmakers and other members of the film industry.
Piazza Maggiore
This piazza is the main rendezvous for Bologna, and day or night you'll find it alive with both tourists and locals. Take a stroll past the iconic statue of Neptune, the beautiful floodlight palaces and cathedral, as well as musicians and performance artists. You'll often find events going on, as this is the venue for many sound and visual projects, outdoor film festivals and art installations.
La Corte degli Aranci
One of the city's favourite nightspots where you can boogie as well as dine. The Court of Oranges on Via S. Fermo is set in yet another historic building, and hosts both live shows and DJ evenings. In the summertime, you can even dance in the garden complete with bamboo huts!
Covo Club
If something indie is more you thing then this is the place for you. You'll need to head out of the City to get here, but the small venue gives an intimate feel to the experience. Coco Club hosts both homegrown and European acts. Found at Viale Zagabria.
University District
There is a gihe choice of bars in the student district around Via Zamboni. If you have doubt about Bologna's politics, take a close look at the communist graffiti that you'll see almost everywhere! If you're looking for a raucous party atmosphere with English and Irish style pubs this is the place. If there's a football match you want to see head for Clauricane for the best atmosphere.
Trattoria da Pietro
Small but busy, this family restaurant keeps both locals and tourists coming back, and has a lovely verandah area if you can get a seat. This is probably one of the best examples of unpretentious Bolognese dining. Look out for wild boar on the menu, as well as many other specialities of the region - parmesan, parma ham, fresh pasta. Finish it off with a lemoncello. On the Via de' Falegnami.
Last Updated: February 2014