An iconic 20th century city, Berlin is as famous for its edgily imaginative Arts and no-holds barred club scene, as it is a sober reminder of the shame of ethnic persecution. Berlin is a city of hope and change, and is arguably the cultural heart of Europe. So whether you're looking for remnants of the Berlin wall, or a shady beer garden, a hidden Baroque church, stylish boutique, burlesque show, or some hard-core German techno, our 24 Essential Hours guide to Berlin willl take you right there.
Landwehrkanal
Start your day with a jog along the leafy Landwehrkanal and enjoy Berlin's prettiest houses (and most attractive locals). The best stretch is by Schönleinstrasse station.
Address: Landwehrkanal, Kreuzberg
U-Bahn: Schönleinstrasse
Cafe Einstein
Art nouveau Cafe Einstein is possibly the city's most atmospheric spot for breakfast, coffee and cakes. Bag a table with a good view of the crowd - an intriguing mix of arty types and rich women wearing silly hats.
Address: Kurfürstenstrasse, 58, Schöneberg
Tel: +49 (0)30 261 50 96
Website: Cafe Einstein
U-Bahn: Nollendorfplatz
Berliner Fernsehturm (TV Tower)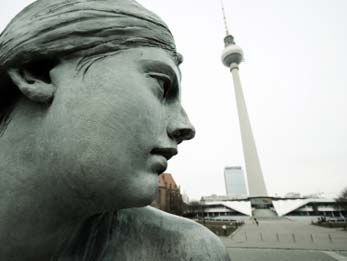 Could East Berlin's TV tower be Europe's most glorious bit of communist kitsch? Take the lift up to the flamboyantly shaped tower's observation deck and revolving cafe for stunning 360-degree views. Just don't expect much of the coffee.
Address: Berliner Fernsehturm, 1a Panoramastrasse, Alexanderplatz, Mitte
Tel: +49(0) 30 242 33 33
Website: tv-turm.de/
U-Bahn: Alexanderplatz
Berliner Zoo
Berlin Zoo is like the Hollywood of the animal world. Stars like 'Bao Bao' the panda have drawing power comparable to any celebrity. Famous former residents include the polar bear Knut who has a wiki page dedicated to him. Ask nicely and you might even get a paw-graph from the next big zoo star.
Address: Hardenbergplatz, 8, Charlottenburg
Tel: +49 (0)30 25 40 10
Website: zoo-berlin.de
U-Bahn/S-Bahn: Zoologischer Garten
Kreuzberg Market
Make like the locals and rummage around one of Berlin's many street markets. On Tuesdays and Fridays, Kreuzberg's bustling Turkish market along the Landwehrkanal offers proper Turkish coffee and home-made Turkish Delight.
Address: Wochenmarkt Kreuzberg (Tuesday and Friday), Maybachufer, Kreuzberg
U-Bahn: Schönleinstrasse
Wannsee
Berlin's best kept secret: the beautiful chain of forest-fringed lakes less than 30 minutes from the city centre. Take a two-hour boat cruise, and sail between the sprinkling of little islands with their picturesque waterfront palaces.
Address: Seven lake boat cruises, departing from the landing stage just opposite Wannsee S-Bahn station
Tel: +49 (0)30 53 63 600
Website: www.sternundkreis.de
S-Bahn: Wannsee
Nola's
Tuck into tasty Swiss food at Nola's, currently the hottest dining spot in East Berlin's trendy Prenzlauer Berg district. Housed in a curiously cute 1950s chalet-style building, Nola's sun-deck looks out over a lovely park and old vineyard.
Address: Nola's Am Weinberg, Veteranenstrasse 9, Mitte
Tel: +49 (0) 30 440 40 766
Website: Nola's
U-Bahn: Rosenthaler Platz
Alte Schönhauser Strasse
If you want to be down with the kids, go shopping in and around the Mitte's Alte Schönhauser Strasse. It's heaving with the cream of Berlin's edgy independent boutiques, all flogging hip clothing at better prices than you'd find them in Britain.
Address: Alte Schönhauser Strasse, Mitte
U-Bahn: Weinmeisterstrasse
The Jewish Museum
Celebrating 2000 years of Jewish history, and the first building to be conceived after German unification, Daniel Libeskind's incredible museum, spans the old East/West divide. Its twisting façade and dramatic interior are as striking as they are memorable.
Adlon Day Spa
The spa of Berlin's most famous hotel has a sleekly understated complex of saunas, steam rooms and pools, plus a bevy of masseurs and beauty therapists to ease your every ache (though it might send a spasm through your wallet).
Address: Adlon Day Spa, Unter Den Linden 77, Mitte 7
Tel: +49 (0) 30 2261 1220
Website: www.hotel-adlon.de
U-Bahn: Unter Den Linden
The S-Bahn Tour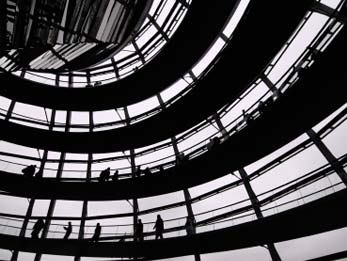 For a budget-friendly whistle-stop tour of the city sights, take an elevated S-Bahn train from Zoologischer Garten to Alexanderplatz. You'll see the presidential palace, the Tiergarten Park, the victory monument, Reichstag, TV Tower... and all for just a few euros.
Address: Zoologischer Garten S-Bahn Station, Hardenbergplatz, Charlottenburg
Bierhof Rüdersdorf
It would be a pity to visit Germany without visiting a beer garden. This seriously chilled-out version is based around a sort of huge climbing frame filled with lounging benches - a world away from lederhosen and oompah music.
Address: Rüdersdorfer Strasse 70, Friedrichshain
Tel: +49 (0)30 293 518 30
Website: Berlin's Best Beer Gardens
S-Bahn: Ostbahnhof
Badeschiff
Floating on the river Spree and backed by an artificial beach complete with hammocks, sand and live DJs, the Badeschiff is a floating platform and a deeply hip hangout. It stays open through the wee small hours, until the last swimmers have dried off.
Address: Eichenstrasse, 4 Treptow
Tel: +49 (0)178 950 0163
Website: Badeschiff
U-Bahn: Schlesisches Tor
Casino Berlin
Get your glad rags on and catch the last hour's poker at Berlin's casino. Perched on top of the Park Inn Hotel, the casino's great views of the city's twinkling lights are a sure-fire win, if your time at the roulette wheel doesn't work out as you hoped!
Address: Park Inn Hotel, Alexanderplatz 8, Mitte
Tel: +49 (0)30 2389 4144
Website: Casino Berlin
U-Bahn/S-Bahn: Alexanderplatz
Berghain
Dress down, not up to get into this throbbing anything-goes nightclub. Housed in a cavernous former power station, Berghain offers three booming floors of techno, house and electro - there's a mixed-gay crowd and even a semi-hidden ice cream parlour. No one arrives before 2am.
Address: Am Wriezener Bahnhof, Friedrichshain
Website: www.berghain.de
U-Bahn/S-Bahn: Ostbahnhof
Curry 36
Tuck into Berlin's most celebrated snack, the currywurst (veal sausage smothered in ketchup and mild curry powder). Curry 36 does a roaring trade, doling out greasy treats to hungry clubbers and the terminally drunk.
Address: Curry 36, Mehringdamm 26, Kreuz
U-Bahn/S-Bahn: Mehringdamm
Sunrise at Kreuzberg
Climb up to the monument on top of the Kreuzberg in Viktoriapark - central Berlin's only real hill - for sweeping panoramic views of the city, picked out in the sun's first light.
Address: Viktoriapark, Kreuzbergstrasse, Kreuzberg
U-Bahn/S-Bahn: Platz Der Lüftbrücke
The Old Berlin Wall/East-side Gallery
Who says early mornings are no good for culture? Head for the world's largest open air gallery, displayed on the longest remaining stretch of the old Berlin wall, to see an impressive collection of contemporary street art long before any museums are open.
Last Updated: June 2009