Belfast is a city still in the flower of her youth, despite enduring a difficult period of violence in the 20th century. Wherever you look, new developments are changing the city's landscape, from the Titanic Belfast in the foreshore area to the revived city centre. Check out our schedule of Belfast sights and sounds for the best the city has to offer.
Lyric Theatre
The Lyric theatre recalls a time when players (i.e. the artists) would band together to own their own stage. The theatre was formed in the 1950s by the artists of Belfast and has recently been revived through the efforts of some of its most famous sons - actors Liam Neeson and Kenneth Branagh. The first production from the revival period - Arthur Miller's The Crucible - has already won two Irish Times Theatre Awards.
McHugh's Bar and Restaurant
McHugh's is more living history than just another bar. The building that houses it has stood since 1711 and some form of drinking establishment has been housed in it since 1715. With the Crown Liquor Saloon, she stands as an example of that proud heritage that Belfastians hold so dear. When you're having a tipple in its august atmosphere, spare a moment to look up at the centuries-old wooden beams that hold it together and take in the history before the rest of your night becomes a blur of good times.
Address: 29 - 31 Queen's Square, Belfast
Tel: +44 28 9050 9999
Website: www.mchughsbar.com
Victoria Square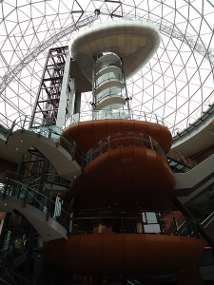 In line with the recent drive towards redeveloping the city centre, Victoria Square has become the shopping destination in Northern Ireland since its opening in 2008. The futuristic glass dome of its main atrium is like a beacon, calling all shopaholics to the South Quarter of the city centre with four floors of retail, entertainment and dining. Pop in on a Sunday for the Sunday Fayre - handmade goods galore at bargain prices.
Bert's Jazz Bar
Jazz requires a certain type of establishment to do justice to the music. As such, the hotel named 'The Best UK Hotel in 2011' and with the 'World's Best Hotel Bar' is the perfect place to fit in a jazz bar with all the requisite touches to evoke the feel of a 1930s New York Jazz bar. With live jazz all week and platters of food fit for the most cosmopolitan palate there is no better place for late night entertainment.
The Crown Liquor Saloon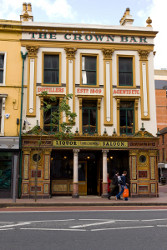 This Victorian-era gin house is a page out of the 19th century that does class with a capital C. Old school booths (called 'snugs') allow you to drink quietly with a friend in the privacy of an intimate space, with bells to call the help for more drinks. You'll feel like brushing up on your current affairs for discussions with your fellow patrons and wearing a top hat to match the bar's sophisticated vibe.
Address: 46 Great Victoria Street, Belfast
Tel: +44 28 9024 3187
Website: www.crownbar.com
Last Updated: June 2012