Top tapas, amazing architecture and a bar scene that goes on, and on ... and on ... could this be the coolest city in Europe? Laid-back and lovely, Barcelona is small enough to walk around but big and buzzy enough to let you know it's got its finger firmly on the pulse. So whether you're looking for the gourmet treats (El Bulli anyone?) or to gawp at Gaudi, to get-carried away with culture - or at a club ... you'll find it all with our 24 Hour guide to Barcelona.
La Rambla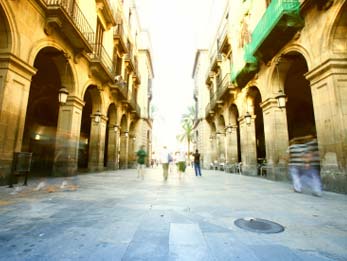 Wander along La Rambla, Barcelona's principle boulevard, before the crazy street performers and hordes of tourists arrive. The timing should give you a fighting chance of spotting Joan Miro's signed circular mosaic embedded in the ground near the Gran Teatre del Liceu.
Plaça Reial
Swerve off La Rambla, the picturesque main thorough-fare through the heart of the city, and you'll find yourself in Plaça Reial - arguably the city's most famous square. Take a load off and admire Gaudí's street lamps, while enjoying an alfresco breakfast of coffee and bocadillo (a baguette-style sandwich filled with cheese, ham, sausage or eggs) on one of the square's cafes.
Mercat de la Boqueria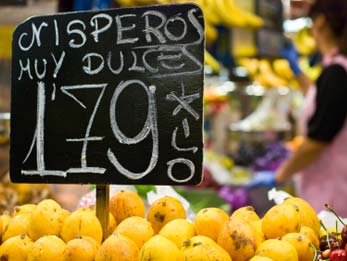 Gorgeous fresh produce from local fruit to fish, is jostled over by locals and tourists alike at this historic market. For the freshest buys, hit Boqueria just as the vendors finish setting up their stalls at around 8am.
Sagrada Familia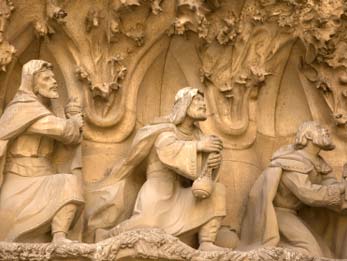 Gaudi's audacious buildings are integral to the character of Barcelona. Beat the sleeping tourists to Gaudí's work-in-progress masterpiece (it was begun in 1882) for an early morning photo op. Efforts to complete the iconic church are currently underway, so expect a little noise and a lot of scaffolding. Admission is €11. Other Gaudi options include Park Guell, Casa-Museu Gaudí and Casa Batllo.
Museu Picasso
You'll find the spirit of a young Pablo Picasso lives within the expansive collection housed here. Though Picasso was born in Malaga, he spent his formative years in Barcelona. This excellent collection gives an insight into his relationship with the city through the early works he produced here.
Fat Tire Bike Tours
Meet at Plaza Sant Jaum for the 11.00am Fat Tire Bike Tour (you'll be glad of those fat tyres - Barcelona is full of cobbles). Spin through the Barri Gotic, past the Sagrada Familia, through the Parc de la Ciutadella and around the Olympic Village, Port Vell before chilling out at Barceloneta beach. Tours last four hours, but the pace is very gentle....
Parc de la Ciutadella and Zoo Barcelona
This huge park is the main 'green space' in Barcelona - created in the 18th-century, when the hated Madrilenos' fortress was demolished. There's plenty to see: enter by the Arc de Triomf and explore the lake in rowing boats, enjoy the arty sculptures and make time for the sprawling zoo, home to African elephants, hippos, dolphins and a Cuban crocodile.
Can Majó
This family-run restaurant, down on the hip Barceloneta beach, is one of Barcelona's best seaside spots for shellfish and paella. Savour the wonderful views from the terrace, while chomping on some of the freshest seafood around.
Address: Almirall Aixada, 23, La Barceloneta
Tel: + 34 93 221 54 55
Website: www.canmajo.es
Raval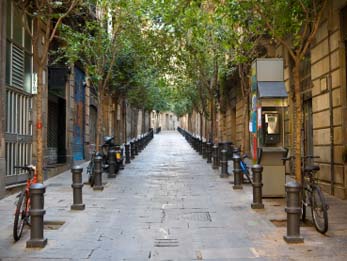 Gentrification has hit this formerly sketchy neighbourhood, and Raval's winding streets are now home to clusters of edgy cafes, boutiques and bars. Vintage and retro lovers should head straight to C/Riera Baixa, a street where pockets of excellent stores have cropped up, including Le Swing at number 13 - a somewhat pricy, but quality vintage outlet. Check its website for the designer store and cafe.
Barcelona FC Museum
By its own account, the best football museum in the world. FC Barcelona's museum covers over a hundred years of club history and is packed full with curios, antiques and paraphernalia. You can also take a Camp Nou tour, taking you into "every corner" of the stadium. Museum and tour combined is €17 for adults and €14 for six to 13 year olds.
Gelataaati!/Barri Gotic
La Catedral is a striking medieval cathedral, and one of Barcelona's signature Gothic buildings. Peep behind the building, and you'll find Gelaaaati, an off-the scale ice cream parlour. Flavours range from chocolate to celery (!), and it's open until midnight. From here, it's a short lick to Barri Gotic: a maze of narrow streets, packed with Roman relics and Gothic architecture - prefect for exploring!
Address: Gelataaato!, C/Llibreteria 7
Tel: + 34 93 310 50 45
Museu Nacional d'Art de Catalunya and Poble Espanyol
MNAC offers an inspiring overview of Catalonian creativity over the last thousand years or so. It also offers fantastic overviews of Barcelona - situated, as it is, on the mountain of Montjuïc: the wood-lined hill to the south east of the city centre, developed for the 1929, then 1992 Olympics Games. Nowadays, it's home to a number of fantastic museums and parks, including Poble Espanyol. Catering mostly to tourists, this faux-village features architecture styles from a range of Spanish regions and periods and is a good place to pick up homemade crafts.
Aire de Barcelona
The last session at this Arabic baths kicks off at 12am. An oasis of steamy-chic calm and charm in which to luxuriate.
Renoir Cinema
Both Renoir cinemas, Les Corts and Floridablanca, are safe bets for very late night screenings. Films are an interesting mix of blockbusters, new art-house movies and Spanish classics - and ticket prices are reasonable at around €6.
Casa Paco
Get in the mood for a night of clubbing at this very tiny, yet oh-so-cool bar. DJs play here nightly and it's a good place to mingle with locals who have their finger on the pulse. That, and the caipirinhas are legendary.
Address: C/Almansa, 86, Nou Barris Barrio, Roquetes
Tel: + 34 932 76 24 28
Razzmatazz
Whatever your taste or mood, this giant club should satisfy. It houses five smaller venues and you'll often find indie rock in the Razz Club, techno purveyors at The Loft as well as pop, disco and electro acts in its remaining spaces.
Platja de Barceloneta
Partied out? Head to the beach and chill until the sun comes up. You'll likely bump into a mass of clubbers doing the same, as the beach-side venues along Platja de Barceloneta start turfing people out. For a more serene after-hours experience, take a cab to Platja de Bogatell 10 minutes up the coast.
Sunrise at Tibidabo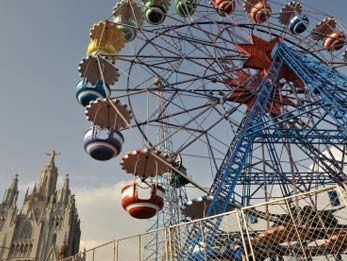 The one-hour walk up the mountain (it's good for you) to Tibidabo rewards early risers - or late to bed-ers! - with fantastic panoramic, sunrise views of Barcelona. Go later in the day (when you can skip the walk, in favour of the Funicular de Tibidabo train) and explore the Sagrat Cor church, crowning the peak - or take a chance on one of the rickety rides at Tibidabo Funfair (proudly scaring kids since the 1920s).
Last Updated: May 2009