Tamaki Makaurau or "the spouse desired by a hundred lovers" is the Maori name of Auckland, which perfectly encapsulates its seductive charm. Visitors to the city will find many reasons to love it. From natural attractions like Domain Park to cultural attractions like the Civic theatre, the city would put even Don Juan to shame. We've collected a list of activities and attractions to fill that 3 hour gap or plan an a la carte day of awe-inspiring Auckland.
SkyTower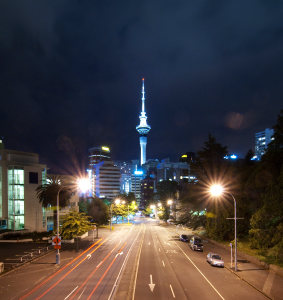 The tallest freestanding building in the Southern hemisphere towers over Auckland and is a must visit - if only for the view, which extends to Great Barrier Island on clear days. Adrenaline junkies can jump off the tower with Skyjump or take a stroll around the rim at 192 metres up with SkyWalk. Those who prefer their views without the thrills will like the observation decks and the restaurants with ample views of the city.
Civic Theatre
The Civic theatre is one of the last remaining atmospheric theatres in the world. The painted ceiling depicts an outdoor night scene that makes you feel as if you're beneath the night sky. It was built when talking movies were all the buzz and going to the cinema was still a glamorous event. The theatre also serves up top class musical and theatrical shows.
Karangahape Road
K'Road is the centre of Auckland's bohemian arts scene with hip and happening establishments like Artspace, the New Zealand Film Archive and the Te Karnaga Community Art Gallery in its neighbourhood - all within 5 minutes of one another. The street predates the formation of Auckland and is a treasure trove of hidden history and heritage. The best way to see the A to Z of K'Road is to take the free walking tours organised by Heritage Walk or print out their guide and do it yourself.
Address: 269 Queen Street
Tel: +64 9 309 2677
Snowplanet
You may not associate New Zealand with wintersports, but it does get a respectable blanket of snow on some of its mountains. Snowplanet offers more reliable snow cover at their indoor resort open all year round. Novices can learn to ski and snowboard with expert tuition from the in-house Snow Academy.
Address: 91 Small Road, Silverdale
Tel: +64 9 427 0044
Website: snowplanet.co.nz
Ananda Waiheke Tours
Waiheke island, in Auckland's Hauraki Gulf, has become New Zealand's 'island of wine' - producing some of the county's top performing (and most exclusive) wines. Island conditions are well suited for growing the Syrah grapes that go into the making of award winning red wines. Ananda Tours offers tours of wineries (with wine tasting) and gourmet food tours - for the complete, wine-and-dine experience in some of New Zealand's finest settings.
Mecca Cafe
This chain of Turkish themed eateries is an institution in Auckland with branches in Chancery, Devonport, Mission Bay and Viaduct Basin. All the restaurants have a lovely atmosphere and are well placed to take advantage of Aucklands vistas.
Mission Bay
Mission Bay is the swanky dining hub of Auckland and offers an impressive range of international gourmet - from traditional Thai at Ruan Thai, authentic Indian at Masala, Belgian beer at De Fontein, sinful Swiss ice-cream at Movenpick or Asian infusion at Rickshaw Eddy's Bar.
Viaduct Harbour
Viaduct is home to a port full of superyachts, but has recently become an entertainment district of excellent standards. With a choice of close to 30 bars and restaurants, there's plenty to taste, drink and enjoy. Restless sea legs can charter any number of good-looking boats for a turn around the bay.
Last Updated: September 2010