Scenic canals, world-class galleries, and a lot of people on bikes ... there's far more to Amsterdam than its notorious red light district and 'herbal' cafes. Rent a bicycle or hop on a barge, and explore the city's colourful markets, chi chi boutiques, hip bars, kid friendly museums and free public art, in our 24 Hour travel guide to Amsterdam.
Paradiso
The grand-daddy of Leidseplein nightlife square. Housed in a former church (hence the name) Paradiso (along with neighbouring Melkweg) is one of the great legends of Amsterdam's live music scene - the Rolling Stones, the Sex Pistols, Nirvana and Amy Winehouse have all played here. These days you're might just catch a lecture or a play here too.
Beer Taxi
Bars don't stay open late on week days, but no need to panic: simply park yourself on a bench, and give those nice lads at Beer Taxi a call! That's right - this is a round-the-clock beer delivery service. Bless those Dutch.
Street Art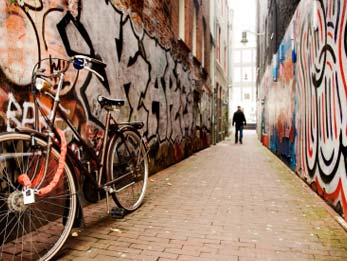 Amsterdam has a thriving arts scene, and one of the most popular modern mediums is graffiti. Tapped into the skater/bmx/music subculture, there are graffiti festivals throughout the year - often in association with the mainstream art galleries. 2.00am, the streets are alive with graffiti artists...
FEBO
Wee small hour munchies? Pull a deep-fried snack from the wall at FEBO. Yes, the city which brought you the Beer Taxi, also features vending machines which sell burgers, kroket (a potato and chicken snack), kaassouffle (a deep fried cheese sandwich) and other delicacies. Yum.
Address: Locations all through town
Website: www.febo.nl
Sugar Factory
Is it clubbing - or is it theatre? Who cares: DJs, VJs, artists, photographers, poets, and live performers all do their bit to keep it sweet at the Sugar Factory - and on weekends, it's open until 5am. Keep an eye out for the Sugar Factory booklet around town to find out what's what.
Prinsengracht Canal
Arguably the most beautiful canal of them all, the Prinsengracht is pefect for a quirky late night/early morning stroll. As the flower wholesalers unpack their wares, artistic souls will notice how the waters of the canal glow purple in the moments before dawn.
Citizen M
Hang out at the airport. No, really - the futuristic Citizen M hotel, by Schiphol Airport, is the latest in "affordable luxury" and choc-full of really cool gadgets too. Hang around the automated canteen (open 24 hours) or go to your room for the full design experience (from £80 per room per night). There's a Citizen M Amsterdam City, too.
Last Updated: March 2009