Abu Dhabi certainly brings the heat, and not just because it has grown out of the hot desert sands of the United Arab Emirates. As the capital of a country that just this year celebrated its 41st birthday, Abu Dhabi really has leapt and bounded into the vibrant cosmopolitan city that it is today. And as a travel destination, it seems to only grow more and more popular. So in ever pursuit of El Dorado, we got the inside scoop, from our very own UAE expat turned Essential Travel writer, on all the best that Abu Dhabi has to offer.
We'd love to hear any of your experiences or insights from the 'desert' city, so feel free to drop us a comment on facebook, or in the pop-up box below.
Mina Fish Market
For the best introduction to the cultural heritage of Abu Dhabi, head to the Mina Port from around 4am any day of the week (the auction kicks off at 4:30am). Beside an empty car park-come-auction hall, rows and piles of freshly-caught seafood are laid out in all their briney glory. From various fish to squid, prawns and crab, the Mina Fish Market provides for all your seafood desires, and then some. With traditional wooden dhows (wooden single-mast sailboats) crowding the wharf alongside the rowdy pre-dawn fish auction led by ninth-generation Emirati fisherman, it's bound to get your Arabian adventure off to a memorable start. And to make it even more appealing, the local fisherman will happily clean and cook the seafood for you, right there, amongst the slapping of fish and dawning of a new day.
Breakfast
Breakfast options in Abu Dhabi are numerous and varied, so there's really no one place you should definitely experience. That being said, you're bound to have a busy day ahead, so why not start it off at one of Abu Dhabi's oldest sites, the Central Market. Previously a renowned souk (market place), in 2003 it was destroyed in a fire, leaving an open space of significant historical relevance. Today it stands as an up-and-coming leisure complex. Shakespeare and Co. offer an eclectic menu with a trendy atmosphere and all day breakfast, so you're covered no matter how late you sleep in.
Corniche
The city's five miles of immaculately maintained waterfront attracts locals and travellers all year round (up to 50,000 visitors a month). With the soft, white sand of the Blue Flag beach and the clear, sparkling water of the Arabian Gulf - not to sound overly-sentimental, but - it's a pretty perfect scene. The beaches of the Corniche are conveniently divided for families, singles and the general public, with the safety of everyone's safety ensured by permanent lifeguards, and floating fences 80 metres off the shore.
The Corniche's promenade is a hub of leisure activities - from cycling paths and exciting play areas to a variety of restaurants and cafes, you can quite easily spend the better part of a day enjoying all it has to offer. Why not hire a bicycle to explore this famous stretch of Abu Dhabi's coast? For 20 dirhams per adult (£3) and 15 dirhams per child (£2,50) for an hour, you might as well don a helmet and hit the saddle. Check out FunRideSports for more information.
Handy Tip: The Corniche is a perfect picnic spot, especially in the cooler months from November to March. An important consideration to bear in mind though is that during Ramadan, the Islamic month of fasting, one cannot eat or drink in public, including water and chewing gum. Many restaurants will however be open for patrons to enjoy a meal in a privately cornered-off area.
Camel Racing
Camels are as much a part of the United Arab Emirates as tea is of the UK - the nations were pretty much built on them. While these famous desert animals have always played an important role in traditional Bedouin life and continue to do so, today they're also valued as integral players in the country's greatest sporting activity, camel racing. Held at the Al Wathba Camel Track on Thursdays, Fridays and occasional Saturdays, camel racing is guaranteed to be a memorable experience. With the camels reaching over 40 miles an hour, child-jockeys have thankfully been banned in favour of remote-controlled robots perched on the camels' backs.
The races usually start at 6:30am and last for a few of hours. It's a good idea to pack a few breakfast snacks as there isn't generally anything available there.
Check out the video of Camel Racing at Al Wathba
Adventure Sports
As a country that proudly boasts having the biggest and best, it's no surprise that there is a wide range of extreme sports on offer. From skydiving and hot air ballooning, dune bashing and F1 racing to deep-sea scuba diving and powerboat racing - Abu Dhabi has it all. While most of these will need to be organised through adventure sports professionals, there are a few activities that you can tackle on your own - provided that you have the equipment and a little experience or someone to show you the ropes. Dune bugging and quadding are favourite winter pastimes amongst locals and expats alike, but if you're looking to try it out, be warned, many a quad has toppled over on the steep dunes and even more 4X4s have had the wheels clamped by the soft desert sand, so group desert adventures are highly recommended.
Your standard travel insurance policy should cover you for activities such as quadding, but you may need to add extra sports cover if there's a chance that you'll be taking part in any adventure sports. For more information, check out Sports Travel Insurance.
Did you know? 70% of the United Arab Emirates is desert - so your dune adventures are pretty boundless.
Lunch
With so many restaurants throughout the city - from distinctly local cuisine to the most notorious international dishes - you may be somewhat spoilt for choice when it comes to choosing where to have lunch. Luckily, there's a simple solution to your gastronomic quandary. RoundMenu's city-wide service offers promotions for a wide-range of restaurants, which can be selected by either cuisine-type, location or theme. It's a simple way to not only find a restaurant that tickles your tastebuds, but also lessens the tug on your travel fund.
Inside Tip: Abu Dhabi, like neighbouring Dubai, has a very popular Friday Brunch tradition - basically an all-you-can-eat-and-drink bash with mates. There's a variety of restaurants and pubs in Abu Dhabi that offer this, where you go just depends on whether you're more into Cheap and Cheerful or Lovely and Luxurious. It's best to make a booking in advance, especially for big groups.
Yas Island
You haven't truly experienced Abu Dhabi until you've explored the entertainment metropolis that is Yas Island. This over £22 billion project has shed a whole new light on events, dining and accommodation in the city. Famously the site of the Formula One Abu Dhabi Grand Prix, it also boasts year-round activities, including hosting world-famous music acts and various sporting events. If that's if not enough, there's a Yas Racing School offering racing licenses and Drag Academy learning experiences, the Yas Mall to fulfill all your shopping dreams and the architectural masterpiece of the Yas Marina Hotel.
Ferrari World
Did I mention that Yas Island is also home to the largest indoor amusement park in the world? Ferrari World is every car enthusiast and adrenaline junkie's dream. With various first-class attractions, such as advanced technology simulators, the park brings many a racing dream to life. There are also more than twenty thrilling rides, including Formula Rosa - the fastest rollercoaster in the world. Reaching speeds of almost 150 miles an hour, this world-famous attraction demands wearing goggles - just as is necessary for Formula One drivers.
Check out the video of Ferrari World
Falcon Hospital
Falconry has been ingrained in the Arab culture for centuries, so much so that it stands as the national emblem of the UAE. Growing from Bedouin traditions, Falconry is still widely enjoyed today. In support of this, the Abu Dhabi Falcon Hospital - the largest of its kind in the world - takes responsibility for both falcon medical attention and their protection.
Guided Tours to explore the wonderful world of Falconry are available Sunday to Thursday, at either 10am or 2pm. There are two tours to choose from, the shorter two-hour tour includes visiting the museums and hospital, live interaction with falcons and the opportunity to take photos with the magnificent birds of prey sitting on your arm. The three-hour tour offers the same activities, as well as a five-star intercontinental lunch buffet, served in a traditional Arabic tent - a most worthwhile experience. For more information about the Falcon Hospital or to book a tour (you are recommended to do so at least 48 hours in advance), check out www.adfh.ae.
Sheikh Zayed Grand Mosque
Abu Dhabi's Grand Mosque is as much a testament to national and religious pride as it is in honour of the late Sheikh Zayed, founding father of the the UAE, who is buried within the sacred grounds. In true Emirati style, it's one of the largest mosques in the world, with no less than 82 white marble domes, a thousand columns, four 350-foot minarets and numerous 24-carat gold gilded chandeliers. The mosque boasts a central feature of one of the world's largest chandeliers, at almost 33 feet wide, 49 metres high and weighing 12 tonnes. And one of the walls is also adorned with the world's largest hand-woven carpet.
It's open daily, except Friday mornings when it is dedicated to worshipers - of which the mosque and courtyard can accommodate 40,000. A trip to the Sheikh Zayed Mosque should be a must-do for anyone visiting Abu Dhabi, no matter what your religious preference. Bear in mind, however, that it is a religious site and as such it'll be necessary to adhere to a stringent dress code. Make sure to dress modestly, with your shoulders and knees covered at least. Ladies, be prepared to wear a sheila (a head cover) while you're there - these are available from the front of the mosque, free to borrow. To really appreciate the beautiful white marble, the sunset guided tour, which starts at 5pm, makes for a picture-perfect experience.
Handy Tip: The Emirates may be a fairly liberal Islamic country, but the religion and customs may still differ greatly from your own. It's advisable to dress conservatively during your travels in Abu Dhabi, respect their rulers (whose portraits you will no doubt repeatedly see displayed, be prepared to observe prayer times patiently (smaller shops are likely to close for them) and expect to potentially get a few looks from time to time, but don't be afraid to politely speak up if stares are making you feel uncomfortable.
Emirates Palace
If you're looking for luxury, Abu Dhabi's Emirates Palace supplies it in gold-plated, diamond-encrusted buckets full. The £3.9 billion hotel is the second most expensive hotel ever built (after the Marina Bay Sands in Singapore).
Starting outside, there's an idyllic, exclusive beach, accessible only by hotel residents. The private marina and helipad are another great touch, but nothing compared to the 8,000 trees that adorn the perfectly-manicured grounds. The outdoor leisure activities are almost endless, but especially impressive is the onsite rugby field.
The hotel's interior is somewhat indescribable and perhaps best left to your imagination, we will say though that many of the suites are furnished in marble and gold. Did we mention that each year 5kgs of pure, edible gold is used on desserts? Rooms start at about £285 and go up to £4,500 a night.
Check out the video of this luxurious hotel
Marina Mall
Located idyllically close to Abu Dhabi's Corniche, the Marina Mall may be considered all you'll ever need when it comes to shopping. Above and beyond that (quite literally), is the city's famous revolving restaurant, Tiara.
55 floors above the pristinely developed landscape of Abu Dhabi, Tiara Restaurant offers guests panoramic views of the cosmopolitan city below. Run by a giant motor, clearly visible through the restaurant's glass doors, the entire seating area revolves full circle over an hour and a half period. So while you're enjoying your meal of either local, Mediterranean, French, British or South African cuisine, you'll be treated to ever-changing views. After a busy day in the city, there's nothing quite like a relaxing meal above the bustling streets below.
Dhow Cruise
So much of Abu Dhabi's heritage centres around the bygone era of a booming pearl trade. Those days may have come and gone, but the seafaring tradition certainly lives on - evident in the dhows, the single-mast sailboats, that still sail the waters of the Gulf today.
Dhow cruises are a popular way to experience the beautiful sights of Abu Dhabi. From the top deck of a traditional wooden boat, under the light of the moon with a gentle sea breeze to cool you down, the city's skyline has never looked better. There are a variety of companies that run dhow cruises every day of the week. Many have fully air-conditioned lower decks and some also include a buffet dinner or light snacks.
Shisha Lounge
For a more traditional night time experience, why not pull up a cushion at an Arabic restaurant. The experience of trying local cuisine is as much a part of travelling as exploring the famous sites, it has to be done. Emiratis are also known to smoke a shisha (hookah) or five, and it's almost guaranteed that an Arabic restaurant can provide you with one if you like. To start off your night relaxing in air-conditioned comfort with a table full of Arabic speciality dishes and a fragrant shish at hand, head to the The Village Club at the One to One Hotel.
Boarding the Booze Train
Although one may not expect it from a Gulf Country - bear in mind that the UAE is bordered by the stringently Islamic Kingdom of Saudi Arabia - Abu Dhabi nonetheless has a vibrant nightlife. From rowdy sports bars to a variety of pubs and clubs, there's a drinking hole to suit everyone.
With so many to choose from, we'll leave it up to you to do some exploring and get back to us with your favourite spots - just drop a comment on our facebook page or in the pop-up box below. Just to get you started though, if you're feeling like a little home away from home, head to PJ O'Reilly's in Le Royal Méridien for a pint and live music that's bound to get you in the mood for whatever the night holds.
Arabic Language Guide
Abu Dhabi may be the face of liberal Middle East, but nationals and arab immigrants alike take great pride in their heritage and language, which means that a little Arabic can go a long way to getting where you need to be.
Travel in and around Abu Dhabi is relatively simple. Besides the public busses, which service both Abu Dhabi and inter-city travel, there are also taxis aplenty, including women and children friendly pink taxis, run by female drivers only. Alternatively, you can hire a car and enjoy the ridiculously low fuel prices. Either way, it'll be beneficial to be able to chuck a few words around, even if it's just to ask the speed-enthusiastic driver to slow down.
The language is easier to pick up than may be assumed and Arabic-speaking people often appreciate the effort being made to adapt to their culture - they might be quite obliging in helping you learn words or drawing on whatever level of English they may have.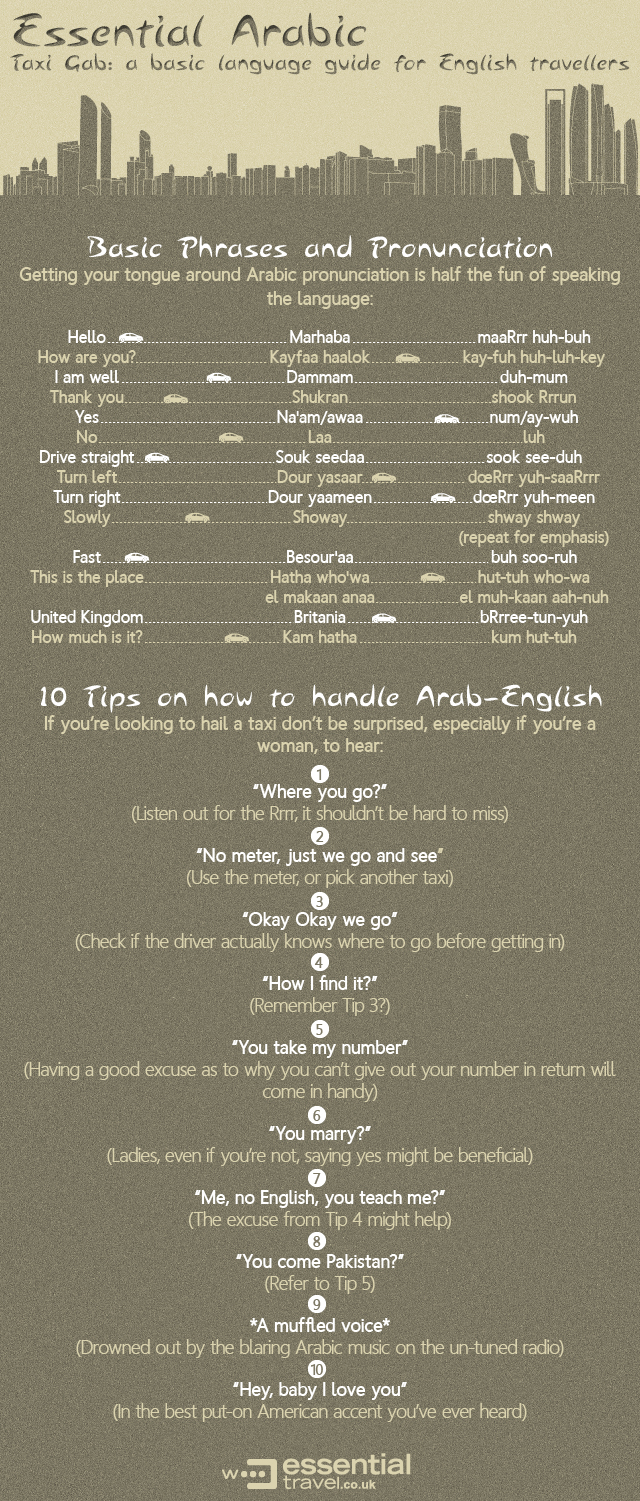 Last Updated: November 2012