World Cup Opening Ceremony Madness
All the waiting came to an end on Friday afternoon, when the official opening ceremony of the FIFA World Cup took place at Soccer City Stadium, Johannesburg. It felt like the entire country was celebrating a birthday, Christmas, Hanuka, a promotion and a bank holiday at the same time. The vibe in Cape Town was incredible, with the streets and bars flooded with supporters.
It's hard to describe the opening ceremony without digging from my bag of cliches.The drumming made you feel part of Africa. The singing made your hair stand on end. The choreographed dances made you desperate to join in. The largest Dung Beetle on earth dribbling a giant soccer ball was a wonderful touch. Musical performances from living legends like jazz maestro Hugh Masekela (who has performed alongside the likes of Jimi Hendrix and Ottis Redding) made the event triple as special. He is like South Africa's Frank Sinatra.
The entire procession was South Africa doing the ceremony its own way. By the time the anthems were playing, there were more than just a few teary eyes in the crowd. Everyone from the office hit a vibrant local bar called the Fireman's Arms, where we watched the ceremony and the first game (South Africa Verses Mexico). Amongst the peeps there was a great mixture of support between Mexico and South Africa - as seen here with Brad, dressed in a Mexican wrestling outfit, flanked by his co workers in Bafana Bafana gear.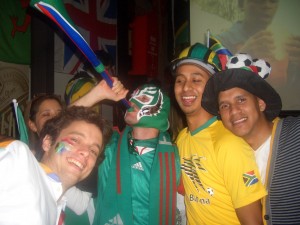 more blog posts