Tips For Working From Your Backpack
By: Guest Travel Writer
Published: 21 September 2012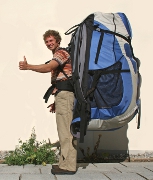 More and more of us are choosing to head out and see the world with just our backpacks and sense of adventure. But with tight travel budgets and a reluctance to spend too many years saving, growing numbers are recognising that there are opportunities to earn money as we go. In addition to traditional options such as fruit-picking or bar work, mobile technology has opened up possibilities of the type of gigs you can land as you move around. Working from your backpack can be the perfect compromise of boosting your travel fund whilst maintaining the freedom to travel where you please.
So what do you need to know about becoming a so-called "digital nomad"?
Pack the right equipment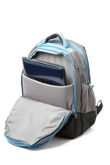 We all know that space is at a premium when you are planning to carry all of your belongings on your back, but do make some room for your "mobile office". You can manage with as little as a laptop and a smart phone, although other items such as a memory stick, Skype headset, extension lead and a multi-country socket adaptor can be useful as well. Also consider how you will keep your laptop safe, as you may not want to carry a laptop bag. A well-padded rucksack is very useful.
Make an internet connection your priority
Do your research to stay connected. Choose hostels which have free wifi. Keep an eye out for local cafes and bars where you can get connected. Anticipate when you will be without access (when you are moving from place to place or doing a tour) and plan around this - you don't want to find that you need to send an urgent document when you are in the middle of the jungle! There are inexpensive options, which allow you to access the internet from anywhere that you have a mobile phone data signal, but speeds can vary so this shouldn't be your main solution. However, you may be surprised by some of the remote places you'll be able to check your emails with this device. You can find more information at loveplaywork.com.
Get your balance right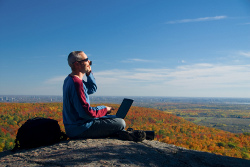 No one wants to ruin the freedom of backpacking with work, right? But the fact is that a few hours spent at your laptop a week could mean the difference between a three month and a six month trip. You just need to make sure you don't end up feeling like you are doing more work than play, and defeating the object of travelling. A simple solution is to not take on too much. Think about how much money you need to earn and don't agree to tasks that will take you above the commitment you want to make. Agree on hours or projects in advance and plan your work time to fit around your travels.
Honour your work commitments
As tempting as it may be to miss a deadline for a party on the beach, if you want to get repeat business you need to be reliable. Your clients don't necessarily need to know where you are, but if the work you deliver slips because you are having too much fun, business may go elsewhere too. It's a lot harder to find new clients than to keep the ones happy that you already have. Set clear expectations from the start so that different time zones and time away from your desk do not become an issue.
Keep the money coming in
There is no question that backpacking can be done on the cheap, but it's also nice to have the option to treat yourself every once in a while. The idea that a few extra hours online may mean the difference between an island hopping cruise and a weekend in a 12 person dorm, can be a great motivator. Keep the money coming in by knowing exactly what skills you have to offer and who you can help. There are plenty of websites for freelance writers, admin, secretarial or web-type work (check out www.elance.com ). Or explore your local networks before you go - you never know who might be looking for some part-time techie or office support that you can offer jobs from anywhere in the world.
Stay planned and organised
There are plenty of online tools and apps to help you stay on top of your deadlines. You also need to make sure you keep your work backed up and accessible - cloud-based solutions, like www.dropbox.com, have made this a lot easier. Think ahead about what you may need as you travel from place to place. Make sure batteries are charged while you have access to power and if you have the space, consider back-up options such as an extra battery pack for your iphone.
Get out there and meet people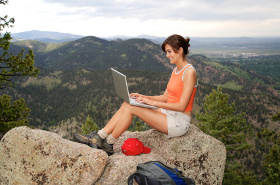 Mix with as many different people as you can. It can be tempting to stick to the backpacker crowd, but the broader the range of people you chat to and connect with, the more unexpected the opportunities to have fun and earn some money can be.
One of the biggest myths about backpacking is that it will cure your travel bug. Quite the opposite, for many people it simply whets their appetites and establishes a lifetime passion for travel. Get the right balance between travel and work on your around-the-world trip and who knows, it could turn out to be the start of your career.
Hannah and Chris from LovePlayWork are on their fourth around-the-world trip, of which the first two were just backpacking and now they run their business while travelling. Learn more about how you can earn money on the road by joining their community for free at www.loveplaywork.com and receive their invaluable insights on "shortcuts to a location-independent lifestyle".
more blog posts