Win Tickets To OneFest Music Festival

Essential Travel is giving away two pairs of tickets for OneFest, UK's first outdoor music festival of the year. Expanding on the tremendous success in 2011, OneFest 2012 promises to bring the ancient Wiltshire countryside to life this April, with all the enchanting entertainment of a world-class music festival.
About OneFest
OneFest came about as an initiative of Wiltshire residents to save their local pub, the Barge Inn. The festival kicked off in 2011 and saw world-class musicians such as Damien Rice, Laura Marling and The Magic Numbers take to the stage.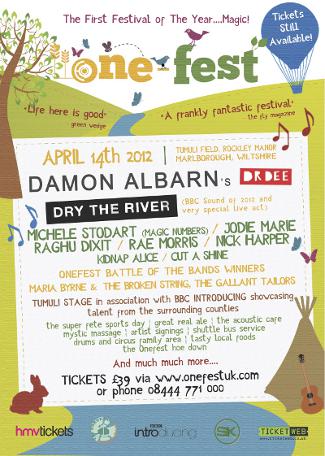 With a crowd of over a thousand people delighting in the music and the magic of the countryside, the festival sold out in record time and gained enormous popularity. Considered to have one of the most relaxed and friendly atmospheres on the UK festival scene, OneFest 2012 will usher in the upcoming festival season with an even wider array of musical talents and entertainment.
Artists such as Blur's Damon Albarn, Dry the River, Michele Stodart, Jodie Marie, Raghu Dixit, Rae Morris, Nick Harper, Cut A Shine and Kidnap Alice, amongst others, are already confirmed in the line-up. The festival will be opened by the recent Battle of the Bands winners, Maria Byrne and The Gallant Tailors, local musicians who are making a memorable debut on the UK music scene.
OneFest 2012 will be held on April 14th in a secret venue, but guaranteed to be one of the most idyllic settings the UK has to offer. Tickets for OneFest 2012 are on sale for £39. The secret venue will only be revealed to ticket holders, who can check out OneFest for more info.
Don't miss the opportunity to experience OneFest, enter now to win your tickets.
How To Win
To win a pair of OneFest 2012 tickets answer this simple question in the comment box below - not in the black pop-up box! Remember to include your email address so that we can contact you.
What was the previous name of OneFest?
Hint: The answer can be found in the Essential Travel Magazine feature article on music festivals.
The competition is closed. Thanks for entering. We will be contacting the winners soon.
Terms and Conditions are available here.
more blog posts