What is Meet and Greet Airport Parking?
By: Steve Smith
Published: 23 April 2013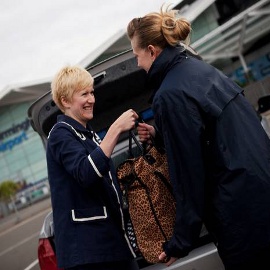 I've been asked numerous times throughout my career what exactly Meet and Greet Airport Parking is, and as it continues to grow in popularity I wanted to explain it, in a simple and easy way.
Meet and Greet Airport Parking (also known as Valet Parking, M&G or Chauffeur Parking) is simply when someone meets you to collect and park your car.
How Does It Work?
When you book your Meet and Greet Parking you'll be given directions to meet the driver who will then park your car for you. At most airports, you meet your driver at a meeting point located right outside the terminal entrance. So all you need to do is follow the signs to the airport, meet the driver, then walk straight into the terminal after dropping off your car. Most operators ask you to call them when you are 10 to 15 minutes away from the airport to ensure that the driver is waiting for you.
Where Is Your Car Parked?
After the driver has collected your car they'll take it to a nearby parking compound where it'll be kept securely whilst you're away. You should expect your car to be driven an average of around 10 miles to and from the compound.
Tip: When you book Essential Travel's Meet and Greet Parking we tell you how far to expect your car to be driven depending on which Meet and Greet operator you've chosen.
What Happens On Return?
Most Meet and Greet operators ask you to call them when you've landed and collected your luggage. They'll then give you instructions on where to meet the driver outside the terminal.
Advantages Of Meet And Greet Parking
The main advantage of Meet and Greet Parking is the time that it saves. All other long term parking options involve catching a transfer bus to the terminal, or a long walk at some airports. It not only adds extra time to your journey, but also involves the hassle of carrying your luggage across the car park. This obviously isn't ideal if you're elderly, disabled, travelling with young children or have a lot of luggage.
Hints And Tips
Always make sure to follow the instructions issued by the Meet and Greet operator, it will help make your parking hassle free.
Your car is expensive so make sure you always check the driver's identification before handing over your keys.
Ensure you select a reputable operator, check online reviews and look for the Park Mark Award.
If you're travelling from an airport with multiple terminals, it's possible to drop your car off at one and pick it up from another.
more blog posts